Napa Valley Wineries

The Napa Valley wineries dotting the picturesque landscape are nothing short of spectacular.

If you've driven through Napa Valley, you've undoubtedly noticed the eclectic architecture of the wineries: ivy-covered cottage, French chateau, Spanish mission, medieval-style castle. The area seems to suffer an identity crisis. But one thing is for sure: you'll never feel like you've "been here, done that" as you get to the next stop. Each winery is a new marvel to explore.
Napa wineries also do an excellent job of distinguishing themselves from each other in their wines -- from the microclimates in which their grapes are grown to the artistry of crafting their wines. Experimentation plays a role here, too. More grape varieties are being introduced to Napa Valley, shattering the notion of a typical Napa wine.
Napa Valley Wineries
Many wineries graciously welcome you for cellar tours and wine tastings. I couldn't possibly list them all, so here are just a few of the Napa Valley wineries to give you a taste of what this region has to offer:

The 1976 Paris Tasting made this Calistoga winery famous. Photo: ©Wollertz
Chateau Montelena
1429 Tubbs Lane, Calistoga, California 94515 * 707-942-5105 * www.montelena.com

You'll hear about the famous 1976 Paris Tasting when you visit Chateau Montelena. Vintners here humbly say that their winning 1973 Chardonnay was the hero, and a win for all Napa Valley wineries. Decades later, they're still making excellent wines and no true wine lover would dream of leaving Chateau Montelena off the tour list. This beautiful, ivy-covered winery (pictured above) offers fascinating tours that reveal its storied past.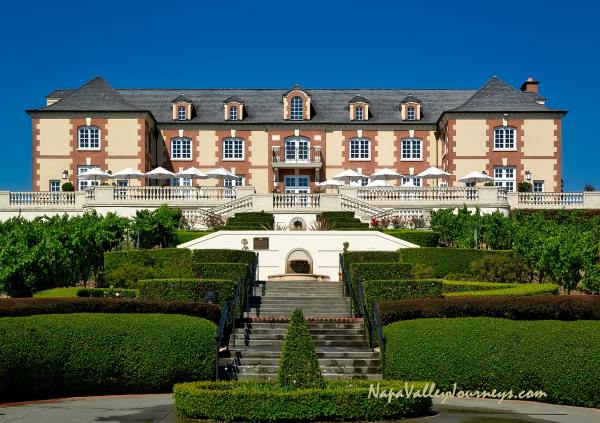 Domaine Carneros is a replica of Tattinger's 18th-century estate in France.
Domaine Carneros
1240 Dubig Road, Napa * 707-257-0101 * domainecarneros.com
The Domaine Carneros winery looks just like Taittinger's magnificent 18th-century chateau in France. There's a reason -- it's partly owned by the Champagne giant. Even the sparkling wines here are reminiscent of those made by Taittinger, but of course using local grapes.
You'll feel like royalty when you relax in the elegant Louis XV-style salon or on the terrace overlooking the rolling vineyards (the views here are stunning), while savoring bubbly or pinot noir. One of the pricier tours but surely unforgettable.
Frog's Leap Wine Cellars
8815 Conn Creek Rd., Rutherford * 707-963-4704 * www.frogsleap.com
Friendly and fun, Frog's Leap has a whimsical flair, but takes wine seriously. Organic, sustainable farming and solar energy make it one of the greenest Napa Valley wineries. Make an appointment for tastings (in the vineyard house, behind the winery), which include cab, zinfandel, merlot, chardonnay and sauvignon blanc.

Charles Krug Winery

2800 Main Street, St. Helena * 707-967-2200 * www.charleskrug.com
Founded in 1861 by pioneer winemaker Charles Krug, this was Napa Valley's first winery. Krug also had the forethought to welcome guests into the first-of-its-kind Tasting Room in Napa Valley.
Today, the Charles Krug Winery is a Historic Landmark, owned and operated by the Peter Mondavi family. You have a few wine tasting options. You'll also get a peek into the winery's rich history.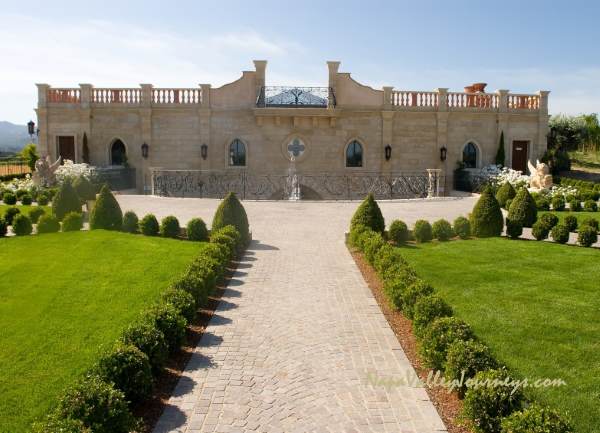 Elegant wine cave tours and barrel tastings await you at the Del Dotto winery.
Del Dotto Winery
1055 Atlas Peak Road, Napa * 707-963-2134 * deldottovineyards.com
Don't miss the cave tours and tastings at Del Dotto. Your options are many for exploring the exquisite estate and wine tastings. You'll need to make a reservation for the cave tour (it's so worth it!). You'll taste wines straight from the barrel along the way. Beautiful, opulent and friendly, it's an experience you won't forget.
Hess Persson Estates
4411 Redwood Road, Napa * 707-255-1144 * hessperssonestates.com
Art lovers cannot miss the impressive art collection at this winery, featuring large-scale works by contemporary American and European artists. Founder Donald Hess made his collection of paintings and sculptures available to the public. One of the popular experiences is a tour of the art gallery with the Director of Art, Robert Ceballos.
Step inside the rustic, ivy-covered stone winery and you'll find it's actually roomy and modern inside. Hess's Cabernet Sauvignon is also impressive. Check the winery's website for the latest tasting options -- some include a vineyard tour, food and wine pairings, and chocolate.
Stag's Leap Wine Cellars
5766 Silverado Trail, Napa * 707-944-2020 * stagsleapwinecellars.com
Stag's Leap Wine Cellars turned the wine world on its ear. At the 1976 Paris tasting, this unassuming winery stunned judges who picked its 1973 cabernet sauvignon in a blind taste test. The shocking event put Napa on the map and sent the California wine industry soaring.
The cellars are a feast for the eyes -- a collection of caves featuring 17th-century engravings of the solar system. Head to the new visitor center overlooking gorgeous views of FAY vineyard. Tours and tastings start at $75 per person and include a compelling history and a flight of superb wines.
Under the California sun, Castello di Amorosa looks like a 13th-century Tuscan castle.
Castello di Amorosa Winery
4045 North St. Helena Highway * 707-967-6272 * castellodiamorosa.com
No visit to Napa Valley is complete without a stop at this medieval Tuscan-style castle. Many Napa Valley wineries are referred to as castles, but this is the real thing. Castello di Amorosa has towers, turrets, a drawbridge, a moat -- even a dungeon with a torture chamber. The castle's $30 million price tag explains the admission, tour and tasting fees. Wine tastings are in the magnificent Grand Barrel Room where you can sample its Italy-meets-Napa style wines.
Inglenook
1991 St. Helena Highway, Rutherford * 707-968-1161 * inglenook.com

Inglenook is everything you want a Napa Valley winery to be -- a charming, ivy-draped chateau with a storied legacy. But would you expect any less from its owner, renowned film director Francis Ford Coppola? He bought the 1879 Inglenook chateau and vineyards in 1995, lovingly restoring and renovating it into a showplace.
You'll be surrounded with elegance and drama, from the cathedral ceilings in the magnificent Barrel Room to the enchanting Parisian courtyard, where visitors can sip wine and savor the ambiance. 

Cakebread Cellars
8300 St. Helena Highway, Rutherford * 800-588-0298 * cakebread.com
Jack and Dolores Cakebread founded Cakebread Cellars in 1973, in the heart of Cabernet country. It's an independent family outfit that is refreshingly low-frills. What it offers to tourists -- besides superb wines -- are several tour and tasting options, making this a worthwhile experience for wine aficionados...or wannabes. If you're looking for a venue to learn the art and science of winemaking and wine tasting, add Cakebread to your list of Napa Valley wineries to visit.
Beaulieu Vineyard
1960 St. Helena Hwy., Rutherford * 707-967-5233 * www.bvwines.com
Beaulieu Vineyard is a must-stop for Cabernet lovers. Called BV winery for short, this historic property has roots going back to Napa pioneer Georges de Latour, who founded this winery in 1900.
You'll be greeted at the visitor's center with a glass of wine. Take the history-rich tour followed by barrel tastings, plus a peek into Napa Valley's past in the new Heritage Room.
Jarvis
2970 Monticello Road, Napa * 707-255-5280 * www.jarviswines.com
Jarvis winery boasts that it's the first in the country built completely underground. More than 45,000 square feet of tunnels are carved into the Vaca Mountains near southern Napa.
Tour groups are small here -- and you'll need a reservation -- but that means more attention from your guide as you explore this unique winery. You'll enjoy a seated wine tasting at the end of your tour.
German immigrants Jacob and Frederick Beringer established this winery in 1876.
Beringer Vineyards
2000 Main Street, St. Helena * 707-963-7115 * www.beringer.com
Beringer has the distinction of being the oldest continually operating winery of all Napa Valley wineries. It's visitor-friendly, too. Whether you want a quick tour of the wine cellars or simply sit a while on the expansive porch and sip, while taking in the gorgeously landscaped grounds, you'll want to add Beringer winery to your must-do list.
Discover more Napa Valley wineries, town by town.
Explore More Napa Valley Wineries
| | | |
| --- | --- | --- |
| Serious Cab lovers won't want to miss Chimney Rock Winery, a pristine Cape Dutch-style estate known for its stellar Cabs from the Stags Leap AVA. | Beautiful views and a refreshingly down-to-earth wine tasting and tour experience await you at Clos du Val winery. It's a wonderful place to relax, sip, have a picnic and explore. | Peju is warm and friendly, making it a must-stop. Visit this family-run winery, explore its stunning gardens and choose from several tasting options. |