Napa Valley RV Parks

Explore the complete list of Napa Valley RV parks right here, along with amenities to help you choose the best camping spot.
Are you the sort who likes to take your home along with you? Discover where you can park your RV or pitch your tent in Napa Valley.
Napa Valley RV Parks
Napa Valley Expo RV Park
575 Third Street, Napa, California 94559 * Phone 707-253-4900
Napa Valley Expo RV Park keeps you close to several wineries, restaurants and specialty shops. Don't have a car? Don't worry, you can walk to downtown Napa from here -- or hop a ride on the city bus. Or take advantage of the nearby Napa Valley Wine Train, local taxis or tour bus companies.
Only RVs are allowed. Water, sewer and electrical hookups are included for $50 -- plus free WiFi.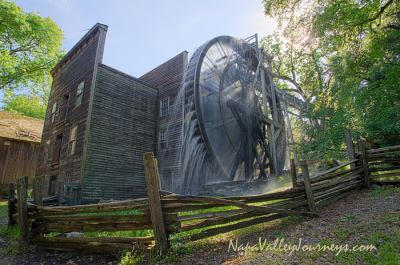 Follow the History Trail from Bothe-Napa Valley State Park to the Bale Grist Mill.
Bothe-Napa Valley State Park
3801 St. Helena Hwy., Calistoga, California 94574 * Phone 707-942-4575
Quiet, enchanting...yet the picturesque Bothe-Napa Valley State Park keeps you close to the heart of Napa Valley. It offers large picnic grounds, a swimming pool, plus a treasure trove of hiking trails. Follow scenic trails along the rocky creek bed...to scenic Coyote Peak...or to the nearby Bale Grist Mill State Park (pictured above).
Historic Pioneer Cemetery is located here, the resting place for many notable Napa settlers, including George C. Yount, founder of Yountville.
There are 30 RV/tent campsites available, but without hookups for $35/night. Campsites are equipped with picnic tables and grills. Bathrooms are nearby with pay showers.

Napa County Fairgrounds
1435 North Oak Street, Calistoga, California 94515 * Phone 707-942-5221
Located on the Napa County Fairgrounds, the Calistoga RV Park is no-frills. Its location is a huge advantage, though...it is near top wineries, beautiful parks and the Old Faithful Geyser.
You'll be within walking distance of downtown Calistoga, a charming town brimming with boutiques, fine restaurants, and some of the most popular hot springs spas.
RV rates range from $37 to $60 per night (the higher rate is for holidays and additional services). Plus, you'll pay more for each extra person, pet, vehicle and picnic table.

Beautiful view of Lake Berryessa from the Smittle Creek Trail.
Pleasure Cove Resort & Marina
6100 Hwy 128, Napa, California 94558 * Phone 707-966-9600
Lake Berryessa offers boaters, anglers or any water sports enthusiasts year-round recreation. Several shores are available for swimming, kayaking and picnicking. Just east of Napa Valley, this is one of California's largest fresh-water lakes. Don't have a boat? You can rent one here.
During the busy summer season, there is a two-day minimum stay. RV site rates are $49/per night for full hookups and $42/night for partial hookups. That covers two people per RV. Tent site rates are $38/night for up to two people and children under 12. Check Pleasure Cove Campground site for more information and a printable campground map.

Skyline Wilderness Park
2201 Imola Ave., Napa, California 94559 * Phone 707-252-0481
Love to get up close with nature? This is your spot. Hikers, horseback riders and bicyclists share the same trails in Skyline Wilderness Park. Stroll through the expansive Martha Walker Garden, filled with native California plants.
RV rate for full hookup is $35/night. Dry hookup is $25/night.

Visitor Tip:
Make your reservation at least a month in advance. Camping spots in Napa Valley RV parks are limited and this is a popular destination from early spring through fall.
All information here is subject to change, so check websites for the latest rates, amenities and rules.