Napa Valley Wine Train

Hop aboard the Napa Valley Wine Train for an exhilarating scenic adventure. One of the few vintage passenger trains still riding the rails, this Napa Valley train offers an amazing journey you'll savor for a lifetime.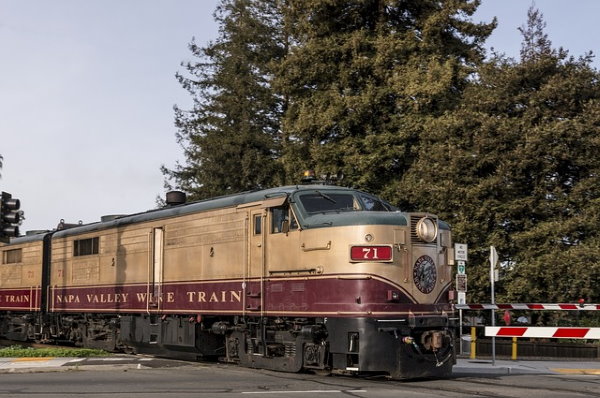 Ride the Rails Through Scenic Napa Valley
Why not turn the driving over to the train conductor? You can relax and drink in the postcard views for this leisurely three-hour ride through the picturesque valley. 
Departing from the McKinstry Street Station in downtown Napa, the wine train runs to St. Helena and back, usually without a stop. However, if you want to visit a winery along the way, some Napa wine train tours include a stop or two.

Five towns in the valley can be seen from the train: Napa, Yountville, Oakville, Rutherford and St. Helena. You'll also spot a number of wineries nestled among the vineyards.

Beautiful vineyards roll by from the Napa Valley Wine Train window. Photo credit
Nearly a century old, the Pullman railroad cars have been lavishly renovated, yet kept their vintage charm.
Traveling through the valley at about 20 miles per hour, the 36-mile round trip is a feast for your eyes and palate.
All trips include lunch or dinner -- with wine, of course.
The dining cars have two seating times for each trip. Guests who dine on the northbound trip will retire to luxury passenger cars to relax and take in the scenery while they enjoy coffee and dessert. Guests in the second seating spend the first half of the journey sipping cocktails and nibbling on appetizers in the passenger cars before heading to the dining cars for the southbound journey.
Choose from three dining cars for unique options...each has its own kitchen and menu freshly prepared by on-board chefs.

The Vista Dome dining car (not shown here) offers the best views from this train, and is beautifully detailed with mahogany and brass.
Lunch tours start about $225, and you'll pay more for special gourmet meals and events. It's pricey, but part of the whole luxury passenger train experience you'll be telling your friends and family about for years to come.
Elegant dining car on the Wine Train. Photo credit
Travel in Luxury on the Napa Valley Wine Train
Elegant china, polished silver and crisp, white linens offer a nostalgic glimpse of a grand travel-by-rail era.
Do you remember a time when travel was enjoyable and unhurried, not a chore? I don't either. That's why I treasure trips like this, surrounded with glamorous style of a bygone era...indulged with sumptuous food, wine, friendly service...and savoring it all with stunning landscape of the valley.
To me, the Wine Train offers the best Napa Valley has to offer, plus a chance to experience a preserved piece of history.

 Uh, oh. I could get used to this.
Want more information about the Napa Valley Wine Train? Go to Napa Wine Train.