Best Red Wine from Napa Valley

How do you identify the best red wine? Well, that's not so easy. You have to find that out for yourself. I'll guide you to some of my favorites, along with some expert reviews, then you do your own taste tests and discover what you like.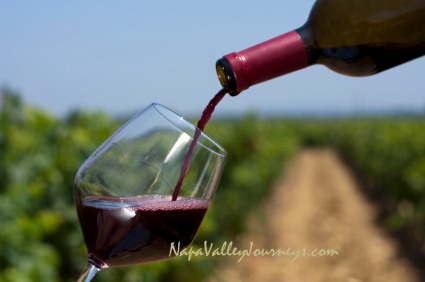 There are many red grape varietals that produce hundreds of types of red wine.
Sometimes these grapes stand out as the star of the show...and sometimes they play well together in wonderfully blended wines (called "Meritage" blends, such as Cabernet, Merlot and Cabernet Franc).
Napa Valley Red Varieties
Napa Valley's wine appellations (regions with distinct growing conditions, such as climate and soil) are well-matched to grape varietals that thrive in those regions.
Everything else -- the artistry of winemaking, the aging process, etc. -- is left up to the winemakers. That means, the winery's style and reputation are just as important in choosing a wine as the grape varietals.
With both grapes and wineries in mind, here are some of my recommendations for the best red wine from Napa Valley:
Best Red Wines in Napa Valley
Cabernet Sauvignon
Cabernet Sauvignon is king here. Napa Valley stands out in quality and style consistency for this red grape varietal, helping to establish Napa Valley as an important winemaking region.
Cabernet's ripe fruit shines through with complex aromas and flavors of black currant, herbs and bell peppers. This full-bodied red is rich and tannic, displaying its best qualities after aging a few years in oak barrels. Some of the best cabs are from Stag's Leap Wine Cellars and Far Niente wineries.
Merlot
Merlot has long been used as a blending wine, complementing Cabernet with its soft, velvety texture and round flavors of plum, blueberry and cherry. Over the past couple decades, however, Merlot has emerged as an important varietal on its own.
Good quality Merlots are not difficult to find in Napa, but you have to pay a little more for a bottle with complex-yet-subtle flavors and aromas. Give Pride Mountain ($65) and Duckhorn ($48) a taste. Merlot wine makes an easy match for a variety of foods.

Zinfandel
Zinfandel grapes love warmth and sunshine, making it a natural for Napa Valley. This versatile red is often combined with other reds in "Meritage" blends. But on its own, Zinfandel has become a popular choice for people who usually don't like red wine. Zin can credit its broad appeal to moderate alcohol content (around 10%), low acidity and fresh berry flavors.
I recommend Storybook Mountain Napa Estate Reserve ($85). Want a budget-friendly bottle? Smoking Loon Old Vine Zinfandel ($9).

Pinot Noir
Pinot Noir prefers a cool climate and a long growing season, making this grape persnickety about where it's planted. It does well in the southern tip of Napa Valley, in the Carneros region. Here, the cool San Pablo Bay breezes allow Pinot Noir to ripen slowly and fully, developing jammy fruit flavors with rich black cherry and raspberry aromas. Try Truchard Vineyards Pinot Noir ($38).

Discover a Whole New World of Wine
You could spend a lifetime tasting every wine produced in Napa Valley, so don't limit yourself to one type of grape or one winery you've discovered. If you do, you'll miss out on some of the best red wines in Napa Valley.
It's a good idea to branch out with new varietals and blends -- the wineries in Napa sure do.

Go off the beaten path, too, and try out some of the lesser-known boutique wines that are outstanding.

I love experimenting and learning about wine. And it's ongoing. You can never know everything there is to know about wine. There is always something new to explore, something new to taste.

What's more fun than that?