Things to Do in Napa Valley

Looking for things to do in Napa Valley? Whether you enjoy high-brow orchestras or down-home harvest festivals, you don't have to look far in Napa Valley. Things to do here go beyond ballooning and riding the rails...although those are unforgettable adventures.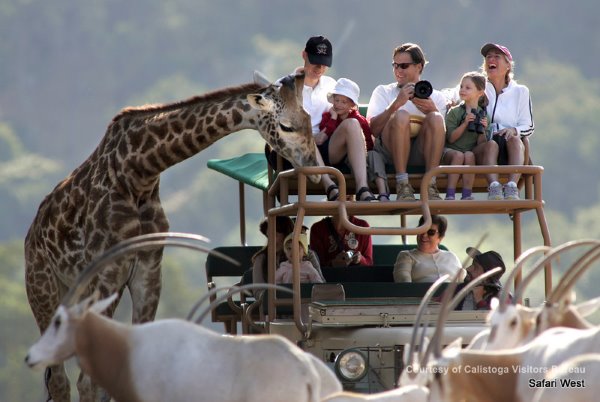 Safari West is a favorite of families and with anyone wanting a fun wildlife adventure.
Each town in this region has so much to explore, the only challenge is in choosing what to do next. Here are a few of my top picks:

Things to Do in Napa Valley
Napa Valley Museum
55 Presidents Circle, Yountville * 707-944-0500 * napavalleymuseum.org
The Napa Valley Museum opened its doors in 1997 and is a wonderful addition to the region. It's a must-see for anyone wanting to learn about the valley's history, culture and the art and science of making wine. You'll also discover kid-friendly exhibits and more things to do in Napa Valley Museum.
Safari West
3115 Porter Creek Road, Santa Rosa, CA * 707-527-4465 * safariwest.com
You'll think you're crossing the Serengeti on this 3-hour riding/walking journey. Get up-close with hundreds of exotic animals, including giraffes, zebras, wildebeests, monkeys, cheetahs and many more. The park includes an open-air aviary with stunningly colorful birds. Safari West is in Santa Rosa, just west of Calistoga -- and as close to a real African safari as you'll get without flying half-way around the world.
Napa Valley Opera House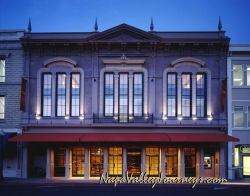 1030 Main Street, Napa * 707-226-7372

Located in the heart of downtown Napa, this historic landmark has been attracting audiences since its debut in 1880.
The Napa Valley Opera House has seen a variety of talent--and owners--over the years. Since March 2016, The Blue Note jazz club hosts live performances in its beautiful, intimate 500-seat theater.
Robert Louis Stevenson Museum
1490 Library Lane, St. Helena * 707-963-3757 * stevensonmuseum.org
This one-room museum next to the library houses an impressive collection of Robert Louis Stevenson works. The author wrote such classics as Treasure Island, Kidnapped and Dr. Jekyll and Mr. Hyde.
Why is this collection here in Napa Valley? Stevenson spent his honeymoon in an abandoned Silverado mine bunkhouse near Mount St. Helena, which inspired another novel, The Silverado Squatters. Open Tuesday through Saturday from noon to 4pm, except some holidays.
1881 Napa Wine History Museum
7856 St. Helena Highway, Oakville, CA * 1881napa.com
Add this new museum in Oakville to your list of things to do in Napa Valley. This first-of-its-kind visitor center blends wine history with wine tasting -- and apparently it's already a hit with tourists. 
Vintner Jean-Charles Boisset opened the 1881 Napa Wine History Museum to pay tribute to the pioneer winemakers who made Napa Valley what it is today. You'll discover the region's fascinating history, see original industry artifacts, and taste wines from the valley's distinct AVAs. It's free to visitors; open daily from 10:30am to 6pm. Reservations are recommended.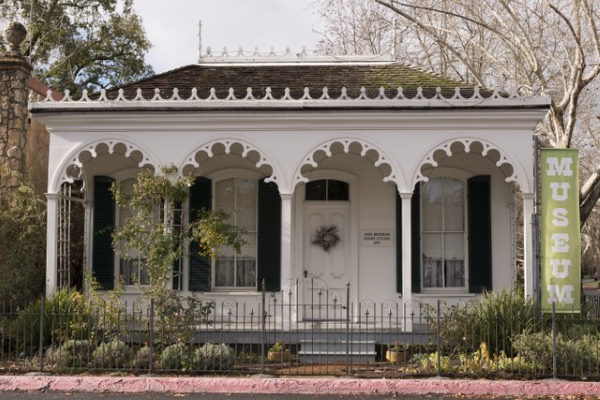 Tour Sam Brannan's original Hot Springs Resort cottage next to the Sharpsteen Museum.
Sharpsteen Museum and Sam Brannan Cottage
1311 Washington Street, Calistoga, CA * 707-942-5911 * sharpsteenmuseum.org
Step into Napa Valley's proud history at the Sharpsteen Museum, founded by Walt Disney animator Ben Sharpsteen. You'll get a glimpse into Napa's early life through original paintings and an amazingly detailed 30-foot diorama. Today, the museum is run by volunteers. Admission is free, but donations are welcome.
Calistoga founder Sam Brannan built the Hot Springs spa. One of the original cottages from the Hot Springs Resort was moved here, and restored to its 1800s authenticity.
Culinary Institute of America
2555 Main Street, St. Helena * 707-967-1100 * ciachef.edu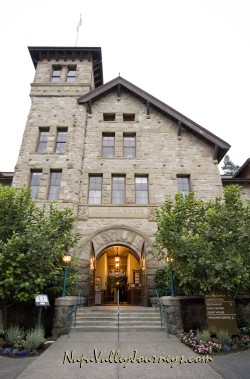 Indulge your passion for food and wine with a weekend class at the renowned Culinary Institute of America in Napa Valley.
This West Coast campus of the famed CIA in New York started out with a sense of entitlement. It's housed in the former Christian Brothers Greystone winery -- a century-old stone château.
Whether you're a budding wine connoisseur or want to make your culinary dream come true, you'll want to sign up for the one-day, hands-on wine or cooking classes. Or take the CIA Boot Camp -- a must-do for foodies! You know who you are.
Napa Valley Olive Oil
It should come as no surprise that Napa Valley takes its olive oil seriously. Olive groves abound in the region and the fruit is harvested, pressed, bottled and sold at specialty markets, wineries and farms in the valley. Many offer tastings and tours. Explore your Napa Valley olive oil options here and add a tasting to your list of things to do in Napa Valley.
Farmers Markets in Napa Valley
From Calistoga to the city of Napa, you'll find plenty of gourmet goodies in farmers markets throughout the valley to tantalize your taste buds. Get in on the freshest fruits, veggies, breads, coffee beans, honey, almonds and more.
Sights, smells and tastes are sure to rouse your senses as you stroll -- sipping a cup of freshly brewed coffee and nibbling a sticky bun, listening to live music and browsing handmade crafts, flowers and gifts. Check out all the things to do at Napa Valley farmers markets.
Hess Collection
4411 Redwood Road, Napa * 707-255-1144 * hesscollection.com
Okay, it's a winery. But this vine-draped stone cottage also houses one of the most impressive modern art collections in Northern California. It was built on the site where the first Napa wine was produced in the 1860s, making it a historic landmark. Owner Donald Hess generously makes his private collection available for free tours. His Cabernets are impressive, too.
Looking for more art to savor? Get the list of Napa Valley art galleries here.
The Petrified Forest
4100 Petrified Forest Road, Calistoga, California * 707-942-6667
Take a walk among the petrified redwoods on the Main Trail or Meadow Trail. You'll learn about these fossilized giants that were buried beneath volcanic ash for millions of years, then discovered by a farmer in 1870.
Today, the Petrified Forest in Calistoga is owned by the same family and is a California Historical Landmark. Take the guided tour and hear the fascinating history. Or take a self-guided tour. Get the current hours and times from the website.
Uptown Theatre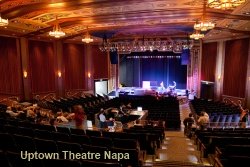 1350 Third Street, Napa * 707-259-0123 * uptowntheatrenapa.com
Head to the historic West End district of downtown Napa for live entertainment at the Uptown Theatre. This lovingly restored Art Deco masterpiece features a wide variety of top entertainers, including Boz Scaggs, Roseanne Cash, The Beach Boys, Lyle Lovett and many more. Of the many fun things to do in Napa, seeing a live show in this beautiful theater is one you'll long remember.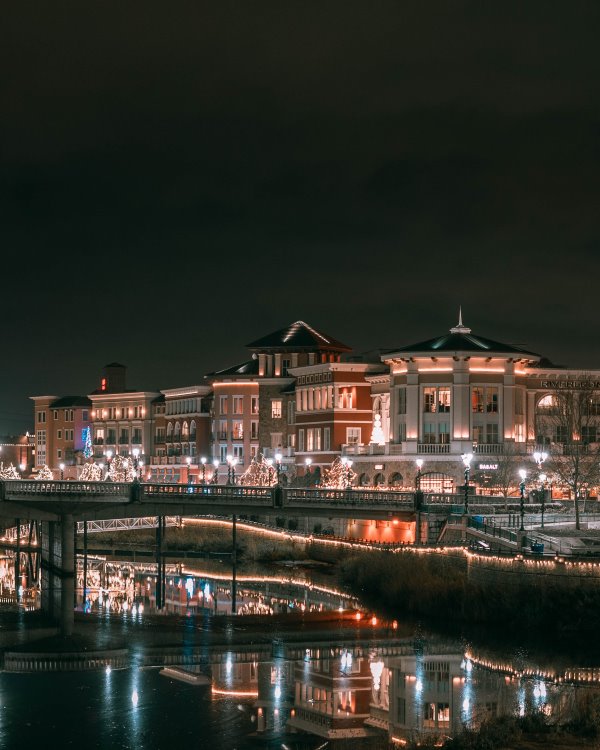 Napa's riverfront at night. Photo credit: Miguel Mallari.
Napa's Riverfront
700 Main Street, Napa * napasriverfront.com
Looking for more things to do in Napa? Whether it's your first trip to Napa or your fiftieth, Napa's Riverfront is worth a stop. Browse the many boutiques, relax at the Napa River Inn Spa, and feast on taste-tempting comfort foods at Angéle Restaurant & Bar or award-winning Celadon. Just need a nibble? Stop in the Napa General Store for a casual lunch on the garden patio or Vintage Sweet Shoppe for handmade chocolates or an espresso.
Music in the Vineyards
707-258-5559 * musicinthevineyards.org
Enjoy magnificent talent from America's award-winning orchestra musicians. Every summer, Napa Valley wineries provide the beautiful backdrop...and the wine, of course. Imagine the great works of Mozart, Strauss and Tchaikovsky while sipping the splendid wines of Napa Valley. The season concert series runs July 28 through August 20, 2023. 
Robert Mondavi Summer Music Festival
Highway 29, Oakville * 1-888-766-6328 * Robert Mondavi Concert Series
This music festival has been a tradition at Mondavi's winery in Oakville for more than five decades. The summer concert series kicks off (date to come) and features popular talent for their music concerts under the stars. Check the website for all the details, pricing, and schedule.
Want more things to do in Napa Valley? Check out these Napa Valley Events for month-by-month concert dates, hometown festivals, winery celebrations and more.