Charles Krug Winery

Charles Krug winery is the oldest in Napa Valley and the first to open a tasting room. Today, it's open to visitors to explore, taste, and discover how this popular destination has forever shaped Wine Country's culture.
Step into the beautifully renovated Redwood Cellar for wine tastings and a glimpse into the winery's captivating history-rich legacy.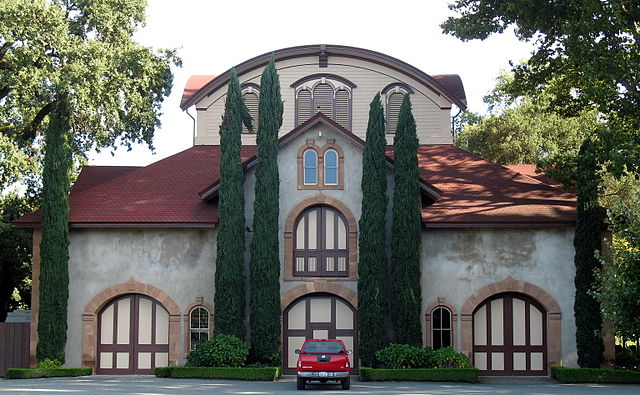 Charles Krug winery is listed on the National Register of Historic Places in the United States of America. Its reference number is 74000542. Photo CC BY-SA 3.0
Get to Know Charles Krug Winery
Pioneer winemaker Charles Krug founded this winery in 1861, making it the first in Napa Valley. Closed during Prohibition, the winery reopened after Cesare Mondavi bought it in 1943. Today, it's owned and operated by the Peter Mondavi family who have a wine legacy of their own.
The Charles Krug tasting room is part of the legacy. Dating back to 1882, the Redwood Cellar was the first-of-its-kind tasting room in Napa Valley. 
Once home to the Krug's family horses, the Carriage House was lovingly restored and now boasts a second-story called the Great Room. Redwood planks from the winery's original wine tanks were carefully salvaged and repurposed into the cathedral ceiling. Truly spectacular, it's a delightfully charming venue for weddings, receptions and other special events.

The Redwood Cellar, along with the 1881 Carriage House, have been beautifully renovated in recent years and are on the National Register of Historic Places.
Vineyards and Wines
Charles Krug wines are made from grape varietals harvested from estate vineyards throughout Napa Valley. Taking advantage of the diverse terroir of the region, Krug is able to artfully craft a variety of fine wines rarely produced from a single winery.
This winery offers cabernet sauvignon, zinfandel, sauvignon blanc, chardonnay, pinot noir, and more -- plus sparkling and dessert wines. 
Here are a couple recent stellar reviews for the Charles Krug Vintage Selection Cabernet Sauvignon (Napa Valley) 2018:
90 Points, Wine Enthusiast "Made entirely varietal and aged 20 months in French oak, this wine tastes of leather, cigar box and grippy blue fruit. Soft and ripe, it has a touch of tension amidst the powerful density and voluptuous style."
92 Points, Wine Spectator "Intense boysenberry, raspberry and blackberry pâte de fruit flavors drive through, flanked with an applewood note and carried by a deeply imbedded graphite spine. Licorice snap note then echoes on the finish. Best from 2022 through 2032."
Charles Krug Wine Tastings
Wine aficionados and history buffs alike will want to tour these fascinating landmarks. You'll get a peek into the valley's winemaking past as you sample the wines.
Charles Krug offers one of the most exhaustive wine lists in Napa Valley, but is best known for cabernet sauvignon.

You have a few tasting options available. Estate Tasting of limited releases for $50. Better yet, take the tour and tasting for $125 -- you'll hear about Napa wine pioneer Charles Krug's beginnings plus new innovations and explore the Redwood Cellar. Want a private tasting in a cabana for your small group? They do that, too.
Events at Charles Krug
Charles Krug winery is host to Tastings on the Lawn, a much-anticipated annual harvest celebration of wine tastings, live music and entertainment.
Outdoor concerts and more events are held at the winery throughout the year, including Blue Note Napa concert series, comedy nights, and festivals. Check the current happenings on the winery's website.
When and Where
2800 Main Street, St. Helena, California 94574 * 800-682-5784 * www.charleskrug.com
Open daily 10:30am - 5pm. The winery is closed for some holidays. Check the winery's website for the latest schedule, plus a map and directions.