Calistoga Wineries
Calistoga wineries have so much to offer, you may be pondering where to start. It really comes down to this: Do you like red wines or favor white? Are you more interested in architecture or art? Did you come to get an education about wine or just take it easy? 
Fortunately, Calistoga has it all. Taste award-winning reds and whites. Browse fine art collections, take a tour of a medieval castle, hop aboard a tram and drink in panoramic views of the valley. You can explore them here before you go.
Calistoga Wineries
Sterling Winery
Hop on the aerial tram for an adventurous ascent up to Sterling Winery. You'll enjoy one of the most picturesque views of the valley from the Greek-style white villa, perched high above the valley. The tour is self-guided, ending up in its tasting room. Sterling is perhaps best known for its Reserve cabernet and merlot.
Clos Pegase
Clos Pegase has it all -- art, architecture, an amazing sculpture garden, plus exquisite estate wines. Architect Michael Graves designed the impressive building, which now houses a fine art collection. Take the tour, taste a flight, it's worth it.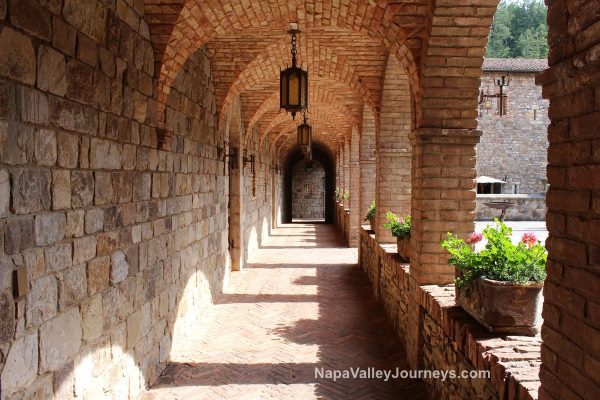 Stroll through the breezeway near the sun-splashed courtyard at Castello di Amorosa.
Castello di Amorosa
Whether you're a history buff, a wine aficionado or just love an adventure -- you won't want to miss the much-talked-about Tuscan castle. Take the tour of this medieval-style fortress. You'll see the drawbridge, a chapel, the Great Room with painted frescoes, a torture chamber and more.
Winter in the Wineries Passport
Heading to Calistoga in this winter? Take advantage of the annual Winter in the Wineries Passport. For around $75, you'll get access to complimentary wine tastings at 16 Calistoga wineries in and around this charming small town. You'll also get discounts at several Calistoga hotels, restaurants and shops. 
Bennett Lane Winery
Set at the foot of the Mayacamas, Bennett Lane Winery is just at the edge of the Valley floor. It's the ideal location for growing the fine quality grapes that make it to elegant wines. Best known for 90+ rated cabernet sauvignon vintages, this Calistoga winery is also known for Maximus -- a rich, red blend with flavors of plum, berries and caramel.
Chateau Montelena
Chateau Montelena is rich in history, beginning with the 1882 ivy-covered stone chateau. But there's so much more. Take the tour and you'll hear about the famous 1973 bottle of chardonnay that shocked the wine world by winning in a blind taste test against France's finest. Set at the foot of Mount St. Helena, this Calistoga winery is elegant, facing peaceful Jade Lake and gorgeous gardens.
Storybook Mountain Vineyards
Zin lovers will want to head to Storybook, tucked in the Mayacamas mountains northwest of Calistoga. This is a prime spot for quality zinfandel, and Storybook Mountain wins high praise for its small, yet powerful production of this varietal. Because this is a small outfit, you'll need an appointment to take a tour, which includes a stroll into the vineyards and a tasting in the 125-year-old wine caves.