Napa Valley Golf Courses

Napa Valley golf courses offer excellent options for playing a round among the grapes. Some are public courses, others are private -- all get rave reviews from locals and tourists.
You may have already guessed the courses here are popular. It's difficult to get on unless you reserve a tee time at least a couple weeks in advance. Check websites for specifics about tee times, fees, and course layouts.
If you've never played Napa Valley golf, there are some things you should know.
Some courses have gone the extra mile on design and landscape. Big ponds with fountains and waterfalls, hilly terrain, abundant flowers and shrubs, plus surrounding vineyards may create new challenges. Bring plenty of balls.
Although the mountains protect Napa Valley golf courses from strong Pacific winds, the stubborn fog sometimes settles in like a thick layer of cream across the fairways, hiding the low-lying greens and bunkers. Fog isn't predictable, and you may be glad you reserved an afternoon tee time.

That same misty air keeps the grass softer here than you may be used to. Don't be surprised if you have to go up one club on your fairway shots to get extra lift on the ball, or give extra oomph to your putt because the greens are slow.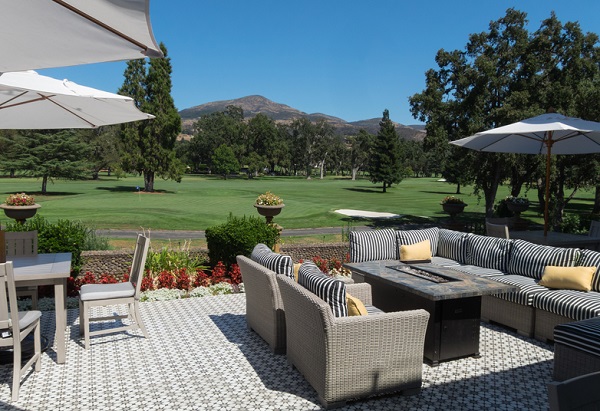 View of the championship golf course from the luxurious Silverado Resort terrace.
Napa Valley Golf Courses
Vintner's Golf Club
7901 Solano Avenue, Yountville * 707-944-1992 * vintnersgolfclub.com
This stunning gem is located in the charming town of Yountville. The public championship 9-hole course has 3 sets of tees to challenge the experienced as well as please the scratch player. This pristine course boasts spectacular scenery and a fully stocked pro shop. After a couple hours on the links, grab a burger and a beer at the club's Lakeside Grill. It's not the fanciest menu in town, but the views from the terrace are a feast for the eyes.
You can take lessons here from PGA and Senior PGA Pro Bob Boldt. Bob holds an impressive record and 30 years' experience playing and teaching golf. Tee times can be reserved online, and be sure to check out special savings offers.
Chardonnay Golf Club
2555 Jameson Canyon Road, Southeast of Napa * 707-257-1900 * chardonnaygolfclub.com
Located at the gateway of Napa Valley, and surrounded by chardonnay vineyards, this semi-private course offers magnificent scenery. The 18-hole championship golf course has a unique layout of six par fives, six par fours and six par threes that wind around trees and lakes. And this is especially unusual -- there are five sets of tees to challenge the pros as well as accomodate newer players.
This Napa Valley golf club's large "learning center" offers ideal spots to practice your drives, bunker shots and putts. There's a pro shop and a bar and grill, plus many facilities for all kinds of events -- from business banquets to wedding receptions. 
Eagle Vines Golf Club
580 South Kelly Road, Napa * 707-257-4470 * eaglevinesgolfclub.com
Spread across the foothills, this beautifully landscaped course is surrounded by vineyards. Everywhere you look, you'll take in a glorious view of emerald-green fairways woven amongst the oak trees, glistening ponds and waterfalls. This 18-hole public course, designed by Hall of Famer Johnny Miller, is a golfer's dream come true. You can see it for yourself -- the whole course is shown on their website, hole by hole.
You can sign up to take private or group lessons from PGA Head Pro Marcus Sharit, Assistant Pro and PGA member Dan Lithgow and LPGA Assistant Pro Valerie Maio. Marcus, Dan and Valerie each have a wealth of experience teaching the game.
Napa Golf Course at Kennedy Park
2295 Streblow Drive, Napa, California * 707-255-4333 * playnapa.com
Located in the city of Napa, this 18-hole municipal Napa Valley golf course has the usual amenities: golf carts, practice range and golf shop, plus a Taproom, open for lunch. Narrow fairways make the course a little challenging, and unfortunately, with the current drought, they are below par. This is one of the most relaxed, kid-friendly, and affordable courses you'll find in the region.
Whether you want to perfect your swing or practice your putt, PGA Class A Member David Knox is here for one-on-one or group instruction. From tee to green, David's expertise may take your game to a new level. Want to practice on your own? Grab a bucket of balls at the practice range.
Enjoy gorgeous views of the award-winning Silverado Resort golf course.
Silverado Resort
1600 Atlas Peak Road, Napa * Pro Shop: 707-257-5460 * silveradoresort.com
This club's two 18-hole championship golf courses are private to club members and guests of the resort. Redesigned by PGA Hall of Famer, Johnny Miller, the courses offer water and elevation challenges and are surrounded with mature oak trees. Beginners and seasoned golfers alike will love playing these beautiful Napa Valley golf courses.
Many consider them to be the best in Wine Country. In fact, the golf courses have been recognized with the Distinguished Golf Destination Award from BoardRoom Magazine in partnership with Forbes Travel Guide. If you're staying here with golf in mind, be sure to take a look at the "Golfer's Dream" package on the Silverado Resort website.
Want lessons? Learn from PGA or LPGA pros who can take your game to the next level. You just don't get access to private or group instruction from pros with this kind of teaching experience anywhere. Want to look like a pro? The golf shop can outfit you with the proper gear.
Meadowood Resort and Spa
900 Meadowood Lane, St. Helena * 707-963-3646 * meadowood.com
This luxurious resort features a 9-hole golf course that's open only to members and hotel guests. The executive 9 is short and sweet, leaving you plenty of time for the nearly endless activities you'll enjoy here: tennis, swimming, croquet and hiking. Plus, there's a fitness facility offering countless cardio, cycling, pilates, strength training and yoga classes. Whew! And when you're ready to wind down, the resort's spa has pampering treatments to soothe your body and mind.
Golf instruction is available from the club's resident pro, Doug Pike. Want to practice on your own? Check out the new TrackMan studio, offering the latest technology to help golfers perfect their swing.