Types of White Wine

You've probably heard of the grapes used to make the many types of white wine -- Chardonnay, Sauvignon Blanc and Riesling. But some newcomers are making a splash in Napa Valley, and we'll explore those here, too.
Sauvignon Blanc
The essence of good-quality Sauvignon Blanc is ripe, vibrant fruit with high acidity, and strong tropical fruit aromas. It is often aged in oak barrels to make it more palatable for Chardonnay-lovers. Unfortunately, some California winemakers over-oak Sauvignon Blanc, masking its hallmark light, crisp, bright qualities.
Americans just haven't come to appreciate this outstanding varietal yet. The good news? You can easily find a good bottle at an affordable price. Sauvignon Blanc pairs nicely with seafood.

Robert Mondavi developed a richer, fuller-bodied Sauvignon Blanc wine in the 1960s and labeled it Fumé Blanc. This new style seems softer to me -- less acidic and tangy, with a less pungent aroma than the traditional Sauvignon Blanc wines.
Here are a couple recent Sauvignon Blanc reviews worth noting:
Inglenook Rutherford Sauvignon Blanc 2020 "...this white opens in a compelling nose of peach, orange blossom and hazelnut. It has depth of flavor and texture that make it both crisp and creamy..." 93 Points Wine Enthusiast
Pahlmeyer Jayson Sauvignon Blanc 2021 "Shows mouthwatering Honeycrisp apple flavors at the core, with lemon zest, tangerine and Meyer lemon flavors... Shows wonderful harmony and persistence." 91 Points, Wine Spectator
Viognier
Viognier, the white grape from the Rhône Valley of France, is gaining ground in California. I mean this literally: thousands of acres of the grape is now being grown in The Golden State. And for good reason -- Viognier grapes love the warm climate. More importantly, Americans love the complex floral aromas and tropical fruit flavors of this wine.
Viognier seems to fill a niche where other types of white wine are overpowering. Its luscious fruit flavors and smooth texture are a dream-come-true when paired with grilled mahi mahi with mango salsa or a pork roast topped with pear chutney.
More Types of White Wine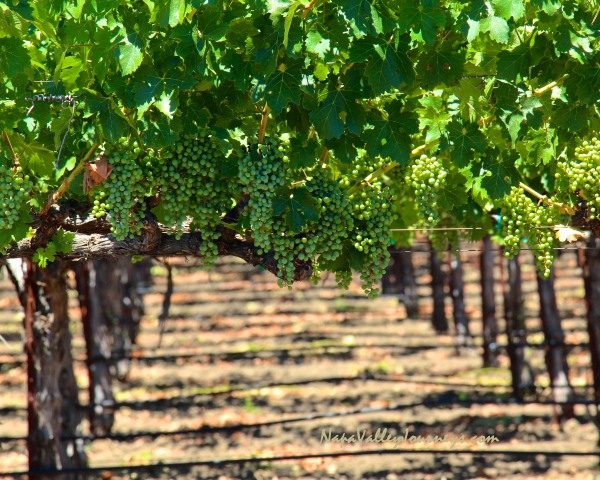 Pinot Gris
Pinot Gris (known as Pinot Grigio in Italy) is light and crisp with subtle aromas of peaches and pears with flavors to match.
Pinot Gris is a relatively new arrival to Napa Valley, where it doesn't compare to the wines made in Italy. It isn't the winemakers' fault. Warm, sunny California just isn't the ideal spot for these grapes, which are better suited for the cool, mineral-rich terroir of northern Italy. California-grown Pinot Gris grapes are lower in acidity than their Italian cousins, though, making the wine an easy complement to poultry dishes.

Chardonnay
Chardonnay excels in Napa Valley for several reasons. It adapts well to a range of climates around the world, but this grape picks up characteristics of Napa's fertile soil, temperate climate and sunshine -- and displays them in the complexity of the wines.
Napa Valley Chardonnay is a gloriously fruity, velvety, full-bodied white wine aged in oak to make it rich and luscious.

Napa Valley winemakers also give Chardonnay their own signature style. Sometimes the flavor of the grape is overpowered by the oak in which it is aged, but the best offer a balanced, juicy, lip-smacking quality for which Wine Country is known. Chard is one of my favorite types of white wine...can you tell?
Here are a couple stellar reviews of Chardonnay from Napa Valley:
Far Niente Chardonnay 2021 "Precise and aromatic, with notes of fresh ginger, lemon thyme and lemongrass to complement the core of lemon curd..." 92 Points, Wine Spectator
Chateau Montelena Napa Valley Chardonnay 2020 "...hints of apple, tangerine and lime on the nose. ...vibrant on the palate, finishing crisp and long." 93 Points, Robert Parker's Wine Advocate
Types of Sweet White Wine
Riesling
Riesling displays its charms best when it ripens slowly on the vine, in a sunny-yet-cool climate (that leaves out most of the valley). Some of Riesling's best qualities -- with flavors and aromas of flowers, peaches and pears -- shine through when grown in the cooler, southern region.
Often thought of as a sweet white wine -- and indeed, late-harvest grapes produce some of the sweetest dessert wines anywhere -- Riesling can also be bone-dry and everything in between. Rieslings are naturally high in acid, and are a perfect match for grilled fish and spicy Chinese and Thai dishes.

White Zinfandel
Wildly popular in the 1970s, White Zinfandel (actually a rosé) is still a favorite for those who enjoy a light, fruity, sweet wine. Its sweetness makes an ideal match for spicy Asian dishes, as well as simple chicken or turkey. Good bargains on White Zinfandel wines from Napa are easy to find.