Napa Valley Bed and Breakfast

Looking for a relaxing getaway? Take a virtual tour of Napa Valley bed and breakfast accommodations right here and find the perfect place to stay.
Homespun comforts and nostalgic charm blend well in Wine Country. Discover the best bed and breakfast Napa Valley has to offer -- from enchanting rooms-with-a-view to scrumptious, homemade feasts. Add in legendary personal service and you've got what Napa's B & B's do like no one else.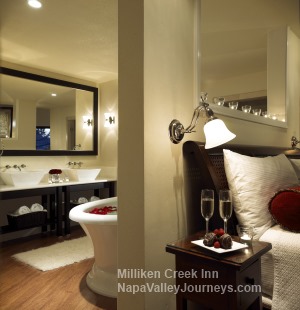 Go ahead -- treat yourself to a little self-indulgence. You're about to make memories that'll last a lifetime.

Napa Valley Bed and Breakfast Lodgings
Oak Knoll Inn
The Oak Knoll Inn is a peaceful haven in the middle of Wine Country -- and everything a Napa Valley bed and breakfast should be. It's quiet and intimate -- only four guest suites are available. Vaulted beam ceilings, fieldstone walls and wood-burning fireplaces give rustic country charm to its spacious rooms. 
Stroll through the rose garden, take a dip in the pool or relax with an in-room massage. This B & B offers the perfect blend of privacy (you'll have your own entry and ultra-modern bath) and service (the gourmet breakfasts are an indulgence).
Milliken Creek Inn & Spa
Perhaps the most romantic in all the valley, the Milliken Creek Inn is an intimate retreat of just 12 rooms. Luxurious linens, fresh flowers and cozy fireplaces set the mood. 
Each room is unique, all are simply gorgeous. Unwind with a soak in your spa tub, wrap yourself in a plush robe, and enjoy a scrumptious breakfast in bed. Surrender to the spell of picturesque views and melt-your-cares-away massages...this inn is designed for nurturing.
Maison Fleurie
Right in the heart of casual-yet-chic Yountville, the Maison Fleurie keeps you within a short walk of the town's best restaurants. But if you're looking for a quiet, secluded place, this isn't it. Family-style breakfast is served in a dining room that can get a bit crowded at times. Its 13 rooms are vine-covered cottages decorated in French country style. The smallest rooms are some the most affordable in town; the largest have a fireplace, patio or spa tub.
Beazley House
Just a short jaunt from Napa's thriving downtown, the Beazley House is a charmer. Beautiful craftsmanship makes this historic house -- Napa's first B & B -- stunning. Lovingly renovated in 1981, the rooms of the 1902 mansion and carriage house have private baths and top amenities. Best of all, innkeepers Jim and Carol Beazley are there nurturing their guests. (You'll find Carol's delicious recipes on the website.)
Poetry Inn
Want quiet and serenity? You'll find it at the Poetry Inn. Built on a hillside overlooking the magnificent views of Stag's Leap District, this luxurious Napa Valley bed and breakfast will spoil you for anything else. 
Wrap yourself in extravagant comforts such as fine Italian linens, plush robes and pampering massages. Spacious rooms with wood-burning fireplaces and private balconies surround its guests in sumptuous style.
Old World Inn
Built by a master craftsman in 1906, this beautiful Victorian house was lovingly restored in 1979. Each room of the Old World Inn has a unique personality -- all are tastefully decorated, and some are surprisingly budget-friendly. Gorgeous woodwork, polished wood floors, fireplaces, and crisp linens are just part of what makes this inn a favorite. Sharon and Russ, your friendly hosts, will make you feel like you're staying with family. And they'll feed you well, too: hearty breakfasts, wine and hors d'oeuvres, heavenly chocolate desserts...mmmm.
The Inn on First
Forget what you think you know about B & B's. The Inn on First in Napa has spacious rooms with fireplaces and private bathrooms with whirlpool baths, plus many amenities you'd expect at a big hotel. Chocolate truffles, massages, sparkling wine and fresh flowers come together to make this a beautiful place for a romantic getaway. Owners/Innkeepers Jim and Jamie aim to please, and you won't find a better breakfast...Jim is a chef whose gourmet feasts will surpass your expectations.