Napa Valley Bicycle Tours

Napa Valley bicycle tours are an ideal way to spin your way through the region. Want to get up close to the vineyards, enjoy scenic backroads and visit a few wineries along the way? Bike tours can make it happen.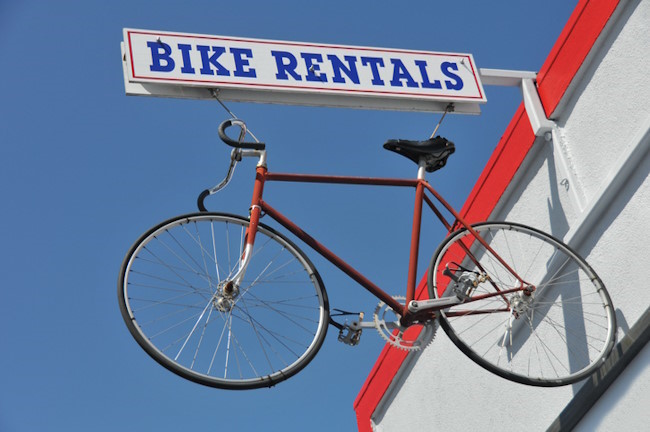 Your options for exploring Napa Valley on a bike are practically limitless. Bike rental companies offer a range of bikes -- from electric, hybrid and tandem for breezing through flat towns to mountain bikes for a vigorous haul through the hills. You can make your excursion as ambitious or leisurely as you like.
Not much of a cyclist? You don't need to worry. Most Napa Valley bicycle tours routes have two to five miles between wineries and are on gently rolling terrain. Some guided tours are just a couple hours and some are day-long excursions.
If you like to go at your own pace, choose a self-guided tour. That way, you can make plenty of stops at memorable small-town cafes, off-the-beaten-path wineries, delightful boutiques, bakeries and other hidden gems you might otherwise miss.

Napa Valley Bicycle Tours Companies
Napa Valley Bike Tours
6500 Washington Street, Yountville * 707-944-2953 * NapaValleyBikeTours.com
Whether you want to pedal the backroads on your own, or on a guided tour, this company has you covered. Planners are on hand to customize the perfect Napa Valley bike tour for you or your group. Want to start from your hotel? Ask ahead and they'll drop off bikes for your group at just about any hotel in the region.
Rentals start at $45 for a full-day rental. You have a lot of options here, including road bikes, cruisers, electric and tandem, plus kids bikes and trailers for your little ones.
Calistoga Bike Shop
1318 Lincoln Avenue * Calistoga * 707-942-9687 * CalistogaBikeShop.com
Tour this charming town any way you want. Whether you're on your own or you brought your whole group, your choices for touring seem endless. Guided Napa Valley bicycle tours keep you on a schedule of wine tours, including lunch, as well as local history from your guide. Choose a leisurely ride along flat, quiet roads or an adventurous mountain tour with spectacular views -- or anything in between.
If you're the independent-spirit sort, the self-guided Calistoga Cool Wine Tour package ($109.99) is what you need to explore on your own.
Let their pros set you up with a bike, a map of the wineries, and a wristband entitling you to wine tastings along the route. The friendly staff will tell you the best local places to grab a bite, too. Want the commemorative t-shirt? It's here at the bike shop, along with cycling gear.

St. Helena Cyclery
1156 Main Street, St. Helena * 707-963-7736 * StHelenaCyclery.com
Serious cyclists will want to check out the hybrid and road bikes here. This well-established bike shop boasts the best fleet in the valley, as well as competitive rental rates that start at $45 for the day. No need for hybrid bike reservations unless you have a group of 10 or more. Want a road bike? Call ahead.
St. Helena Cyclery doesn't offer guided bicycle tours, but their knowledgeable staff will help you choose the best bike for where you want to go. 
Know Before You Go
Dress for (cycling) success. You don't need to gear up like Lance Armstrong, but wear comfortable clothes. It's a good idea to dress in layers. If you're heading out early, remember the valley is cool in the mornings, then warms up fast. You'll also want to wear running/walking shoes for this.
Be prepared. Sunscreen, sunglasses and water bottles are must-have items. Bring your I.D., credit card and money for bike rental, wine tastings and lunch. Don't forget your camera to capture your cycling adventure.
Be safe. Don't count on bike lanes in Napa Valley. There are a few. Even off-the-beaten-path roads and winery lanes have traffic, and drivers aren't necessarily watching for you -- they're admiring the scenery! Watch out for cars, limos, buses and other cyclists. Most cyclery shops furnish helmets with their bike rentals -- use them.