Sparkling Wine Reviews

Want a Napa sparkling wine and don't know which to choose? Let these sparkling wine reviews help you sort through the best of the bunch, and pick out a good bottle -- or two.
Sparkling wine is typically reserved for special occasions, and that's a shame. If you enjoy drinking it, don't wait for a celebration. You can easily find excellent, affordable sparkling wines. So go ahead -- open a bottle and enjoy it with good food just like any other wine. I think it's especially wonderful with crab cakes, shrimp -- or creamy dishes, such as fettucine alfredo.
Napa Valley produces some very good sparkling wines that I consider to be great values. The sparkling wine reviews below from Wine Enthusiast and Wine Spectator are on a scale from 1-100.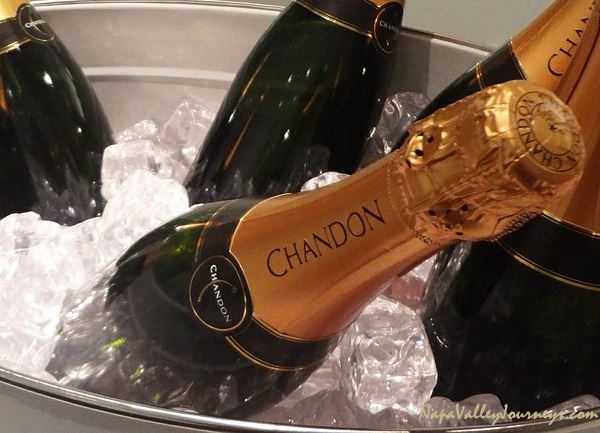 Sparkling Wine Reviews
Domaine Chandon Brut Classic
Delicate aromas of apple and pear are accented with a nutty bouquet and creamy texture that are typically characteristics of fine French Champagne. It has a soft, dry finish and is nicely priced at $24.
90 Points Wine Enthusiast, December 2009: "A nice, everyday bubbly that offers elegance at an affordable price. Chardonnay contributes crisp flavors of limes, while Pinot Noir brings deeper flavors of cherries. A lovely wine that grows in the glass."
Mumm Napa Brut Reserve
Complex and beautifully structured, Brut Reserve uses the méthode champenoise, a labor-intensive process of blending, fermenting and aging, used by all Champagne houses in France. For $44, you're getting your money's worth.
Brut Reserve brings together a celebration of the ripe fruit flavors of Napa Valley -- fresh fig, cherry, vanilla beans and honeysuckle -- with a strong emphasis on the complex toasty, creamy flavors of yeast aging. The result is a balanced, creamy texture and full, round flavor with a refreshing finish.
92 Points Wine Enthusiast
90 Points Wine Spectator
Domaine Carneros Brut Cuvée
This classic sparkling wine blends the best Pinot Noir and Chardonnay, all from the Carneros region of Napa Valley. Made from the Champagne giant, Taittinger, you can expect quality. At around $36, you're getting quite a value for this well-rounded wine. Here are a couple sparkling wine reviews:
91 Points, Wine Spectator: Domaine Carneros, November 2009: "Festive and vibrant, but rich and complex, with bright aromas of fresh cherry and lemon that lead to luscious flavors of raspberry, yeasty pear and crisp mineral."
90 Points Wine Enthusiast Magazine, June 2007: "The winery's brut has been a remarkably consistent wine over many years, offering plenty of real Champagne quality at a relatively affordable price...."
Schramsberg Brut Napa Carneros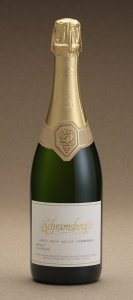 Fresh fruit flavors and aromas -- green apple, grapefruit and pineapple -- shine through this Chardonnay grape-focused sparkler from the Carneros region.
Cooler temperatures and lingering mists in Carneros (at the southern tip of the valley) bring out the excellent fruity character in Chardonnay grapes.

The bright, juicy citrus is complemented by English toffee and toasty almond, developed from years of aging with the yeast.

Crisp and vibrant, this sparkling wine is rich and bold from start to finish. It retails for $175, if you can find it. 

About Sparkling Wine
Why sparkling wine and not Champagne? Because of a French label law, only bubbly that comes from the Champagne wine-growing region of France can be called Champagne (that's with a capital "C"). Everywhere else, it is sparkling wine.
Several French Champagne houses also produce California sparkling wines, some in Napa Valley. So...is it the same thing? The short answer is "no." Processes that are used may not be the same, plus the soil and climate (called terroir) are different. The grapes in Napa Valley get more sun than their French counterparts, making them riper with a brighter, fruitier taste.
What makes the bubbles? Sparkling wine starts out as still wine typically made from Chardonnay and Pinot Noir grapes. To give it effervescence, it's put in a bottle or barrel with yeast and sugar for a second fermentation. This produces a lot of carbon dioxide (bubbles). After aging, the yeast is carefully removed and the bottles are quickly corked to preserve the bubbles.
How to Serve Sparkling Wine
What temperature? Sparkling wine should be served well-chilled. Place the bottle in an ice bucket for 30 minutes. This is the fastest method for chilling wine. About 45° is the ideal drinking temperature. Never open a bottle that hasn't been chilled first.
 Afraid of popping the cork? You're not alone. That volatile bottle can impose a threat. We've all experienced it... the startling "POP!" that sends the cork soaring like a missile into the air, while the pricey bubbly pours over your hand and onto the floor. What a mess. And what a waste of delicious wine.
Yes, there is a better way.

How to open a bottle of sparkling wine.
Remove the foil at the top of the bottle. You'll likely find a tab under the lip of the bottle -- just pull it to remove the foil. 
Next, loosen the wire cage by twisting the closure counter-clockwise. Keep the loosened cage in place to prevent the cork from flying out.
With the cage loosened, but still in place, point the bottle away from yourself and others. Tilt the bottle at a 45° angle and slowly twist the cork. Ease the cork out so that all you hear is a "ppffft" as the cork is released.
What type of glass to use. Champagne flutes are best. Why? The long, narrow shape doesn't expose as much wine to the air, making the bubbles last longer. Hold the flute by the stem to prevent your hand from warming the wine.
Pour the sparkling wine. Hold the bottle an inch or so above the flute rim and pour the wine s-l-o-w-l-y to prevent breaking the bubbles. Fill each flute only 3/4 full to allow for some fizz. That's it! Drink and enjoy.