Napa Valley Restaurants

You have a sumptuous choice of Napa Valley restaurants -- from elegant, cozy bistros to delightfully rustic rib joints. Some of the finest chefs in the country hang their hats right here, offering incredibly inventive dishes that combine fresh California produce with Old- and New-World flavors.       
So...how do you choose?

I've sorted through some of the best restaurants in Napa Valley and listed them by type, along with a guide to price. (Yes, the best comes at a price and you'll want to avoid eye-popping surprises when the bill arrives.)
Guide to Dining Prices Per Person:

$ = Up to $20

$$ = $20 to $30
$$$ = $30 to $50
$$$$ = $50 or more
Explore Napa Valley Restaurants 
American
Mustards Grill (7399 St. Helena Hwy, Yountville * $ to $$), owned by chef Cindy Pawlcyn for 30 years, knows how to put a sophisticated spin on hearty dishes. Specialties include grilled Hanger Steak with red wine onion jam and hand-cut fries, Niman Ranch (half-pound!) Burger, Thai Chicken Salad, and out-of-this-world seasoned onion rings.
BarBersQ (3900 D Bel Aire Plaza, Napa * $ to $$) serves up scrumptious Southern-style barbecue and everything you expect with it: mashed potatoes, collard greens and chocolate bourbon pecan pie. It's a real find set in a shopping mall.
The Boon Fly Cafe - Carneros Resort (4048 Sonoma Highway, Napa * $$) is in a barn. Step onto the hardwood floors for a friendly welcome and hearty helpings of homemade comfort foods with...wine. It's Iowa-meets-Napa and it's all charming.
Solbar (755 Silverado Trail, Calistoga * $$ to $$$) features farm-to-table California dishes with a southern accent. From grilled Bodega Bay king salmon to tasty smoked shortribs, you'll find plenty to please you at this Michelin-starred Napa Valley restaurant. Get a table on the patio for beautiful mountain views.
Rutherford Grill (1180 Rutherford Road, Rutherford * $$ to $$$) is an oasis in this tiny town. Generous portions of juicy steaks, ribs and burgers keep this place bustling. Wood tables, leather seats and dim lighting sets the scene of a classic steakhouse.
Celadon (500 Main Street, Napa * $$$) aims to please. Scrumptious Maine crab cakes and herb-marinated chicken breast with wild mushroom ragout are a couple favorites. The service is spot on, and I love the fresh decor.
Cole's Chop House (1122 Main Street, Napa * $$$$) exudes style and vibrancy. Soaring ceilings and polished woodwork give it atmosphere and make it an inviting place to savor your aged porterhouse and Napa cabernet while listening to jazz.
Ad Hoc (6476 Washington Street, Yountville * $$$$) is a casual-yet-chic Napa Valley restaurant opened in 2006 by chef Thomas Keller. The price is fixed ($52) and so is the nightly menu, featuring hearty, down-home fare.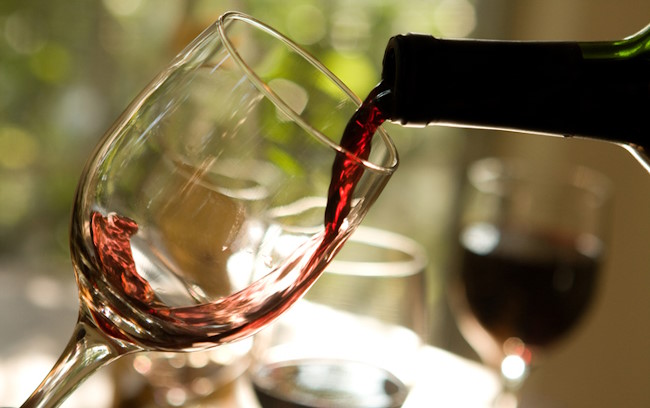 Italian
Ristorante Allegria (1026 First Street, Napa * $$) is located in a 1916 bank building that's a sight to behold. Spacious and elegant, this bank-turned-romantic restaurant will charm you. Cal-Ital dishes are superb.
Bistro Don Giovanni (4110 Howard Lane, Napa * $$) serves up warm hospitality along with scrumptious Italian dishes in this charming eatery. Try to snag a table on the terrace for beautiful mountain and garden views.
Bottega (6525 Washington St., Yountville * $$$) is a foodie's dream-come-true. This hot spot showcases celebrity chef Michael Chiarello's signature Italian dishes with a twist. You'll savor the ambiance, too. Bottega is located in the historic Groezinger Estate, one of the oldest wineries in Napa Valley.
Looking for pizza restaurants in Napa Valley? You'll find them here, listed town by town.
French
Bistro Jeanty (6510 Washington Street, Yountville * $$ to $$$) is a casual spot with serious French comfort food. You'll find the menu filled with stick-to-your-ribs French classics, such as coq au vin (it's superb), cassoulet and crème brûlée.
Angèle Restaurant (540 Main Street, Napa * $$$) serves classic French dishes in this 19th-century-boathouse-turned-bistro. It's charming, rustic and romantic.
Bouchon (6534 Washington Street, Yountville * $$$) has a luxurious Parisian mood and a menu to match. Renowned chef Thomas Keller (of the French Laundry) is behind this gem. It's no wonder this is one of the busiest Napa Valley restaurants.
Auberge du Soleil (180 Rutherford Hill Road, Rutherford * $$$$) boasts one of the best views of the valley from its terrace. Sumptuous cuisine and an enviable wine list rivals the enchanting ambiance and keeps people coming back.
French Laundry (6640 Washington Street, Yountville * $$$$) owned by chef Thomas Keller, is one of the finest in the country, if not the world. Two nine-course prix fixe menus are offered each day, and each dish is a work of art. Easily the priciest in the valley -- dinner for two with wine, tax and tip can surpass $700. Tables are coveted here and reservations hard-won. Call two months in advance.

Breweries
Beer enthusiasts will want to explore Napa Valley breweries. Though they are few in number, these brewpubs offer friendly, casual spots to sample a variety of handcrafted beers and perhaps even chat with the on-site brew masters. Some offer tours and freshly made fare to go with your ale.