Calistoga Restaurants

Calistoga restaurants serve up fresh local flavors you've come to expect in Wine Country. From adventurous small-plate cuisine to Cal-Ital, you'll find plenty to please your palate in this charming spa town.
With the region's bounty and so much effort devoted to the pursuit of the best food and wine, you can count Calistoga among the most sought-after restaurant towns in Napa Valley.
Solbar is a popular eatery offering healthy fare and spectacular views. Photo © Zhukovsky
Calistoga Restaurants
Solbar
755 Silverado Trail, Calistoga * 707-226-0850 * Solbar * $$$
Tucked in the Solage Calistoga resort, Solbar serves farm-to-table California cuisine, including some serious comfort food. From Alaskan halibut to tasty beef short ribs, you'll find plenty to please you at this Michelin-starred bistro. To get a taste of the variety served here, check the menu on the website.
The expansive fireplace gives a warm, intimate feel to the contemporary decor. Get a table on the patio for beautiful mountain views.
Veraison 
1457 Lincoln Ave., Calistoga * 707-942-5938 * Veraison * $ to $$
French bistro style and fresh seasonal flavors blend beautifully in this elegant Calistoga restaurant. Owner Dan Kaiser snapped up this spot that used to be home to the long-time JoLe restaurant.
Want a late-day nibble? How about oysters on the half shell with a glass of bubbly? Or choose from a generous selection of housemade charcuterie and cheese. Perhaps you're ready for a scrumptious feast -- poultry, seafood, pasta. Can't decide? Create your own tasting menu with three or more courses. Boutique wines are on the menu, offering a variety not commonly seen, even in Wine Country.
Return to top of Calistoga Restaurants
Evangeline
1226 Washington St., Calistoga * 707-341-3131 * Evangeline * $$ to $$$
This stylish bistro is a recent and welcome addition to Calistoga's dining scene. Tucked away from the main drag, Evangeline's is already drawing the crowds. And it's no wonder...the elegant Solage hotel is behind this gem.
Chef Sharp and Chef Rios put a fresh spin on French classics (duck cassoulet), plus bold flavors with more than a hint of New Orleans (gumbo ya-ya). This new eatery blends into the streetscape, but step inside and you'll feel instantly warmed by the ambiance of posh leather banquettes, polished wood tables and soft lighting. Try to snag a table on the trellised garden patio...it's a beautiful oasis where you'll want to relax a while.
Buster's BBQ
1207 Foothill Blvd., Calistoga * 707-942-5605 * busterssouthernbbq.com
In a region not known for barbecue, Buster's serves unusually tender and juicy pork, beef and chicken dishes, plus all the Southern-style sides: baked beans, coleslaw, potato salad, corn bread and more. Is your mouth watering yet? Save room for a slice of sweet potato pie.
For more than 50 years, Charles "Buster" Davis has cooked up scrumptious meals, using the highest-quality meats and his mother's authentic recipes. Locals from all over town line up for the best Louisiana 'que going. Indoor and outdoor tables are available -- or get your order to-go.
Live jazz and blues play on the patio Sunday afternoons when the weather is right.
Return to top of Calistoga Restaurants
Hydro Bar & Grill
1403 Lincoln Ave., Calistoga * 707-942-9777 * $ to $$
Hydro claims to have the "Best Burger in Calistoga." Believe 'em. Stop in for a bite and you'll find this Calistoga restaurant goes beyond bar food. Dig in to a grilled rib-eye and potatoes, French dip on a ciabatta roll, grilled salmon with veggies, and much more... plus satisfying salads, soups and appetizers.
Are you a craft beer aficionado? Head here for happy hour for small-production draft and bottled beers. Live blues and rock music on Friday and Saturday evenings liven up the place.
Cafe Sarafornia
1413 Lincoln Ave., Calistoga * 707-942-0555 * Open Daily for Breakfast and Lunch
Hands-down one of the best breakfast spots in Napa Valley, Cafe Sarafornia knows how to please. This family-owned eatery is casual, friendly and welcoming. 
Grab an early bite before a day of wine tasting or heading to one of the luxurious spas in town. Good choices include Homemade Corned Beef Hash, The Brannan Benedict, "The Best Huevos Rancheros" in Napa Valley, Chicken Fried Steak, and much more, plus really good coffee. Lunch menu is heavy on burgers, fries, and sandwiches. If all this sounds too much, don't worry. You'll also find healthier options, such as vegetarian and gluten-free.
Lovina
1107 Cedar Street, Calistoga * 707-942-6500 * Open 5pm - 9pm
Stepping into the cozy, parlor-like dining room, you may feel like you're visiting friends. Indeed, this century-old house-turned-restaurant doesn't look like one of the choicest restaurants in town. Owner Jennifer Bennett bought the place in 2017 and Lovina is already a local favorite. It's no wonder -- Jennifer made a name for herself as owner of the Zazie Restaurant in San Francisco.
Everything is freshly made and delicious. Wait'll you taste Roasted Half-Chicken with cheesy potato gratin, or Braised Niman Ranch Pinwheel Shortrib with mascarpone polenta and bloomsdale spinach, plus lots of tasty appetizers, pastas, and veggies. Save room for dessert, because you'll want to dig in to the Hot Mess (a decadent brownie with toasted marshmallow cream, salted caramel, and brandied cherries). 
Nestled in the heart of Calistoga, Lovina's white picket fenced patio is the perfect spot to watch passers-by while savoring dinner. Want to drink the bottle you just bought? Bring it here on Wednesday nights, when the corkage fee is waived.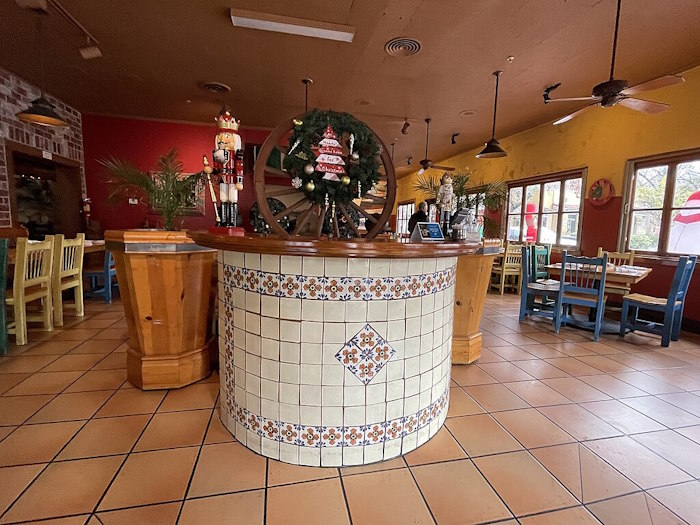 Pacifico Mexican restaurant in Calistoga, California. Photo credit: Sarah Stierch (CC BY 4.0)
Pacifico Mexican Restaurant
1237 Lincoln Avenue, Calistoga * 707-942-4400 * pacificomexicanrestaurant.com
Colorful and spacious, Pacifico Mexican restaurant serves freshly made authentic meals.
Sizzling grilled fajitas, handmade tamales, meat-filled burritos, enchiladas, and many more flavorful dishes are on the menu for lunch and dinner. Late breakfast is served on the weekends, with some kicky dishes to wake up your taste buds.
The bar runs half the length of the dining room, and offers an unusual variety of margaritas by the pitcher or glass, as well as craft beers, wines and soft drinks to wet your whistle. 
Palisades Eatery
1414 Lincoln Avenue, Calistoga * 707-942-9300 * Open Daily 11am - 6pm
Palisades Eatery is a fairly new collaboration by two long-time friends with roots in Calistoga's restaurant scene. Checkers founder Ron Goldin and Palisades Deli founder Eddie Yanez teamed up to create Palisades Eatery in 2019.
By merging two popular restaurants into one, the new business partners combined the best of both menus. What you'll find here is a big menu with local farm-to-table ingredients. You're sure to satisfy any craving with lists of hearty sandwiches, burgers, tacos, pizza, calzones, pasta, salads and desserts.
Return to top of Calistoga Restaurants
Sam's Social Club
1712 Lincoln Ave., Calistoga * 707-942-4969 * Open Daily
At the Indian Springs resort, Sam's Social Club takes its name from Sam Brannan, an early pioneer who made his fortune selling gold-mining tools to prospectors. Brannan loved the area's hot springs so much that he bought thousands of acres here.
Open to the public, this Calistoga restaurant offers breakfast, brunch, lunch and dinner, with fresh, seasonal ingredients in mind.

Coffee Shops and Quick Bites
Bella Bakery
1353 Lincoln Ave., Calistoga * 707-942-1443 * Bella Bakery * Open Mon - Sat 6am to 5pm, and Sun 7am - 3pm
This Calistoga bakery and cafe is one of my go-to breakfast spots. Why? Let's start with the big cases filled with freshly made cinnamon coffee cake, English muffins, pecan sticky buns, plus danish, bagels and scones. Want a heartier meal? Dig in to the generous-sized spinach quiche (the best I've ever had), ham and Swiss croissant, and many more delights, as well as a delicious variety of eye-opening coffees.
Need a mid-afternoon pick-me-up? Stop in for chai latte and a scrumptious piece of cake or an oatmeal-raisin cookie...or two.
Calistoga Roastery
1426 Lincoln Ave., Calistoga * 707-942-5757 * Calistoga Roastery * Open Sun-Fri 6:30am-3pm, Sat 6:30am-4pm.
High ceilings, big tables and wood plank floors give this neighborhood coffee shop some character. In fact, it kind of fits the Old West spirit of Calistoga.
Stop in for a bagel and a white mocha latte before you hit one of the spas in town. Or choose from scrumptious muffins, scones and breakfast sandwiches. Lunch menu is made up of salads, sandwiches and fruit smoothies. On Calistoga's main strip, it's a nice place to relax and people watch. If you just don't have time to sit a while, all items are available for carry-out.
Return to top of Calistoga Restaurants