Calistoga Restaurants

Calistoga restaurants serve up fresh local flavors you've come to expect in Wine Country. With the region's bounty and so much effort devoted to the pursuit of the best food and wine, you can count Calistoga among the most sought-after restaurant towns in the valley.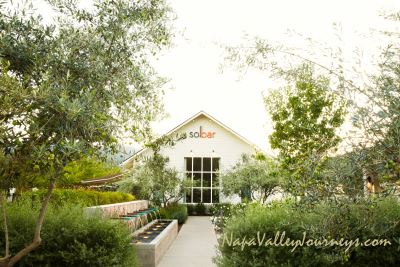 Solbar is a popular eatery offering healthy fare and spectacular views.
Calistoga Restaurants
Solbar
755 Silverado Trail, Calistoga * 707-226-0850 * Solbar * $$ to $$$
Tucked in the Solage Calistoga resort, Solbar serves farm-to-table California cuisine with a southern accent. From grilled Bodega Bay king salmon to tasty smoked shortribs, you'll find plenty to please you at this Michelin-starred bistro. The expansive fireplace gives a warm, intimate feel to the contemporary decor. Get a table on the patio for beautiful mountain views.
Veraison 
1457 Lincoln Ave., Calistoga * 707-942-5938 * Veraison * $ to $$
French bistro style and fresh seasonal flavors blend beautifully in this elegant Calistoga restaurant. Owner Dan Kaiser snapped up this spot that used to be home to the long-time JoLe restaurant.
Want a late-day nibble? How about oysters on the half shell with a glass of bubbly? Or choose from a generous selection of housemade charcuterie and cheese. Perhaps you're ready for a scrumptious feast -- poultry, seafood, pasta. Can't decide? Create your own tasting menu with three or more courses. Boutique wines are on the menu, offering a variety not commonly seen, even in Wine Country.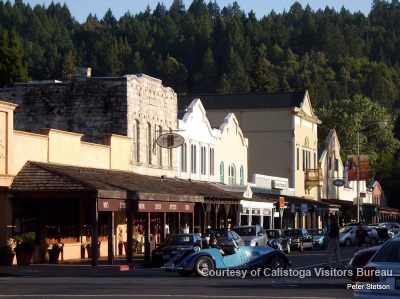 Brannan's Grill (on the left) is a long-time favorite in downtown Calistoga.
Brannan's
1374 Lincoln Ave., Calistoga * 707-942-2233 * Brannan's Grill * $$ to $$$
Beamed ceilings, red leather booths and a rustic stone fireplace make the big dining room feel cozy. Come to this Calistoga restaurant for a hearty lunch, a late-afternoon cocktail or a juicy rib-eye to go with a bold Cabernet. The menu is for meat-lovers, but you'll find satisfying salads and seafood here, too. The wine list is all Wine Country...but hey, when in Rome Napa...
This classic steakhouse takes its name from Sam Brannan, an early pioneer who made his fortune selling gold-mining tools to prospectors. Brannan loved the area's hot springs so much that he bought thousands of acres here.
Return to top of Calistoga Restaurants
All Seasons Bistro
1400 Lincoln Ave., Calistoga * 707-942-9111 * All Seasons Bistro * $ to $$$
Refreshingly unpretentious, All Seasons serves fresh, seasonal fare in a casual setting. Ceiling fans and checkered tile floors give the place the look of an old-fashioned ice cream parlor. The owners opened this restaurant in 1976, before tourism exploded, and were among the first to serve cuisine with a conscience.
You'll find plenty to like here...organic veggies and fresh seafood, with an emphasis on sustainable farming and fishing. The (big!) menu changes with the season, offering upscale comfort foods: chicken, fish, steak, burgers, pastas, salads and more, plus decadent homemade desserts. An award-winning wine list includes stellar hand-crafted wines.
Evangeline
1226 Washington St., Calistoga * 707-341-3131 * Evangeline * $$ to $$$
This stylish bistro is a recent and welcome addition to Calistoga's dining scene. Tucked away from the main drag, Evangeline's is already drawing the crowds. And it's no wonder...the elegant Solage hotel is behind this gem.
Chef Sharp and Chef Rios put a fresh spin on French classics (duck cassoulet), plus bold flavors with more than a hint of New Orleans (gumbo ya-ya). This new eatery blends into the streetscape, but step inside and you'll feel instantly warmed by the ambiance of posh leather banquettes, polished wood tables and soft lighting. Try to snag a table on the trellised garden patio...it's a beautiful oasis where you'll want to relax a while.
Bosko's Trattoria
1364 Lincoln Ave., Calistoga * 707-942-9088 * Boskos Trattoria * $ to $$
Bosko's serves delicious wood-fired pizzas, fresh salads, hearty sandwiches and homemade pastas. Warm and welcoming, this casual eatery is family-friendly and easy on your wallet, too.
Bring your appetite. Big portions of spaghetti and meatballs, chicken marsala, linguini with shrimp...simply scrumptious. Even the salads are generous. You'll find a good wine and beer selection.

Return to top of Calistoga Restaurants
Hydro Bar & Grill
1403 Lincoln Ave., Calistoga * 707-942-9777 * $ to $$
Hydro claims to have the "Best Burger in Calistoga." Believe 'em. Stop in for a bite and you'll find this Calistoga restaurant goes beyond bar food. Dig in to a grilled rib-eye and potatoes, French dip on a ciabatta roll, grilled salmon with veggies, and much more... plus satisfying salads, soups and appetizers.
Are you a craft beer aficionado? Head here for happy hour for small-production draft and bottled beers. Live blues and rock music on Friday and Saturday evenings liven up the place.
Coffee Shops
Bella Bakery
1353 Lincoln Ave., Calistoga * 707-942-1443 * Bella Bakery * Open Mon - Sat 6am to 5pm, and Sun 7am - 3pm
This Calistoga bakery and cafe is one of my go-to breakfast spots. Why? Let's start with the big cases filled with freshly made cinnamon coffee cake, English muffins, pecan sticky buns, plus danish, bagels and scones. Want a heartier meal? Dig in to the generous-sized spinach quiche (the best I've ever had), ham and Swiss croissant, and many more delights, as well as a delicious variety of eye-opening coffees.
Need a mid-afternoon pick-me-up? Stop in for chai latte and a scrumptious piece of cake or an oatmeal-raisin cookie...or two.
Calistoga Roastery
1426 Lincoln Ave., Calistoga * 707-942-5757 * Calistoga Roastery * Open Sun-Fri 6:30am-3pm, Sat 6:30am-4pm.
High ceilings, big tables and wood plank floors give this neighborhood coffee shop some character. In fact, it kind of fits the Old West spirit of Calistoga.
Stop in for a bagel and a white mocha latte before you hit one of the spas in town. Or choose from scrumptious muffins, scones and breakfast sandwiches. Lunch menu is made up of salads, sandwiches and fruit smoothies. On Calistoga's main strip, it's a nice place to relax and people watch. If you just don't have time to sit a while, all items are available for carry-out.
Yo el Rey Roasting
1217 Washington St., Calistoga * 707-942-4358 * Yo el Rey Roasting * Open Daily 6:30am-5:30pm
This hip coffee shop feels like a holdover from the Beatnik era. But the coffee is better...organic beans, freshly roasted at just the right temperature...it's superb actually. Owner J. Kirk Feiereisen knows his stuff and will tell you all about it.
Opened in 2008, this cozy spot is a welcome addition to town. Some Calistoga restaurants already have Yo el Rey coffee on their menus. Come here for your morning cup...or on a lazy afternoon to see the local artwork, poetry and philosophical writings that cover the walls. The relaxed vibe invites you to linger over your cup of espresso and pastry a while longer.
Return to top of Calistoga Restaurants