Napa Valley Blog
Stay up to date with Napa Valley Journeys. Get the latest goings-on in Napa and gather ideas to get the most out of your trip to this beautiful wine region.
Subscribe to my blog and you'll always know what's new on this site plus discover new features and "extras" you might otherwise miss.
To subscribe to my Napa Valley Blog (no email necessary), right-click on the orange RSS button (see buttons at right) and paste the URL into your RSS reader.
Jul 16, 2019
Napa Valley Bicycle Tours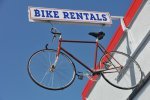 Napa Valley bicycle tours are a perfect way to explore the wineries and towns, while taking in the postcard scenery. Discover options for your Napa Valley bike tour here.