Napa Valley Breweries

In a region that celebrates the grape, there are a few Napa Valley breweries that'll satisfy your thirst for the grain. You'll soon discover that Wine Country also takes its beer seriously. Big surprise there.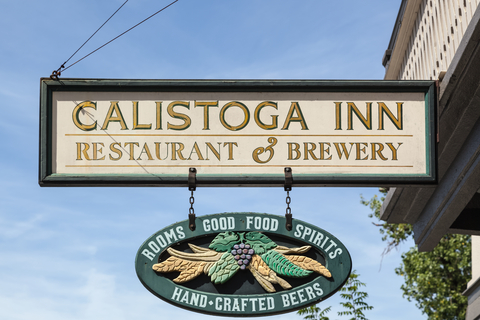 Premium beers are brewed here, at the oldest brewery in Napa Valley.
Calistoga Inn Restaurant & Brewery
1250 Lincoln Avenue, Calistoga * 707-942-4101 * Calistoga Inn Restaurant & Brewery
If you're a beer enthusiast and you find yourself in Calistoga, skip that second glass of Merlot and head for the best beer in town. In 1987, the Calistoga Inn became the first to commercially brew beer in Napa County since the days of prohibition.
Four principal beers are crafted here: Calistoga Wheat Ale, Pilsner, Red Ale and Porter. However, a few seasonal beers are added throughout the year. Production is limited and it's only served here.
The service is friendly and prompt and the vibe is relaxed, especially on the patio. Call ahead for an appointment to tour the brewery and learn all about it from brewmaster Brad Smisloff.

Napa Valley Breweries in the City of Napa
Downtown Joe's Brewery & Restaurant
902 Main Street, Napa * 707-258-2337 * Downtown Joe's
Those wanting a break from the high-falutin' over-priced bistros and wine bars will find it at this unpretentious brewpub. It's lively, casual, and well...just plain friendly. On a warm day, head outdoors where you'll find a bunch of umbrellaed tables for outside dining with a riverfront view. 
Fresh local ingredients take the food beyond standard pub fare -- hearty burgers with fries...fresh catch-of-the-day served with wild rice and veggies...plus satisfying salads, sandwiches and plenty of tasty appetizers to go with your brew.
Get here after 5pm for "Hoppy Hour" during the week. In the mood for music? Thursday, Friday and Saturday nights, you'll be treated to a live band so you can strut your stuff on the dance floor.

Napa Point Brewing
388 Devlin Road, Napa * 707-226-7344 * Napa Point Brewing
Award-winning brewmaster Denise Jones brings a wealth of experience to this new Napa micro-brewery. State-of-the-art equipment along with the best-of-the-best ingredients go into crafting this premium beer, which is getting great reviews. 
Make a stop here for Happy Hour on weekdays from 3 to 6pm, watch a game on the big screen, or enjoy live music on the weekends. 

The decor is simple, but the service is friendly and welcoming. Snag a table in the spacious outdoor beer garden for a relaxing, after-work oasis. Solid pub food is on the menu...burgers and fries, grilled cheese sandwiches, fish and chips...to go with your handcrafted ale.