Napa Valley Breweries

In a region that celebrates the grape, there are a number of Napa Valley breweries that'll satisfy your thirst for the grain.
Explore the top breweries right here. You'll find the best places to taste handcrafted beers, chat with on-site brewmasters, or catch a game on the big screen. Some offer tours, patios, food, and entertainment.
You'll soon discover that Wine Country also takes its beer seriously. Big surprise.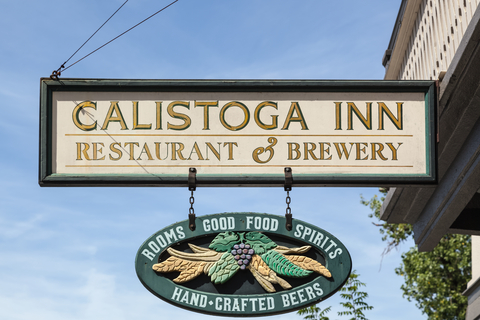 Premium beers are brewed here, at the oldest brewery in Napa Valley.
Napa Valley Brewing Company at Calistoga Inn
1250 Lincoln Avenue, Calistoga * 707-942-4101 * Calistoga Inn Restaurant & Brewery
If you're a beer enthusiast and you find yourself in Calistoga, skip that second glass of Merlot and head for the best beer in town. In 1987, the Calistoga Inn became the first to commercially brew beer in Napa County since the days of prohibition.
Five principal beers are crafted here: American Wheat Ale, Palisades Pilsner, Calistoga Red Ale, West Coast IPA and Blue Collar Porter. However, a few seasonal beers are added throughout the year. Production is limited and it's only served here.
The service is friendly and prompt and the vibe is relaxed, especially on the patio. Call ahead for an appointment to tour the brewery and learn all about it from Brewmaster Daniel Reynolds.

Mad Fritz Brewery
393 La Fata, St. Helena, California * 707-968-5058 * madfritz.com
Mad Fritz Brewery was the dream of Nile Zacherle, a wine maker in Napa Valley. You read that right -- a wine maker.
Craft beer has long been his other passion. So after 25 years of home brewing as a hobby, Nile completed the Master Brewers program. In 2012, he realized his dream and Mad Fritz was born.
Mad Fritz crafts dozens of beers, including ales, pilsners, IPAs, stouts and lagers. With fable-like names such as "The King and the Frogs", "The Goose that Laid the Golden Eggs" and "The Larks in the Corn" you'll certainly be captivated to try a few. Check out their website to learn all about the varieties.
Better yet, make an appointment to visit. This is one of the few Napa Valley breweries you can tour. You'll get an intimate look at the inner workings of the brewery, plus a peek into how Origin Beer is grown, malted and brewed. Can't make it to the brewery? Order online to pick up curbside or have your order shipped within California.
Napa Valley Breweries in the City of Napa
Downtown Joe's Brewery & Restaurant
902 Main Street, Napa * 707-258-2337 * Downtown Joe's
Those wanting a break from the high-falutin' over-priced bistros and wine bars will find it at this unpretentious brewpub. It's lively, casual, and well...just plain friendly. On a warm day, head outdoors where you'll find a bunch of umbrellaed tables for outside dining with a riverfront view. 
Fresh local ingredients take the food beyond standard pub fare -- hearty burgers with fries...fresh catch-of-the-day served with wild rice and veggies...plus satisfying salads, sandwiches and plenty of tasty appetizers to go with your brew.
Get here during the week 4 - 6pm for Happy Hour. Tuesday and Wednesday nights for karaoke. In the mood for music? Thursday, Friday and Saturday nights, you'll be treated to a live band so you can strut your stuff on the dance floor.

Trade Brewing
731 1st Street, Napa * 707-492-8223 * TradeBrewing.com
Locally owned, this Napa taproom offers artfully crafted beers with all-out innovative flavors you have to taste for yourself. From fruity pale ales to hard-hitting IPAs (try the "Hatchet") to a hearty stout "oozing with dark chocolate, molasses and hints of dried cherries" -- you'll find a new favorite to quench your thirst. 
Make a stop here for Happy Hour on weekdays from 3 to 5pm. This is one of the few Napa Valley breweries where you can enjoy live music on the weekends. 

Trade Brewing is casual, and the service is friendly and welcoming. Snag a table on the outdoor deck for a relaxing, after-work oasis. Tasty food is on the menu... Jamaican jerk sliders, loaded nachos, pesto turkey panini... to go with your handcrafted beer.
Napa Palisades Saloon
1000 Main Street, Napa * 707-492-3399 * NapaPalisades.com
On the corner of First and Main, this relaxed brewpub is in the heart of downtown. Stop in after a live show at the Blue Note Jazz Club (it's next door) or watch a game on one of 16 big-screen TVs.
You'll find plenty to like at this Napa Valley brewery. More than 30 house and local craft beers are on tap, including their own from Napa Palisades Beer Company. And bring your appetite. Upscale comfort foods are on the menu: roasted chicken, steak, fish, burgers, salads, apps and more, plus decadent desserts. Can't stay? You can now order online for pickup.
Napa Smith Brewery
850 Bordeaux Way Suite 8, Napa * 707-666-2592 * NapaSmithBrewery.com
Located at The Village Napa Valley, tucked in the Vista Collina Resort, Napa Smith Brewery is a social destination on the weekends. The Village brings together nine tasting rooms, but Napa Smith is the only one of the Napa Valley breweries represented here.
Specialty beers on tap may include Pilsner, Golden Gate IPA, California Lager, Redwood Amber Ale, West Coast Wheat and a few more. Napa Smith's offerings occasionally change, so don't be surprised to find a different menu on each visit.
Food isn't served here, but fortunately you're not far from a lot of choice restaurants in the city of Napa. By the way, Napa Smith Brewery has a sister taproom in Vallejo, where the brewery is located.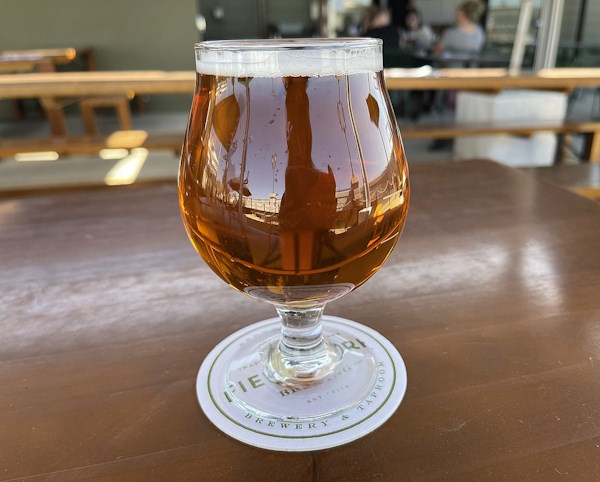 Fieldwork Brewing Company in Napa. Photo: Sarah Stierch (CC by 4.0)
Fieldwork Brewing
1046 McKinstry Street, Napa * 707-927-3514 * fieldworkbrewing.com/napa
In the bustling Oxbow Public Market, this is one of the Napa Valley breweries you'll want to add to your must-do list. Fieldwork Brewing was founded in Berkeley, California, and has expanded to seven locations in the Bay Area.
This popular Napa taproom offers a sweeping variety of IPAs, lagers, stouts and more. Can't decide? Order a small "Taster" or perhaps a flight to help you choose your new favorite. There are a handful of wines and soft drinks, if you prefer. 
What I love about this place is I that can grab lunch to-go at one of the Oxbow restaurants, and enjoy it with a brew in the Fieldwork taproom. Or head to the spacious patio, when the weather's right. Want to take beer home? Of course, you do. You can get cans, growlers or crowlers to go.