Napa Valley Picnic Spots

Looking for the ideal spot for a Napa Valley picnic? You'll find the best here.

Few things in life are as simple and yet so enjoyable as a picnic. And Napa Valley wineries have elevated lunch outdoors into a magnificent experience you'll long remember.
It is so worth it.
Of course, summer through fall, everyone else has the same idea. And I may as well admit it up-front, most wineries in Napa County don't have permits to allow picnicking on their grounds. Not to worry, though. I've pulled together your options here, along with what you need to know before you go. The last thing you want to do during an exhausting, fully scheduled day of wine tasting is to drive around looking for a place to spread your blanket.
Plan ahead for your lunch on the lawn. Also, call ahead (even if it's only a day in advance) to find out if the picnic grounds are available. Some will allow you to reserve a picnic table.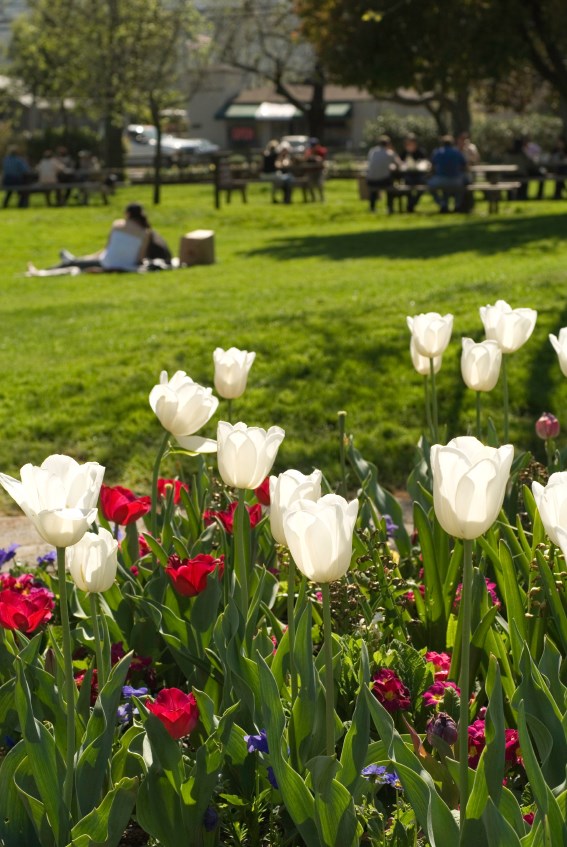 Photo © Robin Akin
Napa Valley Picnic Locations
Take advantage of the warm sunshine, gorgeous scenery and superb wines. Head to one of these wineries for a memorable Napa Valley picnic near the vineyards.
Before you pack that picnic basket, please note: Napa County regulations prohibit bringing outside wine to drink on the grounds of any other winery. Some wineries won't allow you to bring your own food.
Wineries That Sell Their Own Food
V. Sattui
1111 White Lane (at Hwy 29), St. Helena, CA 94574* 707-963-7774 * www.vsattui.com

More than two acres of lush lawns are available for picnics. You'll find picnic tables scattered under the giant oak trees. Don't pack that basket, though. You're not allowed to bring your own food. But that's okay -- something better awaits. Step into V. Sattui's market for freshly made deli sandwiches, salads, charcuterie, more than 200 artisan cheeses, pastas, fresh fruit and out-of-this-world desserts (crème brûlée, anyone?)
On the weekends, spring through fall, they fire up the grill for barbecued ribs, salmon, Italian-style pizzas, and for brave taste buds -- jalapeno skewers. This is one of the most popular places for a Napa Valley picnic. You'll soon discover why.
Charles Krug
2800 Main Street, St. Helena, CA 94574 * 707-967-2229 * www.charleskrug.com
Cucina di Rosa pays homage to Italian heritage while treating visitors to scrumptious meals. If you just want a nibble, the Salumeria is open daily 11am to 4pm, featuring Italian cured meats and cheeses, chef-prepared and served tableside or at the tasting counter.
Or bring your appetite for the wood-fired grilled pizzas, available July through October (Thursday through Monday, 11am to 4pm). Relax on the shaded lawn and savor Italian-style pizzas, made with selected Salumeria meats and freshly picked herbs and veggies from the estate garden. They're perfectly paired for Charles Krug wines. (You just knew they would be, didn't you?)
Wineries - Bring Your Own Lunch
Beringer
2000 Main Street, St. Helena, CA 94515 * 707-963-7115 * www.beringer.com

Beautifully landscaped, the picnic area at Beringer beckons hungry visitors nearly year-round. The Napa Valley picnic grounds are shaded and tables are first-come, first-served. You'll want to spend some time here, relaxing on the lawn, touring the historic Rhine House, strolling through the gardens, taking the winery tour and tastings, playing bocce ball and don't forget to stop in the gift shop. 
Clos du Val
5330 Silverado Trail, Napa, CA 94558 * 707-261-5200 * www.closduval.com
You're in the heart of Stag's Leap district at Clos du Val. Superb cabs and a friendly staff make this a popular stop. Take your pick of two picnic locations -- either the front lawn, with beautiful vineyard views -- or a quieter, more secluded olive grove. Tables are limited, and for customers only. You'll need to reserve one ahead of time with a $5 reservation fee. 
Frank Family Vineyards
1091 Larkmead Lane, Calistoga, CA 94515 * 707-942-0859 * www.frankfamilyvineyards.com

Unpretentious, friendly and welcoming describe this small-production, family-owned outfit. Housed in the former Larkmead Winery's property, it started with a rich history and has retained its country charm. Step into the yellow Craftsman-style house (this is the tasting room) for a tasting of highly rated cabs. You'll need to make a reservation for wine tastings and a picnic table.
Rutherford Hill
200 Rutherford Hill Road, Rutherford, CA 94573 * 707-963-1871 ext. 2249 * www.rutherfordhill.com
Spectacular views of the valley await you at Rutherford Hill. This exquisite winery snugs up to the Mayacamas Mountains and offers a quiet setting in the Oak Grove Picnic area. Bring your own lunch, but you'll pay $75 to reserve a picnic table. The fee is waived with a purchase of wine of equal value -- or if you are a wine club member.
Image by Engin Akyurt
Where to Buy Napa Valley Picnic Fare
There are a few places around the valley where you can get boxed lunches to go.
Oakville Grocery ~ 7856 St. Helena Hwy., Oakville, CA, 707-944-8802
Addendum ~ 6476 Washington St. (behind Ad Hoc) Yountville, 707-944-2487
CalMart ~ 1491 Lincoln Ave., Calistoga 707-942-6271
Bouchon Bakery ~ 6534 Washington St., Yountville 707-944-8037
Yountville Deli ~ 6498 Washington St., Yountville 707-944-2223