Best Pet-Friendly Hotels in Napa Valley
Heading to Napa Valley? Bring along your four-legged friend. But first, check out this list of pet-friendly hotels, along with guides and helpful tips to make your stay a happy one.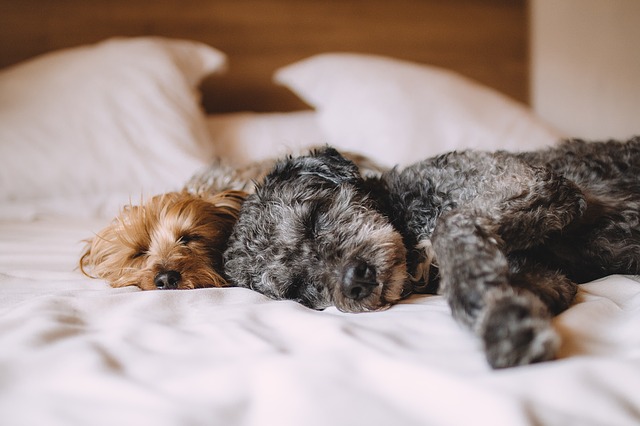 Napa Valley offers a lot of options for bringing your furry friends along.
Best Pet-Friendly Hotels in Napa Valley
You'll find a variety of hotels here to suit you and your pet -- from luxury to budget-friendly, based on good reviews and amenities. Explore them here before you go.
And if you have something to do in Napa Valley that's not dog-friendly (hey, it happens)... scroll to the bottom of this page for boarding and daycare options.
Pet Policies
Check your hotel's pet policies before you make reservations to eliminate surprises. Many have a list of rules to follow as well as fees for cleaning and/or any property damages. Some hotels won't allow your pet on the bed, left alone in the room, or in common areas with other guests. And some have limitations, such as allowing only small pets.
Cottage Grove Inn
1711 Lincoln Avenue, Calistoga, California * cottagegrove.com
Make your pooch or kitty feel right at home. The Cottage Grove Inn aims to please its guests with comfy accommodations that include your furry friend. Only three pet-friendly rooms are available, so it's a good idea to make your reservation early.
Your small pet is welcome here with extras, such as a pet bed, water bowl and treats. Expect to pay $50 extra per night for your pet. 
Cottages are nestled among mature elm trees, offering peaceful retreats with sit-a-spell porches inviting you and your four-legged companion to relax a while. Vaulted ceilings, hardwood floors, big-screen TVs and wood burning fireplaces are just the beginning. Treat yourself to a soaking tub (big enough for 2), luxurious linens, plush robes, plus enjoy complimentary WiFi, bicycles, picnic baskets and much more.
Archer Hotel
1230 First Street, Napa, California * archerhotel.com/napa
This stylish boutique hotel puts you in the heart of downtown Napa shopping, dining and nightlife. After a day of wine tasting, relax at the rooftop bar and savor a late-night nibble under the starlit sky, or head to the rooftop spa for a melt-your-cares-away massage.
Of course, your pooch needs pampering, too. Dogs under 50 pounds (and all service dogs) are welcome for an additional $150. Pet-friendly perks include Buddy Biscuits, a dog bed, plush chew toy and food/water bowls to make your dog feel at home during his/her stay. 
Archer Hotel is big, with all the comforts you could want: luxurious bedding, HDTV, concierge service, dry cleaning and laundry services, weekend spa, plus --  complimentary WiFi and fitness studio access.  
Meritage Resort and Spa
875 Bordeaux Way, Napa, California * meritagecollection.com
This luxurious hotel and spa knows how to pamper its guests -- including your dog. Your pet will be treated to a plush dog bed, his own dog bowl to take home with him, and a bag of treats. A $50 pet deposit is required.
Whether you're relaxing in your beautiful room or suite, indulging in spa treatments at legendary Spa Terra or savoring a meal on the terrace of elegant Olive & Hay restaurant, you'll enjoy warm hospitality at every turn. Bonus: Meritage Resort and Spa is just minutes from several popular wineries.
Bardessono Hotel and Spa
6526 Yount Street, Yountville, California * bardessono.com
Eco-friendliness and contemporary luxury come together at LEED certified Bardessono, recognized as one of the greenest properties in the U.S. Private patios, in-room spa treatments, and on-site Lucy Restaurant beckon visitors looking for a haven to renew, indulge and unwind.
Your well-behaved dog can relax with you poolside, take a stroll through the garden, and delight in special treats. Want to dine with your dog on the restaurant's patio? You can do that here. Of course, indulging your pet at this luxurious hotel comes at a price; expect to pay a $200 cleaning fee.
Hampton Inn and Suites
945 Hartle Court, Napa, California
Opened in 2016, Hampton Inn has a lot to offer guests, including 115 of the most affordable rooms and suites in the valley. Dog-friendly rooms are available for an added $150 fee.
Accommodations are clean and comfortable -- all are furnished with refrigerators, free in-room WiFi and flat-screen TVs. There is also an on-site 24-hour fitness center and outdoor pool. Just minutes from downtown Napa, you're close to the historic Uptown Theatre, wine tasting rooms, and Riverbend Plaza, with delightful eateries, shops and beautiful waterfront views.
Pet Supplies
Fideaux
1312 Main Street, St. Helena, California * fideaux.net
This fun and friendly boutique in St. Helena is a haven for pet-lovers. You'll find a staggering array of top-quality leashes, collars, bowls and beds here. Stock up on gourmet dog and cat food, plus organic treats for the discriminating palate. And don't forget toys, clothes and more adorable items to spoil your fur baby. Of course, your pet is welcome to browse this shop, too.
Milo and Friends Pet Boutique
1300 First Street, Suite 317, Napa, California * miloandfriends.shopsettings.com
You'll find plenty at this downtown Napa pet store to pamper your dog or cat. An impressive variety of leashes, collars, bowls, beds, clothes and accessories are here for your browsing, plus more chew toys than you can shake a stick at. Come here to fetch wholesome dog and cat foods, too, as well as tasty treats.
Pet Boarding/Day Care
Bonny Doone Kennel
1003 Los Carneros Avenue, Napa, California * bonnydoonekennel.com
Bonny Doone Kennel sits across the road from the Carneros Resort, offering boarding and daycare for your dog or cat. Owner Rhonda Lauritsen and her team know their stuff and get rave reviews from their clients.
You have a wealth of options for boarding -- from indoor/outdoor dog suites (some patios have a vineyard view) to multi-level kitty condos (in a separate, quiet building overlooking a garden) this friendly place has plenty to offer even the most pampered pet.
Ruff
49 Enterprise Ct., Napa, California * ruffhotels.com
Family-owned, this daycare/hotel is basically built for dogs, but does offer a cat condo under its "extras." Whether you're away for a few days or a few hours, Ruff promises to play, amuse and pamper your pooch until you return. Tummy rubs and games of fetch cost extra.
This 32-room boutique pet hotel in Napa Valley gives your dog options, from the basic to the executive suite. Fido can frolic to his heart's content in the expansive indoor play area or step outdoors to romp, run and jump, plus take a splash in the wading pool.