Napa Valley's Best Rosé Wine
Find out what this pink drink is all about. I'll share a few of my favorites and help you to choose the best rosé wine of the bunch.
Got a crush on blush?
Apparently, you're not alone. Popularity of this pink-hued wine is gaining ground in Napa Valley. So, to find out why everyone is talking about drinking rosé, I did some research of my own. 
Whether it's dry, sweet or sparkling, you'll find the best rosé wine of Napa Valley here. Discover how this blush pink wine is made, which foods make perfect pairings, and how to serve it.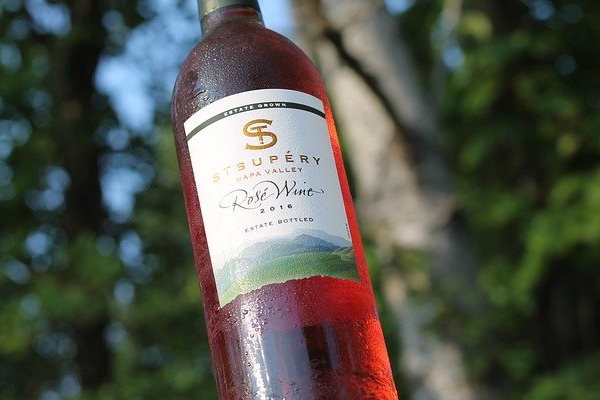 Many Napa Valley wineries are producing top-quality Rosés, such as St. Supéry.
What is Rosé Wine?
While there are no hard-and-fast rules about which grapes are used for rosé wine, it is often made with a blend of red grape varietals. Pinot Noir typically tops the list, but may include a blend of Syrah, Merlot, Malbec, Cabernet Sauvignon and others. Dry and structured, the juice from red grapes gives the best rosé wines fruit-forward flavors and complexity.
Often overlooked by wine aficionados, rosé doesn't always get the respect it deserves. Neither white nor red, and not belonging to any particular varietal, rosé is probably the most misunderstood wine.
To make matters worse, the popularity of "White Zinfandel" in the '70s causes many to mistakenly believe that all rosés are sweet, with no real character. 
Fortunately, that unsophisticated notion is fading fast. The best rosé wines are dry -- or semidry, crisp and refreshing. Good-quality rosés are easy to find in Napa Valley and are winning over new fans. 
If you like light, fruity wine, you'll be tickled pink by rosé.
How is Rosé Wine Made?
You likely know that red wine can only be made from red grapes, because the red skins are used while crushing the grapes. Likewise, only white grapes are used to make white wine.  
So what makes rosé wine...pink?
Squeezing juice out of red grapes, winemakers are able to control the amount of color from the grape skins. Producing wine with a little color makes it pink -- a rosé wine. By varying the contact time with red grape skins, winemakers can produce lighter or darker pink wines.
Discover Napa Valley's Best Rosé Wine
Dry, sweet or sparkling, you'll find Napa Valley's best rosé wine options here. Okay, not all -- but I've gathered a few of my favorites to give you a taste of what this spectacular Wine Country region has to offer.
Raise a glass to rosé! 
National Rosé Day is observed annually, the second Saturday in June.
Although best known for its bold reds, Alpha Omega offers a stellar Rosé Reserve Napa Valley 2019. Single-Vineyard Cabernet Sauvignon and Malbec grapes mingle in this classic saignée style, described as fresh and bright with notes of pear, raspberry pie and pomegranate. Truly one of the best rosé wines you'll find anywhere.


Balanced, fruity and floral describe 2019 Brut Rosé from sparkling wine powerhouse Domaine Carneros. This pink bubbly is made from Pinot Noir with added Chardonnay for structure. Don't save this elegant sparkler for special occasions...enjoy it with dinner.


St. Supéry Winery offers a solid 2022 Napa Valley Estate Rosé, described as "bright and refreshing" with "aromas of raspberry and strawberry" and "watermelon flavors" continuing on the palate. At under $30 a bottle, a bargain for quality wine. Ooh...that sounds refreshing on a summer day.


"Bright aromas of fresh berries mingle with hints of rose petal" is offered in the 2020 Rosato Cresta D'Oro Vineyard from Castello di Amorosa. This dry, elegant rosé is made from 100% Pinot Noir. Fresh, lively, and ready to enjoy at your next cookout.


V. Sattui's 2018 Rosato di Pinot Noir delights the nose with aromas of fresh cherries, honeysuckle and apricot, and a hint of rose petal. This dry rosé pairs beautifully with the winery's gourmet deli offerings, including summertime woodfired pizzas. Picnic anyone?
Dry, elegant 2020 Rosato from Castello di Amorosa is already winning accolades.
Rosé Wine Food Pairing
What pairs well with rosé? 

Without a doubt, this blushed wine hits its peak of popularity in summer, making rosé the sweetheart of many summertime outdoor meals.
If you savor simply prepared, light fare for the grill, a glass of cold rosé will enhance the flavors, as well as quench your summer thirst. It's crisp and refreshing like white wines, but with the fruitiness and complexity of a light red.

Chilled dry rosé is the near-perfect complement to lightly herbed salmon, grilled lamb, or sizzling pork-and-veggie kebabs. Make a picnic more elegant by taking your best rosé wine along to enjoy with sandwiches, roasted potatoes and sweet corn. Pair it with flavorful salads, grilled sausages, shrimp or even a burger.
Sparkling rosé wines are a good match for grilled salmon, roasted duck ...or try this pink bubbly with a sizzling prime rib at your next cookout. Don't wait for a celebration to drink sparkling rosé -- it makes any meal special.
Drink the sweet types of rosé wines as an apéritif... with a simple dessert (strawberry shortcake!) ... or as a chilled sipper for the beach.