Napa Valley Luxury Hotels

Napa Valley luxury hotels are aimed at discriminating guests, offering elegant accommodations, all the amenities and first-class service. Spectacular scenery, along with lavish landscapes add to the unforgettable experience.
Explore Napa Valley's best accommodations right here before you go. It's a good idea to book hotels well in advance of your stay, especially if you're visiting during the region's peak season, May through November.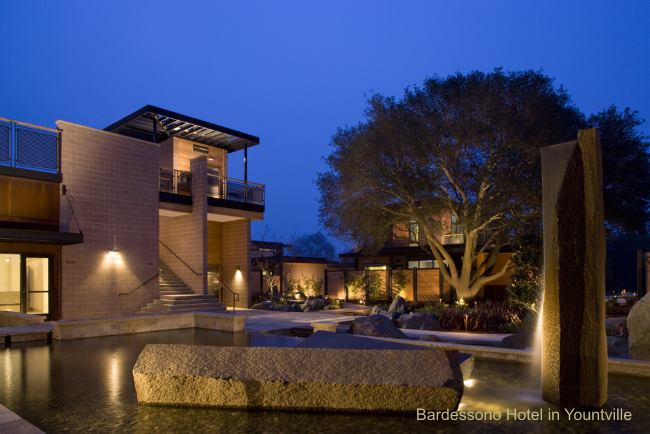 Napa Valley Luxury Hotels
Meadowood Napa Valley
900 Meadowood Lane, St. Helena, California * Phone 877-963-3646
Cottage charm meets grandeur at the Meadowood Resort. New England-style lodges, suites and cottages are nestled on the property's spacious wooded acreage, surrounding its guests with privacy.
Want a retreat from the rest of the world? This is your spot. Tennis courts, a nine-hole golf course, two swimming pools, a full-service spa and fitness facility are just the beginning of the recreational activities you'll enjoy here. Two on-site restaurants offer casual and elegant options.
Bardessono Hotel & Spa
6529 Yount St., Yountville, California * Phone 707-204-6000

Hailed as the greenest hotel in California, the Bardessono delights guests with eco-friendly luxury you can feel good about. Solar power, organic linens and reclaimed wood flooring are chic -- and you won't skip indulgences here.

Borrow a bicycle and pedal around Yountville. Soak in a champagne bubble bath as natural light spills in from your private courtyard or balcony. Get a pampering massage without leaving your suite. And when you want a bite, head to Lucy Restaurant & Bar for fresh garden-to-table cuisine. This is a Wine Country-lovers dream.
Return to top of Napa Valley Luxury Hotels
Indulge in luxurious accommodations at the Auberge du Soleil. Photo © Zhukovsky
Auberge du Soleil
180 Rutherford Hill Rd., Rutherford, California * Phone 707-963-1211
This is the crème de la crème of Napa Valley. You'll feel like you're in southern France at the exquisite Auberge du Soleil, perched on a remote hill. Step through the wood-shuttered doors onto your private balcony and enjoy postcard views of nearby vineyards,  gardens, and olive trees.
Choose from deluxe rooms, classic suites and private maisons -- all are designed for the ultimate in comfort and relaxation. And there's so much more. Stroll through the sculpture garden, treat yourself to a workout or fitness class, and unwind poolside with a light lunch and a summery cocktail. 
Indulge in head-to-toe pampering at the Auberge Spa, then savor world-class cuisine and top-of-the-line wines at the famed Michelin Star Auberge du Soleil Restaurant. If you dine on the terrace at sunset, you'll take in one of the most stunning views of the valley you'll find anywhere.
Hotel Villagio at the Estate
6481 Washington St., Yountville, California * Phone 800-351-1133

Newly renovated and refined, Hotel Villagio is a delight for all your senses.
You'll find yourself enveloped in unrestrained luxury at this 22-acre estate. Cobblestone paths winding through gorgeous Mediterrarean-style gardens, lavish rooms with vineyard views and woodburning fireplaces are just the beginning.
Savor a glass of Sauvignon Blanc while melting your cares away in the oversized soaking tub. Relax at the garden bar or pool. Or head to the award-winning spa for an extravagant get-away-from-it-all experience.
Napa Valley Lodge
2230 Madison St., Yountville, California * Phone 707-944-2468

Quiet and restful, the Napa Valley Lodge epitomizes the ideal Wine Country getaway. Spacious rooms and suites are posh -- decorated in an elegant French style, many with romantic fireplaces. Step out on your private veranda for a gorgeous view. You'll be treated to complimentary breakfast every morning.
Located in Yountville, this lodge puts you near wineries, restaurants, and shops -- and the friendly concierge will help plan your excursions, if you want.
Return to top of Napa Valley Luxury Hotels
Oak Knoll Inn
2200 E. Oak Knoll Avenue, Napa, California * Phone 707-255-2200
Surround yourself with country charm at the Oak Knoll Inn.  Enveloped in climbing roses, this haven-in-the-middle-of-Wine-Country is everything a Bed and Breakfast should be. It's quiet and intimate -- only four spacious guest suites are available.
Vaulted beam ceilings, wood-burning fireplaces and stone walls give it rustic charm; thick comforters, hand-painted pottery and fresh flowers make it homey. This B & B offers the perfect blend of privacy (you'll have your own entry and ultra-modern bath) and service (the gourmet breakfasts are an indulgence).
Carneros Resort 
4048 Sonoma Highway, Napa, California * Phone 707-299-4900
Want privacy? You'll find it at the Carneros Resort and Spa. Sun-splashed cottages dot the rolling hills of this off-the-beaten-path resort, allowing guests to unwind in a cozy, comfy haven. Polished cherry floors, fireplaces and fine Italian linens make it rustic, yet refined. 
French doors lead to your secluded patio and garden. Although you'll be away from the bustling towns here, you're not far from indulgences...this Napa Valley luxury hotel has three restaurants, two pools, a hot tub, and an award-winning spa.
Harvest Inn
1 Main St., St. Helena, California * Phone 707-963-9463

Harvest Inn is a luxury retreat in St. Helena, just a stroll from some of the region's finest wineries -- from big to boutique. Enjoy a relaxing getaway in this country estate-style lodge, where you'll have a choice of spacious guest rooms, cottages or suites. Many include romantic wood-burning fireplaces, soothing spa tubs, and terraces with a view.
Take a dip in the heated swimming pool, relax in a hot tub or head to the spacious Wine Bar near the lobby. This room is exquisite, featuring soaring ceilings and custom woodwork. Take a seat at the magnificent mahogany bar or sink into one of the handsome leather chairs near the cobblestone hearth while you enjoy a glass of wine.
After a day of exploring shops and wineries, a perfect way to unwind is with a massage in the beautiful Garden Massage Sanctuary (shown here). More private than it looks -- cabanas are secluded under a canopy of redwoods amid tranquil gardens and offer enchanting vineyard views.
Stanly Ranch
200 Stanly Crossroad, Napa, California * Phone 707-699-6200
Treat yourself to an experience like no other. Stay in one of the 78 luxurious cottages and suites surrounded by rows of vineyards and ranch land on gently rolling hills. Explore scenic backroads with the Stanly Ranch Cycle Team. Head to Halehouse Spa for invigorating wellness programs. Hungry? Three restaurants are here to please your palate, with seasonally inspired cuisine.
Luxury hotel giant Auberge resorts is behind this gem, built in the spring of 2022. Sprawled across 712 acres, Stanly Ranch is one of the largest luxury hotels in Napa Valley -- and one of its finest. 
The Francis House
1403 Myrtle Street, Calistoga, California * Phone 707-341-3536
Built in 1886 for prominent Calistoga businessman James H. Francis, this French-style property is now The Francis House -- and a sumptuous Napa Valley luxury hotel. Lovingly restored into a lavish five-bedroom inn, this exquisite property is listed on the National Register of Historic Places. Guests enjoy a swimming pool, sauna and complimentary breakfast.
Return to top of Napa Valley Luxury Hotels
Poetry Inn
6380 Silverado Trail, Napa, California * Phone 707-944-0646
Want quiet and serenity? You'll find it at the Poetry Inn. Built on a hillside overlooking the magnificent views of Stags Leap District, this luxurious inn will spoil you for anything else. Wrap yourself in extravagant comforts such as fine Italian linens, plush robes and pampering massages. Spacious rooms with wood-burning fireplaces and private balconies surround its guests in sumptuous style.