Napa Valley Hot Air Balloon Rides

There's just no experience like it. Napa Valley hot air balloon rides are an exhilarating adventure, providing spectacular panoramic views of the valley. Take along your camera... you'll want to capture the stunning scenery.
Hot air balloons floating above the Napa Valley. Photo © Anna Rottke
You don't want to miss this... Napa Valley balloon rides make memories you'll treasure for a lifetime.
Celebrating a wedding, anniversary or birthday? Here's your opportunity to make it even more special. I know of someone who popped the question while soaring above the valley. That's much more romantic than using a score board at a baseball game, don't you think? She'll think so.
Know Before You Go
Book early. Make your reservation a week or two in advance. Weekends are especially busy, and you don't want to miss out on this unique experience. Booking online before you go can save you money -- check out websites for special deals.
Add up the cost. Napa Valley hot air balloon rides begin around $280 per person. Want a private flight for the two of you? Expect to pay about $2,000. Some companies offer special add-ons like coffee and donuts, a keepsake photo, or an after-flight brunch with sparkling wine, and may cost extra. 
Balloons depart at sunrise. Why so early? Winds are calmest at this hour. Besides, it's so romantic watching the sun come up over the mountains. Count on 3 to 4 hours for the whole event, from check-in to after-flight brunch.
Dress comfy and warm. You can expect the coolest temperatures at dawn, so it's a good idea to bring a jacket or sweater. You might also want your hat and sunglasses to shade your eyes. And wear flat shoes -- you'll be climbing in and out of the basket, and standing for about an hour during the flight.
Napa Valley Balloons, Inc. filling hot air balloons before take-off. Photo credit: Kristin Hall
Napa Valley Hot Air Balloon Companies
Napa Valley Balloons, Inc.
4086 Byway E, Napa, California * 707-944-0228 * napavalleyballoons.com
Friendly, knowledgeable crews and 40 years of experience add up to success for this Napa Valley hot air balloon company. 
You'll meet your balloon pilot and be taken to your launch site, where you can watch the balloons being filled. Then, the adventure begins. Savor the panoramic views of vineyards, mountains, and the magnificent sunrise while drifting above the valley. Your expert pilot will be your guide, pointing out attractions along the way.
Want a flight for just the two of you? Or a gathering of your best buddies, family, or co-workers? Check out the flight packages online. You have lots of imaginative options to make your wishes come true. 
Napa Valley Aloft
6525 Washington Street, Yountville * 855-944-4408 * nvaloft.com
Voted #1 hot air balloon company in Napa Valley in 2023, this outfit certainly boasts a lot of experience. After four decades of ballooning above the vineyards, they know how it's done.
Napa Valley Aloft has two launch sites available, and which one they choose depends on wind conditions and unpredictable fog. Typically, it'll be from Yountville, but the second location is Pope Valley. Your launch site will determine what you'll see as you float above the valley.
Claiming to have fewer passengers per flight than their competitors, this hot air balloon company wants to put your comfort first. You also have the option of a 2-person or 4-person flight (for a much higher cost). If you like, you can enjoy a post-flight brunch with your fellow passengers and crew. What better way to celebrate your adventure than with a mimosa toast?

Balloons Above the Valley
603 California Blvd, Napa * 800-464-6824 * balloonrides.com
Imagine launching at sunrise for a thrilling flight above the vineyards. You'll meet up with your fellow passengers outside the Model Bakery at the Oxbow Market, where hot coffee and pastries will be ready for you. From there, you'll be driven to the launch site, where you'll get to watch the flight crew inflate the hot air balloons. Once you board, a photographer will be on hand to give you a lasting reminder of your adventure.
You'll have options for some add-ons that'll cost extra, but are all part of the exhilarating experience you'll cherish for years to come. You can enjoy a sparkling wine toast to celebrate your voyage, as well as a post-flight brunch. Check the website to discover what Balloons Above the Valley can do for you.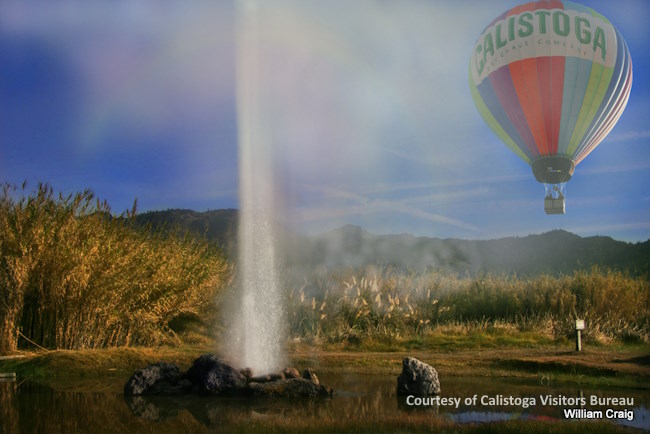 Hot air balloon floating by the Old Faithful Geyser near Calistoga.
Calistoga Balloons
1458 Lincoln Ave., Railcar #15, Calistoga * 888-995-7700 * calistogaballoons.com
Enjoy breathtaking views of Calistoga and more. You'll fly over Castello di Amorosa, Mt. St. Helena, Old Faithful Geyser and more famous landmarks for an unforgettable balloon escape. Your experienced pilot will be your guide, pointing out highlights during your early morning flight. 
Champagne brunch awaits you when you get back on the ground. Want a balloon ride for just the two of you? They do that, too.

Return to top of Napa Valley Hot Air Balloons