Napa Valley Pizza Restaurants
Looking for the best Napa Valley Pizza? Whether you prefer authentically Italian or something more creative, you're sure to find your favorite pie with plenty of scrumptious choices throughout the valley.
Check out your many mouthwatering options here, listed town by town.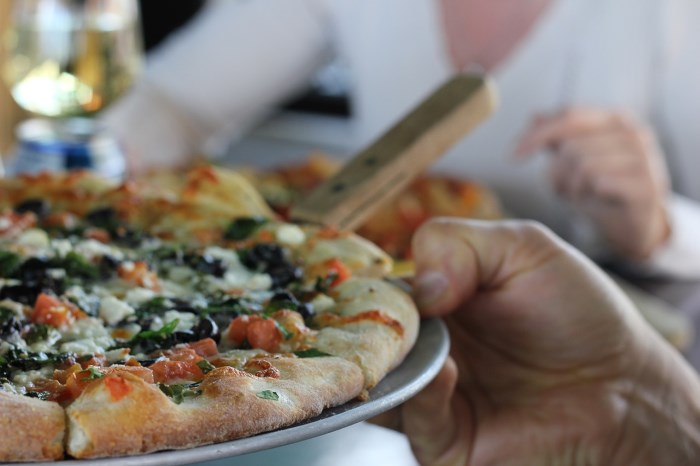 Photo Credit Pexels
Napa Valley Pizza Restaurants in Napa, California
Oenotri Italian Cuisine
1425 First Street, Napa, California 94559 * oenotri.com
Treat your taste buds to authentic Southern-Italian flavors at Oenotri. Wood-fired specialty pizzas are handcrafted -- and delightfully rustic. Choose fresh toppings, such as San Marzano tomatoes, fior di latte (that's gooey mozzarella) and genovese basil. Meat-lovers will savor sausage or prosciutto. For the adventurous, try black mission figs, balsamico and pine nuts.
An ever-changing menu will keep your palate entertained. Check their website for current offerings. Oenotri now has a to-go menu if you'd like to take your meal home.
If you're not feeling pizza, you'll find antipasti, pasta, meat dishes, plus delectable desserts that are worth a visit all on their own. This popular Napa Valley pizza spot has a full bar, featuring creative cocktails, craft beer, and an enviable wine list. Opened in 2010, Oenotri has earned its place as one of the best Italian restaurants in Napa Valley. 
Filippi's Pizza Grotto
645 1st Street, Napa, California 94559 * 707-254-9700 * realcheesepizza.com/napa

Family-owned, Filippi's Pizza Grotto has several restaurants in California. One taste, and you'll know why they've been in business for over 70 years. Want more? Generous portions, budget-friendly, and amazing staff. Filippi's aims to please. 
Thick or thin? Vegetarian or gluten-free? Select a specialty pizza or choose from a long list of toppings, including salami, prosciutto, meatball, plus all the classics. 
You'll find a BIG menu here, filled with tasty sandwiches, pastas, meat, seafood, and desserts. Check out Filippi's Napa online menu, including lunch specials and an impressive gluten-free menu. All can be prepared for eat-in, take-out and delivery.
The Forge
155 Gasser Drive Suite B, Napa, California 94559 * theforgepizza.com
Mediterranean flavors meet California farm-to-table freshness in this family-owned Napa Valley pizza spot. Hand-tossed, wood-fired pizzas are made to perfection. There are also sandwiches, steak and fish. It's not a big menu, but it is sure to please.
The Forge is an ideal place to gather your besties for a memorable meal. Or stop in for happy hour and grab a specialty pizza or crispy Truffle Fries to share. Try out one of the creative cocktails, fine California wines or inventive craft beers. You'll find the ambiance refreshingly open, modern and unpretentious.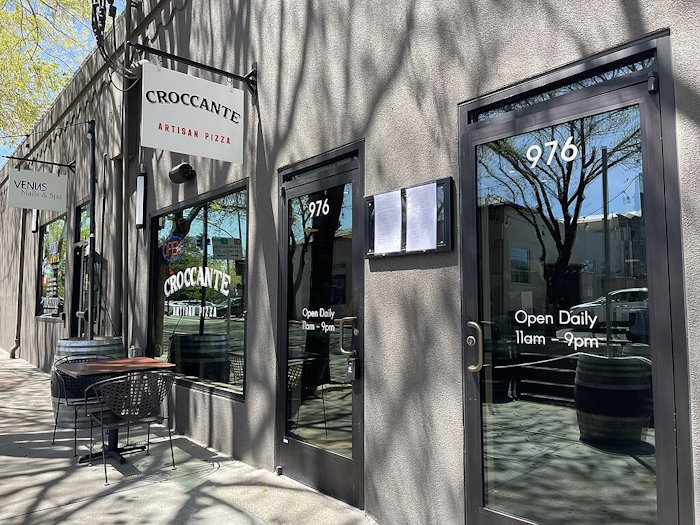 Croccante Pizza in Napa. Photo: Sarah Stierch (CC by 4.0)
Croccante Pizza
976 Pearl Street, Napa, California 94559 * 707-222-5017 * croccantepizza.com
Croccante Pizza is family-owned and a newcomer to the Napa Valley pizza scene. It's already getting raves from locals and tourists alike. 
Scrumptious starters like freshly made garlic knots or saucy meatballs will get your taste buds revved up. But save your appetite for the "Detroit style" pan pizza. Oh, yes. The best-of-the-best ingredients make up your pizza... hand crushed tomato sauce, crumbled sausage, a blend of cheeses... and more tasty choices.
Live Fire Pizza at Oxbow
610 1st Street, Napa, California 94558 * 707-346-3993 * livefireoxbow.com
Live Fire Pizza is in the heart of downtown Napa, at the bustling Oxbow Public Market, delighting hungry shoppers. 
Stop in for artisan wood-fired oven pizzas and salads, to pick up sandwiches for your picnic, or for midday small plates between wine tastings. Patio dining, pick-up or delivery is available. Steps away from the patio-with-a-view is a full bar, offering craft brews and California wines.
Azzurro Pizzeria e Enoteca
1260 Main Street, Napa, California 94559 * 707-255-5552 * azzurropizzeria.com
If you love authentically Italian, thin-crust pizza with lots of scrumptious toppings, Azzurro Pizzeria is your place. For more than 20 years, owners Michael and Christina Gyetvan have made this friendly Napa Valley pizza spot a favorite of both locals and tourists. 
This neighborhood storefront restaurant also triumphs with freshly made, creative pastas, antipasti, and salads. The wine list is short, but just right. Azzurro's has a casual vibe, with outdoor dining and takeout options.
Napa South Mod Pizza
304 Soscol Avenue, Suite A, Napa, California 94559 * 707-346-6758 * modpizza.com/locations/napa-south
Artisan-style pizzas are made to order, from classic to creative, by the slice or the whole pie. Mod Pizza is all about choice, claiming to have more than 30 toppings to customize your pie. Have it your way, any toppings you want, at one price. What more could you want? Mod may be the fastest in the valley, claiming mere minutes to make, bake and send your pizza on its way. You can eat it here, pick it up, or have it delivered.
Mod Pizza is a nationwide chain. You'll find this Napa Valley pizza restaurant tucked into a strip mall. And it's open late on the weekends, ideal for late-night cravings.
Ciccio Pizza Restaurant in Yountville, California. Photo credit © Zhukovsky
Pizza Restaurants in Yountville, California
Ciccio
6770 Washington Street, Yountville, California 94599 * 707-945-1000 * ciccionapavalley.com * Open 5pm to 9pm
Ciccio is a real find in a country-style "Market" in the heart of Yountville. Its loyal following keeps this small eatery packed every night -- and that says something in this restaurant-rich town.
This thriving hot spot has reopened under new management in 2023. Owner Frank Altamura has handed over the day-to-day management to Chef Christopher Kostow and his wife, Martina.
Fresh seasonal ingredients drive the menu. Although the menu is frequently updated, the quality of the food is consistent. You'll enjoy tasty appetizers, pizza, pasta, salads and desserts. Make a reservation to dine-in or order take-out.

Ottimo Cafe & Shop
6525 Washington Street, Yountville * 707-944-0102 * ottimo-nv.com * Open 9am to 10pm
Step into this charming pizzeria and you'll instantly feel the authentic Italian vibe. Delicious aromas of Calabrian Sausage Pizza, Bocce Club Chicken Panini, and Pasta Calabrese waft from the kitchen. The ambiance is casual, with several tables inside and more room on the outdoor patio. 
Come here for a hearty breakfast. Ottimo is an ideal first stop before a day of wine tasting. Or satisfy lunch or dinner cravings. Just need a nibble? Tempt your tastebuds with hand-pulled mozzarella or charcuterie platters with a beer or glass of wine. For dessert? Tiramasu and a cappuccino. And don't leave empty-handed! You'll discover a fine selection of wines from both Napa Valley and Italy, plus -- gourmet spices, flavored olive oils, kitchen tools and cookbooks.
Chef Michael Chiarello is behind this gem. It's tucked in the V Marketplace, across from Chiarello's famed Bottega restaurant.
Pizza Restaurants in St. Helena, California
Pizzeria Tra Vigne
1016 Main St., St. Helena * 707-967-9999 * Pizzeria Tra Vigne
This Napa Valley pizza restaurant takes its pies seriously. You'll find lots of variety at Pizzeria Tra Vigne, with exceptionally good toppings such as heirloom tomatoes, house-made mozzarella, chicken apple sausage...and that's just the beginning. Choose from one of the brick oven specialty pizzas or dream up your own.
Don't feel like pizza? Try the scrumptious pasta dishes, freshly made salads, hearty sandwiches, gelato and more. You'll find the atmosphere open, relaxed and friendly. You can dine-in at this family-friendly eatery or carry out.
La Prima 
1010 Adams Street, St. Helena, California 94574 * 707-963-7909 * laprimapizzasthelena.com
Stop at La Prima for lunch or dinner. Whatever you're hungry for, you'll likely find it here. Specialty pizzas (Hawaiian, BBQ chicken, Margherita, and more) or a variety of hot and hearty sandwiches (pastrami sub, pesto chicken, Philly cheese steak, for starters) will satisfy your appetite. Can't decide? Try a pizza sandwich (yes, really). Grilled burgers, pasta dishes, calzones, salads and apps fill out the menu. 
Did I mention it's kid-friendly? There is a kid's meal menu. And it's soda-only to go with your pizza. You can see the whole menu online, where it's easy to order for pick-up or delivery.
That Pizza Place
1149 Main Street, St. Helena, California 94574 * 707-968-9671 * sthelenapizza.com
Family-owned, this Napa Valley pizza restaurant boasts quality toppings on freshly made dough. Pizza is all they do, and That Pizza Place does it deliciously.
The menu doesn't get too adventurous, but you won't mind. Whether you choose a house specialty pizza or make up your own creation, your made-to-order pie is sure to satisfy your appetite. Take & Bake and house-made dough are also available, if you prefer to do your own baking.