Stag's Leap Wine Cellars

Stepping into the tasting room at Stag's Leap Wine Cellars for the first time, you'd never guess that this unpretentious winery has a storied legacy. (The other parts of the winery are a sight to behold, but we'll get to that later.) 
Judgment of Paris 
You'll hear about the Paris wine tasting of 1976 when you take the cellar tour with their knowledgeable guides.
Can't wait? Okay...here's the story.
Stag's Leap Wine Cellars gained international fame when its 1973 S.L.V. Cabernet Sauvignon took first place in a blind taste test in Paris. The tasting was judged by top French wine experts who were shocked by their wine pick, and subsequently tried to deny choosing this California Cab over a Bordeaux. This event made big news around the world, famously heralded by Time magazine's story titled "Judgment of Paris."
Stag's Leap Wine Cellars' win over French wines convinced other Napa Valley vintners that they could produce top-quality wines, too. And they do.
Who Owns Stag's Leap?
Family-owned Italian wine company, Marchesi Antinori bought ownership of Stag's Leap Wine Cellars from mega-wine producer, Ste. Michelle Wine Estate in July of 2023.
Warren Winiarski, who founded Stag's Leap in 1970, sold the winery in 2007. Washington-based Ste. Michelle Wine Estate owned 85% stake in the winery, and Piero Antinori, honorary president of Marchesi Antinori, acquired the remaining 15%. The 16-year partnership was a successful one, with continued outstanding quality wines, earning high ratings.
With sole ownership now in Antinori's hands, this iconic winery is once again family-owned.
Stag's Leap or Stags' Leap?
If you've been a visitor to Napa Valley for a while, you already know there are two wineries with practically the same name.
Stag's Leap Wine Cellars is identified by the apostrophe before the "s". 
Stags' Leap Winery has the apostrophe after the "s".
The two wineries are often confused with each other. Oh, and the Stags Leap District AVA has no apostrophes. 
Whether you're searching online or looking at a winery map for this District, it's a good idea to look closely at those apostrophes!
Stag's Leap Vineyards and Wine Cellar Tours
At the heart of this renowned winery, are vineyards in the Stags Leap District, including S.L.V. and FAY vineyards. Stag's Leap vineyards are sustainably farmed, and exceptional care is taken to express the character of the terroir in the grapes grown here.
The FAY Outlook and Visitor Center opened in 2014 to provide indoor and outdoor wine tastings with gorgeous panoramic views of FAY Vineyard and the Stags Leap Palisades.
You have a few choices for tours and tastings...
Celestial Tour & Tasting: Take a guided tour of the wine caves, then savor a seated tasting of estate wines paired with delicious bites prepared by the on-site chef.
Estate Wine Tasting & Cave Tour: Discover the winery's legendary history, while learning about the terroir and winemaking, and enjoy some of the most beautiful views in all of Napa Valley.
Estate Collection Tasting Flight: Treat yourself to a tasting of Stag's Leap Wine Cellars' Estate Collection of fine wines.
Take a look at the current offerings and prices on the website. You can book your experiences online.
The Round Room (shown above) is at the center of the caves you'll tour at Stag's Leap Wine Cellars.
As you tour the caves, you'll marvel at the 17th-century celestial paintings... magnificent kitchen and dining room...the winery's tribute to its winemakers...plus many more delights at every turn.
This winery takes part of its name from its wine region. The Stags Leap District is a sub-AVA in Napa Valley and is some of the most expensive agricultural real estate in the world. This pricey piece of the valley floor helps to produce the rich, full-bodied, complex red wines for which Napa Valley is known.
Stag's Leap Wine Cellars Wines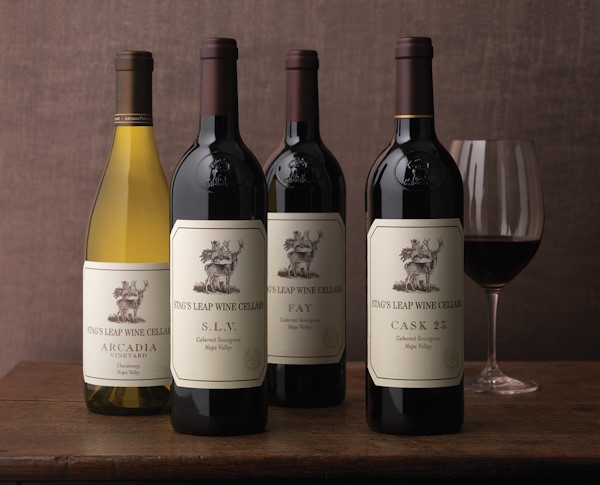 Best known for its estate-grown Cabernets (Cask 23, S.L.V., and Fay), Stag's Leap Wine Cellars enjoys a distinguished reputation as a producer of world-class wines.
It was a 1973 Stag's Leap Wine Cellars S.L.V. Cabernet Sauvignon, after all, that beat out France's finest...and did it again in a repeat taste test in 2006. This is a Cab that ages well!
You can sample some of the Estate's best in the tasting room (not that Cab -- a bottle of the '73 vintage is in the Smithsonian museum). However, you'll pay more to taste premium wines. (It's so worth it).
Here are a couple stellar reviews for these consistently fine cabs:
Cask 23 Cabernet Sauvignon 2019 "

Ripe and forward in feel, with lots of seductive plum sauce and blackberry compote flavors leading the way, backed by bittersweet cocoa and alder accents. ...this has ample fine-grained structure for cellaring. Drink now through 2038.

" 95 Points, Wine Spectator
S.L.V. Cabernet Sauvignon 2018 "The nose offers scents of cassis, black cherries, star anise, cocoa and pencil shavings, while the medium to full-bodied palate adds dark, loamy notes. ...Best after 2024." 95 Points, Robert Parker's Wine Advocate
When and Where
5766 Silverado Trail, Napa CA * 707-261-6410 * stagsleapwinecellars.com
Open daily 10am - 4:30pm, with the exception of major holidays.
Reservations are required for all experiences. All visitors must be 21+