Yountville Wineries
Yountville wineries offer a delightful variety, from crisp whites to bold reds... as well as some tantalizing sparklers.
If you're ready for a slower pace and fewer crowds, get off the beaten path and you'll discover some real gems in and around this charming town.
Explore Yountville Wineries
Cliff Lede Vineyards
Cliff Lede bought 60 acres in the Stags Leap District of Napa Valley in 2002 and soon began producing critically-acclaimed Cabernet Sauvignon. Over the years, the Lede family purchased additional vineyards in Anderson Valley, expanding the varietals to include top-quality Pinot Noir and Chardonnay. 
Architect Howard Backen designed the state-of-the-art winery in 2005, which is now fully solar-powered. You can count Cliff Lede Vineyards as one of the greenest among Yountville wineries, achieving both Napa Green Winery and Napa Green Land certifications.
A beautiful Craftsman-style bungalow serves as the visitor center and tasting room. Art lovers won't want to miss the Backstage Tasting Room, with a rotating exhibit of contemporary art.
Did you know?
Cliff Lede also owns the luxurious Poetry Inn, designed by world-renowned architect Howard Backen. Poetry Inn is perched in the hills of the Stags Leap District, offering panoramic views of the valley.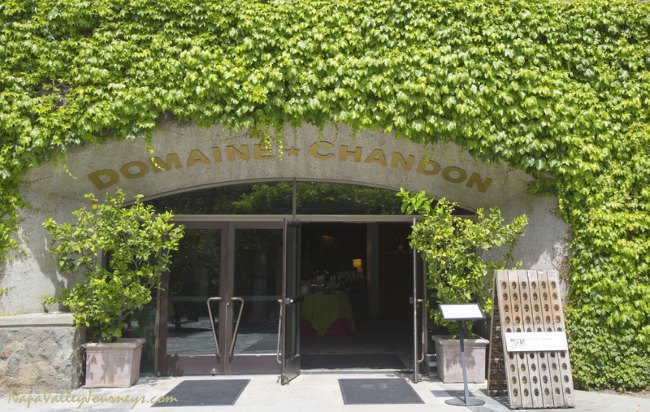 Domaine Chandon is a top producer of sparkling wine in Yountville, Ca. Photo ©Zhukovsky
Domaine Chandon
Are you a sparkling wine lover? Then, you won't want to pass up Domaine Chandon. This is the biggest of the Yountville wineries, and offers in-depth tours. You'll explore the beautiful grounds, then step inside the winery to see the massive tanks and bottling line, and learn all about méthode champenoise -- the meticulous French way of making bubbly.
Make a reservation to visit Chandon. You have lots of options here to personalize your visit. Have a wine tasting in a private cabana. Stroll around the gorgeous gardens. Order a charcuterie board. Or simply grab a bottle of Brut to savor on the sun-splashed terrace. 
Did you know?
French Champagne house Moët Hennessy built Chandon in 1973, becoming the first European sparkling wine producer in Napa Valley. 
Goosecross Cellars
Goosecross Cellars is a small, family-run winery that is refreshingly unpretentious. Make an appointment for a casual tasting in the barrel room. You'll immediately feel welcome -- the staff here is friendly and eager to please.
This sprawling ranch is nestled in the estate's State Lane Vineyards. Goosecross also sources grapes from the cooler San Pablo Bay region to the South, to the foothills of Howell Mountain at the north end of Napa Valley. Varietals are carefully matched to the ideal terroir, bringing out their best qualities to ensure complex, balanced wines.
Goosecross seems to have something to offer everyone, with a broad selection of wines, including Chardonnay, Sauvignon Blanc, Sparkling Rosé, Pinot Noir, Cabernet Sauvignon, Merlot and more.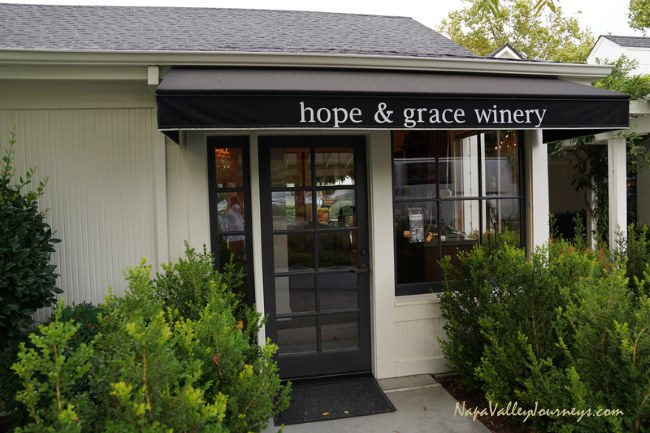 Friendly and charming, Hope & Grace offers a variety of wine tastings. Photo © Zhukovsky
Hope & Grace Winery
Looking like a storefront, Hope & Grace winery beckons visitors to stop in for a relaxed wine tasting. Step inside and you'll find the staff to be friendly and welcoming. 
Hope & Grace is a small producer of single-varietal wines that include Sauvignon Blanc, Chardonnay, Pinot Noir, Cabernet Sauvignon and more. Make a reservation for wine tastings. On one end of the tasting salon is a small gift shop where you can buy wine and get your souvenirs.
Did you know?
Yountville got its name from George Yount, an early pioneer who planted the first vineyard in Napa Valley. Oh, if he only knew what he started!
RH Wine Vault
Set in a two-story 1904 fieldstone manor that was once a private residence, is the RH Wine Vault, part of the Restoration Hardware campus that now resides in Yountville. You may remember this landmark building; it once housed the Ma(i)sonry winery.
Unlike the other Yountville wineries, no wines are produced here. What RH Wine Vault offers is an opportunity to taste a selection of high-end, sometimes rare, wines from Wine Country's small producers. You have options for tasting a flight ... from Classic to Connoisseur to Collector ... depending on your palate and budget. If you want less of a commitment, you can simply stop in for a glass or bottle to enjoy on the beautifully landscaped outdoor seating areas. 
Handwritten Wines
Handwritten winery was founded in 2009, and is known for their small-lot, handcrafted wines, particularly Cabernet Sauvignon. 
Stop at this beautiful boutique winery for a classic flight tasting of 5 wines or a short story experience of 3 wines. Another tasty experience is the bread & butter, featuring 5 wines alongside artisan butter, salami and aged cheese. Check your options on the website (you'll want to make a reservation anyway).
Built at the southern edge of downtown Yountville, this relatively new winery is known as SOYO house. Step in to this rustic, sprawling ranch and you'll feel like you wandered into a private home, featuring a foyer, kitchen and den with an inviting courtyard at the center of this charming Yountville winery.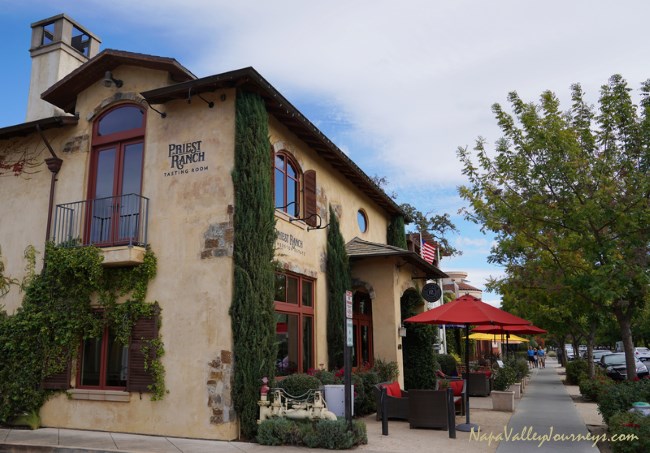 Priest Ranch tasting room is a popular stop in downtown Yountville. Photo © Zhukovsky
Priest Ranch Tasting Room
Priest Ranch is a St. Helena winery with its tasting room here in the heart of Yountville. Innovative wines and tastings await you. If your taste buds are ready for a departure from the ho-hum, add this stop to your list of Yountville wineries to visit.
You'll find a variety of quality wines, including a crisp and fruity Sauvignon Blanc and bubbly Brut Rosé. But this small-production winery really shines with luxuriously rich and complex Cabernet Sauvignon, plus commanding Cab blends with explosive names: Coach Gun, Double Barrel, and Peacemaker. 
Wine tasting experiences here can be as unique as you want them to be. Try The Coach Gun Experience, a deconstruction of the flagship Bordeaux blend. Or take on the Bacon & Wine Experience -- a tantalizing tasting like no other, matching four distinct pork belly slices with a flight of complementary wines. Oh, yeah.