Yountville Restaurants

Yountville is home to many of the finest dining destinations in Wine Country. In fact, Yountville restaurants are among the best in the whole country. You don't want to pass up this foodie haven.
American Yountville Restaurants
Mustard's Grill
7399 St. Helena Hwy, Yountville * 707-944-2424 * Mustards Grill * $ to $$
Mustards Grill, owned by chef Cindy Pawlcyn for 30 years, knows how to put a sophisticated spin on hearty dishes. Think of it as an inventive rib joint with an enviable wine list. Specialties include grilled Hanger Steak with red wine onion jam and hand-cut fries, Niman Ranch (half-pound!) Burger, Thai Chicken Salad, and out-of-this-world seasoned onion rings.
Lucy Restaurant & Bar
Bardessono Hotel, 6526 Yount St., Yountville * 707-204-6000 * Lucy Restaurant * $ to $$
Chefs here take their culinary cue from the organic garden just steps away. Freshly picked veggies arrive on your plate with colorful character. Even the sweet corn, squash and pole beans seem chic. Standout entrées include locally raised lamb, duck, beef and poultry. You have plenty of seafood options too.
Head to the bar for both big and small bites. Creative cocktails, featuring unexpected twists of pineapple, cucumber or chiles, plus specialty beers and wines-by-the-glass round out the delectable menu.
Return to top of Yountville Restaurants
Ad Hoc
6476 Washington Street, Yountville * 707-944-2487 * Ad Hoc * $$$$
Chef Thomas Keller opened this spot in 2006, charming guests with hearty, down-home meals. The price is set ($62 per person) and so is the nightly menu, so you won't know what you'll be served when you make your reservation. If you just can't stand the anticipation, call the day before to ask for the menu. Love stick-to-your-ribs dishes like succulent hickory-smoked ribeye with spring vegetable succotash and sweet potatoes? Then, you'll love this casual-yet-somehow-chic restaurant.
Brix Napa Valley
7377 St. Helena Highway, Yountville * 707-944-2749 * Brix * $$$ to $$$$
Brix was completely revamped in 2019, giving it a fresh, new vibe, along with fresh flavors. The Kelleher family-owned gardens and orchards drive the farm-to-table menu, which includes plenty of seafood dishes, house made pastas, sandwiches and more.
Want a spot to relax? Head to the spacious patio and drink in gorgeous views of the Mayacamas mountains, plus nearby grapevines and gardens.
French Yountville Restaurants
Bistro Jeanty
6510 Washington Street, Yountville * 707-944-0103 * Bistro Jeanty * $$ to $$$
Chef Philippe Jeanty opened this charming bistro in 1998. Bistro Jeanty is a casual spot with serious French comfort food. You'll find the menu filled with stick-to-your-ribs French classics, such as coq au vin (it's superb), cassoulet and crème brûlée.
Bouchon Bistro
6534 Washington Street, Yountville * 707-944-8037 * Bouchon * $$$
Bouchon has a luxurious Parisian mood and a menu to match. Renowned chef Thomas Keller (of the French Laundry) is behind this gem. It's no wonder this is one of the busiest Yountville restaurants.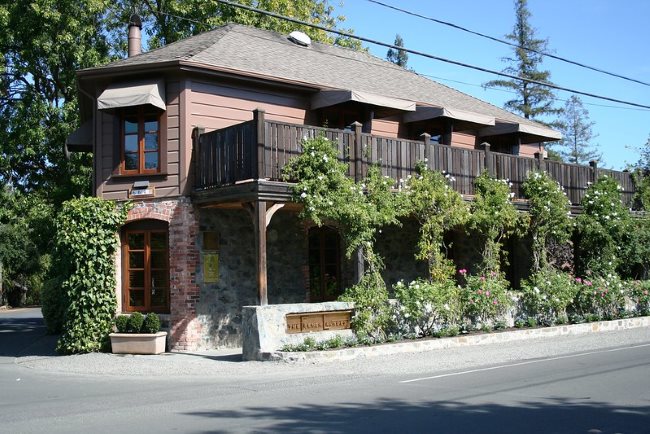 Once a 1900s brothel and bar, this stone building now houses the French Laundry, a three-star Michelin restaurant. Photo: Peter Bond
French Laundry
6640 Washington Street, Yountville * 707-944-2380 * French Laundry * $$$$
Owned by Chef Thomas Keller, French Laundry is one of the finest in the country, if not the world. Two nine-course prix fixe menus are offered each day, and each dish is a work of art.
So how much can you expect to pay for this 3-Michelin Star restaurant? It's easily the priciest in the valley -- dinner for two will cost $700, not including tax, tip, and drinks. Tables are coveted here and reservations hard-won. Call two months in advance.
Return to top of Yountville Restaurants
Italian Yountville Restaurants
Ciccio
6770 Washington St., Yountville * 707-945-1000 * Ciccio * $ to $$
At the north end of a street lined with restaurants is Ciccio. It is family-owned and its roots in Napa Valley run deep. Fresh veggies and herbs come from the family farm that's been here since 1855. You'll find the menu is divided into two parts: "pizza" and "stuff that isn't pizza." The menu here changes often to showcase the freshest ingredients available. Open daily 5pm to 9pm.
Bottega
6525 Washington St., Yountville * 707-945-1050 * Bottega * $$$
Bottega is a foodie's dream-come-true. This hot spot showcases celebrity chef Michael Chiarello's signature Italian dishes with a twist. You'll savor the ambiance, too. Bottega is located in the historic Groezinger Estate, one of the oldest wineries in Napa Valley.
Spanish Yountville Restaurant
Coqueta
6525 Washington St., Yountville * 707-244-4350 * Coqueta * Open Thurs - Mon
Coqueta Napa Valley is chef Michael Chiarello's latest, offering fresh, flavorful Spanish cuisine. If Coqueta sounds familiar, this new Yountville restaurant mirrors his popular San Francisco restaurant of the same name. In the middle of town, it's practically across the street from the V Marketplace, featuring upscale shops, art galleries, renowned Kollar Chocolates and more.
Mexican Yountville Restaurant
La Calenda
6518 Washington Street, Yountville * 833-682-8226 * La Calenda * Open Daily 11am - 11pm
La Calenda is Yountville's new kid on the block -- and Thomas Keller's latest venture. Chef Kaelin Ulrich Trilling brings traditional Mexican cuisine infused with California style -- all wrapped up in a family-friendly eatery. Unlike many favorite restaurants in town, you won't need reservations here.
Quick Bites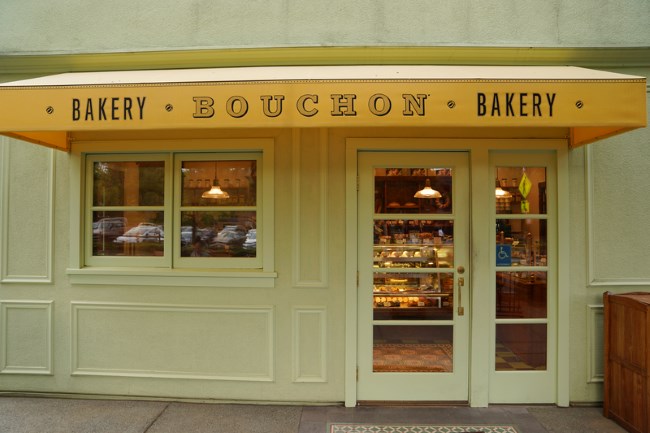 Exquisite French-style bakery owned by chef Thomas Keller. Photo: © Zhukovsky
Bouchon Bakery
6528 Washington St, Yountville * 707-944-2253 * Bouchon Bakery * Open Daily 7am - 7pm
This is Wine Country's answer to the sort of bakery you'd find in France. Another brilliant gem from chef Thomas Keller, it's worth a visit if only to take in the delicious aromas and gaze upon the sweet indulgences in the glass case. But I bet you can't resist the scrumptious lemon tarts, buttery croissants and bite-sized Chocolate Bouchons. Stop in for the perfect pick-me-up while strolling through town -- or for satisfying picnic fare, such as quiches, sandwiches and salads.
Addendum
6476 Washington Street, Yountville * 707-944-1565 * Addendum * Open Thursdays - Saturdays 11am - 2pm
Grab a boxed lunch to go at this popular spot behind Thomas Keller's Ad Hoc restaurant. You have only three choices here. But you won't mind because for around $30, you'll savor the hearty, down-home goodness of buttermilk fried chicken, barbecued pork ribs or a pulled pork sandwich, along with some tasty sides. Order ahead and be prepared to wait a bit. You can snag a picnic table behind the restaurant.
Yountville Deli
6498 Washington St., Yountville * 707-944-2002 * Yountville Deli * Open Daily 6am to 3pm
What's your favorite sandwich? From the eye-opening California Salmon Bagel (it's a satisfying breakfast all on its own)...to the hearty Y-Deli Club (roasted turkey and ham stacked with avocado, crispy bacon and monterey jack on toasted sourdough)... you're sure to find it among the specialties here.
Budget-friendly, this is a hot spot for locals (which says something in this restaurant-rich town). Vegan options, fresh salads and scrumptious sides round out the menu. Oh, wait... don't leave without trying Annie's freshly baked cookies (yum!). In a hurry? Get a boxed lunch to go.