St. Helena Restaurants

St. Helena restaurants offer plenty of variety to satisfy tourists and locals alike. This charming town also has its share of wine shops, top-notch bakeries and gourmet markets to delight foodies.
Goose & Gander
1245 Spring St., St. Helena * Goose & Gander * $$$
One of St. Helena's most popular restaurants, Goose & Gander is a delight to all your senses -- from mouthwatering aromas wafting from the kitchen to the cozy retro- steakhouse feeling to the friendly, professional staff that knows how to please.
Get started with all-out-innovative cocktails and tasty apps. The menu changes with the season, but you can depend on steaks, chops, chicken, burgers, plus fresh, farm-to-table salads and veggies. Desserts are traditional, yet elegant: bread pudding, chocolate flan, cheesecake and more. If you want to see the menu before you go, you'll find it online. You'll want to make a reservation online anyway.
If you just need and nibble, head to the elegant downstairs bar. Or ask for a table in the beautiful garden patio. 
Pizzeria Tra Vigne
1016 Main St., St. Helena * 707-967-9999 * Pizzeria Tra Vigne * $ to $$
Next door to the recently closed Tra Vigne restaurant, this pizza restaurant takes its pies seriously. You'll find lots of variety here, with exceptionally good toppings such as heirloom tomatoes, house-made mozzarella, chicken apple sausage...and that's just the beginning. Choose from one of the brick oven specialty pizzas--or dream up your own. Don't feel like pizza? Try the scrumptious pasta dishes, freshly made salads, hearty sandwiches, gelato and more. You'll find the atomosphere open, relaxed and friendly.
Press
587 Highway 29, St. Helena * 707-967-0550 * Press * $$$$
This first-class steakhouse is a meat-lovers paradise. Looking for a grilled, dry-aged ribeye to go with a bold Napa Valley cab? You'll love it here. Wood-fired rotisserie chicken, chops and seafood also please the palate. If you save room for dessert, the chocolate souffle is decadent and delicious.
Rustic wood floors, soft leather chairs, an oversize fireplace and the luxurious walnut bar lend a warm and inviting balance to the expansive glass panels and vaulted ceilings. Head outside to the stone patio, if it's warm, for a seat near the outdoor fireplace, overlooking the vineyards.
Cook St. Helena
1310 Main St., St. Helena * 707-963-7088 * Cook St. Helena * $$$
Elegant and clean, yet cozy, Cook St. Helena offers Italian cuisine -- housemade, fresh, and locally sourced. The menu is short, but just right. Pasta and seafood are among the best bets here, but there are plenty more temptations. Appetizers are excellent, as well as the innovative sandwiches. Don't miss the panna cotta with strawberries -- big enough to share, but you won't want to.
The Restaurant at Meadowood
900 Meadowood Lane, St. Helena * 877-963-3646 * Restaurant at Meadowood * $$$$
Temporarily Closed
Located in the luxurious Meadowood Resort, this Michelin three-star restaurant is a favorite destination of local residents as well as tourists. The restaurant's guiding genius is Chef Christopher Kostow, recognized among Food & Wine magazine's Best New Chefs 2009. Give your taste buds a treat...try the Chef's Tasting Menu for $225, including nine or ten courses perfectly paired with fine wines. If you want a quiet, relaxed evening, this is your place.
Return to top of St. Helena Restaurants
Quick Bites
Napa Valley Coffee Roasting Company
1400 Oak Ave., St. Helena * 707-963-4491 * Napa Valley Coffee * Open 7am-7pm
Stop in for a freshly brewed cup and a sweet roll or cookie at this charming spot. Friendly staff, free Wi-Fi and a neighborhood book swap make it a favorite for both tourists and locals. It has a comfortable, homey feel -- a place where you can relax and refuel while exploring the shops in town.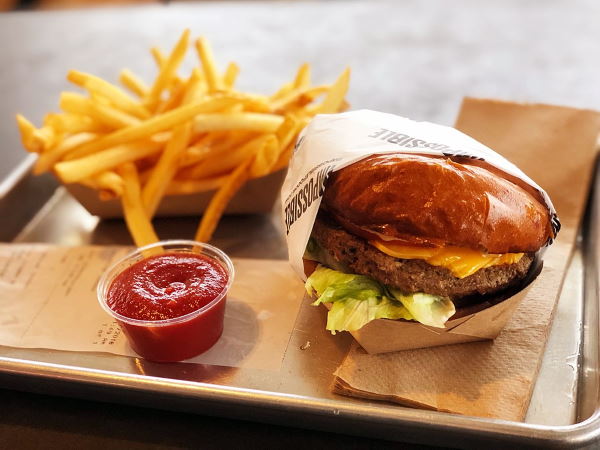 Gott's Roadside Photo: Sarah Stierch [CC BY 4.0]
Gott's Roadside
933 Main St., St. Helena * 707-963-3486
Can a 1950s-style drive-in turn out good food? In the case of Gott's Roadside, the answer is "YES!" It's all fast food here, but with a gourmet twist. Niman Ranch cheeseburgers are big enough to hold with both hands and the chili-spiced sweet potato fries are out-of-this-world tasty. Seating is picnic table only, but isn't that part of the fun?