Napa Restaurants

Napa restaurants range from French bistros to downhome diners, swanky steakhouses to highbrow cuisine, and everything else you could want. This city is booming with better-than-ever places to eat, with more variety than we've ever seen.
Olive & Hay
875 Bordeaux Way, Napa * 707-251-1950 * Olive & Hay * $$
Olive & Hay puts a fresh spin on local farm-to-table ingredients with traditional Italian flavors at this Meritage Resort restaurant. Tempting pastas and oven-fired pizzas are on the menu, along with California wines and some regional beers.
Come to this Napa restaurant for breakfast or dinner. Want a late-night nibble or a mid-afternoon snack? Head to the Crush Lounge for a satisfying quick bite. While you're here, bowl a game, catch your favorite team on a big screen, or just relax and savor one of the creative cocktails.
Bistro Don Giovanni
4110 Howard Lane, Napa * 707-224-3300 * Bistro Don Giovanni * $$
Scrumptious Italian dishes along with warm hospitality have been served here for more than 25 years.

The Mediterranean menu focuses on classics, but with a creative flair and a conscience. Only the freshest organic ingredients make it to the table. Main courses are hearty and nothing short of spectacular. You won't be able to resist Ravioli with lemon cream, tomato, pistachio pesto and ricotta. Equally good are the Sonoma duck bolognese, seared salmon fillet or Mamma Concetta's meatballs with penne. The wine list is generous and the deserts here are superb, from the Buttermilk Panna Cotta with fresh berries to the "Bostini" Trifle -- a taste-tempting twist on Boston cream pie.
Two wood-burning fireplaces make the dining room romantic and cozy on cool California nights. In summer, try to snag a patio table overlooking the whimsical fountain, herb garden and nearby vineyards.
Return to top of Napa Restaurants
Ristorante Allegria
1026 First Street, Napa * 707-254-8006 * Ristorante Allegria * $$
Located in a 1916 bank building, Ristorante Allegria already has a sense of history and belonging. Spacious and elegant, this bank-turned-romantic restaurant will charm you. Italian songs played on the accordian and warm lighting help set the mood. Okay, enough about the beautiful ambiance. The food here is the star...
Cal-Ital dishes are scrumptious, including Wild Mushroom Ravioli, Rigatoni with Smoked Italian Sausage, Pappardello with Jumbo Prawns, plus plenty of steaks, chops and seafood to go with your favorite wine. Desserts are real pleasers, as well...classic cheesecake, macadamia brownie pie topped with ice cream and hot fudge, bread pudding with maple brandy sauce. Try one with a dessert wine.
La Toque
1314 McKinstry Street, Napa * 707-257-5157 *  La Toque * $$$ to $$$$
La Toque got its start in Rutherford, then moved south in 2008 to its current home in the upscale Westin Verasa Napa.

This Michelin-starred Napa restaurant has kept its loyal following thanks to Chef Ken Frank's creative French-style cuisine. Each tantalizing dish is brilliantly paired with wine, harmonizing the flavors for a palate-pleasing treat you just have to try for yourself. And the dining experience doesn't stop there. Bathed in warm, romantic lighting and wrapped in elegant ambiance, you're pampered by a gracious wait staff and a sommelier who couldn't be more obliging.
Oenotri
1425 First Street, Napa * 707-252-1022 * Oenotri * $$$ to $$$$
Sure to please southern Italian cuisine lovers, this popular Napa restaurant offers distinctive, ever-changing menus.

Despite staff changes in recent years, Oenotri is impressive as ever. Exceptional house-made salumi, wood-fired pizzas, hearty handmade pastas and freshly baked breads highlight the daily menus built around local-sourced ingredients. More than a few offerings will please vegetarians. An exhaustive wine list features some of the finest Italian, French and Napa Valley wines available.
Tarla Mediterranean Grill
1480 First Street, Napa * 707-255-5599 * Tarla Grill * $$
This newcomer to Napa is already getting rave reviews from locals and tourists alike, plus a nod from the acclaimed Michelin Guide. Tarla means field in Turkish, and indeed this new hot spot serves fresh flavors from the lands of Turkey and Greece.
With an emphasis on locally grown and raised ingredients, you'll treat your taste buds to savory dishes like Pomegranate-Cabernet Braised Short Ribs with Corn-White Truffle Risotto...Pan Roasted White Sea Bass with Fingerling Potatoes...or Marinated Lamb Shish Kebabs with Basil-Mint Chimichurri Sauce.
An impressive wine list spans the world, but is mostly Napa Valley. You'll please your palate with homemade sweets like walnut baklava topped with vanilla bean gelato or pistachio tiramasu.
Return to top of Napa Restaurants
Celadon
500 Main Street Suite G, Napa * 707-254-9690 * Celadon * $$ to $$$
Celadon is the sister restaurant to Cole's Chop House. This chic yet unpretentious eatery is located in the bustling riverfront Historic Napa Mill and run by owner and chef Greg Cole.
Stop in for lunch or dinner and order tasty tidbits off the "small plates" section, including scrumptious Crab Cakes with Thai Rice Noodle Salad. "Green plates" feature Sweet Coconut Fried Prawns with Mango, Cucumber and Greens and other taste sensations. "Big plates" include top sirloin, pan-roasted duck breast, pasta of the day...the choices span the globe, with something here to please everyone. Chocolate-Hazelnut Mousse Bars with fresh berries and chocolate sauce is the dessert of choice.
You'll find the wine list offers a nice selection at fair prices, some by the glass. Try one of the unique cocktails or select from the generous whiskey, single-malt scotch, port and cognac list.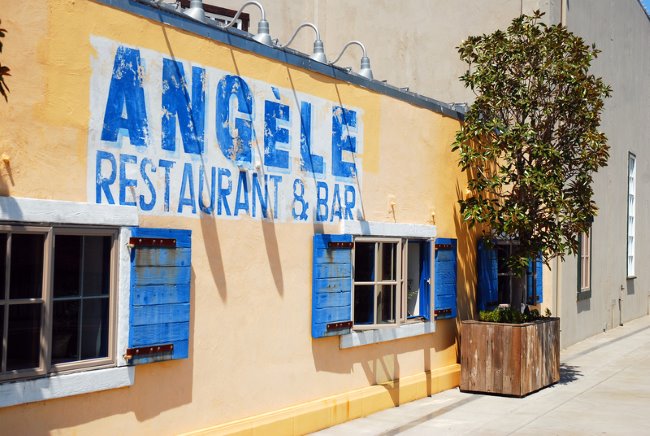 Napa's bustling riverfront houses many top eateries, such as Angèle. Photo ©James Kirkikis
Angèle Restaurant
540 Main Street, Napa * 707-252-8115 * Angèle Restaurant * $$$
Owners Claudia Rouas and Bettina Rouas are behind this gem, set in a 19th-century-boathouse-turned-bistro on Napa's charming riverfront. Soaring wood ceilings, concrete floors and white linens make this Napa restaurant rustic yet romantic.
You'll find classic French dishes on the menu: duck confit, chicken coq au vin, herb-roasted rib-eye, highlighting the flavors of the season. The decadent desserts are to-die-for, the creative cocktails divine, and the wine list includes fine French and Napa Valley wines. Lunch and dinner is served daily.
Cole's Chop House
1122 Main Street, Napa * 707-224-6328 * Cole's Chop House * $$$ to $$$$
Carnivores rejoice. Chefs here hand-select corn-fed Midwestern beef and family-farm pork and lamb chops, then grill them to juicy, savory perfection, any way you like. Fresh seafood options are limited, but you knew going in that steak's the thing here. Choose your own side dishes to pass around the table and select from the award-winning wine list. Desserts are spectacular: savor flaming Bananas Foster with a glass of cognac, a slice of Pecan Pie with aged rum or other sweet temptation.
Cole's exudes style and vibrancy. Soaring ceilings and polished woodwork give this Napa restaurant atmosphere and make it an inviting place to savor your aged porterhouse and Napa cabernet while listening to jazz.
Return to top
of Napa Restaurants
Carpe Diem Wine Bar
1001 Second Street, Napa * 707-224-0800 * Carpe Diem Wine Bar * $ to $$
Tucked into the former Alexandria Hotel, Carpe Diem is a welcome (much needed) addition to downtown Napa. Acclaimed Wine Spectator has already given it the coveted Award of Excellence 2013.
Small plate dining is the rule here, but you won't mind. You'll love sampling creative dishes, such as Ostrich Burger, Saffron Lobster Risotto, New Zealand French Lamb Rack, Catch-of-the-Day or the many artisan cheeses, charcuterie, salads and brick oven flatbreads like you've never tasted before. The wine list is mostly Californian, with many available by the glass. An ever-changing adventurous menu keeps people coming back.
Farm Restaurant at Carneros Resort
4048 Sonoma Highway, Napa * 707-299-4880 * Farm Restaurant * $$$ to $$$$
Chef de Cuisine Andrew Budnyj turns out delicious, satisfying fare, starting with the freshest ingredients at this Napa Restaurant.

Set in the luxurious Carneros Inn, Farm attracts visitors and locals who are hungry for hearty meat-and-potatoes kind of food. Succulent duck breast, roasted chicken, prime rib, Maine lobster...with tasty sides. Can't decide? Go for the Farm Tasting Menu, featuring a half-dozen or so gourmet dishes, each paired with a complementary wine.
The Lincoln
505 Lincoln Avenue, Napa * 707-699-2276 * The Lincoln Napa * $$ to $$$
Self-described as an "American gastropub," The Lincoln is a welcome addition along the  riverfront. Opened in July, 2023, this friendly Napa restaurant succeeds in putting the fun back into American comfort food. 
From the spicy pulled pork grilled cheese... to the scrumptious short ribs with potatoes au gratin... and salmon with steamed veggies and rice, you'll find plenty to please you. Kid and vegetarian options are available, plus incredibly creative cocktails, and a big selection of regional wines.
Stop in for Happy Hour Wednesday through Sunday to satisfy your cravings with tasty chicken tacos, antipasto platter, or the smash burger and tater tots. Head here for a late-night bite and a specialty drink, beer, or glass of wine.
Got a late start? Get your weekend morning (afternoon?) going with a hearty brunch of steak and eggs, fried chicken and waffles, mac 'n' cheese smothered hashbrowns, or other delicious dish, with an eye-opening cocktail, of course.
Napa Restaurants - Quick Bites
Butter Cream Bakery & Diner
2297 Jefferson Street, Napa * 707-255-6700 * Butter Cream Bakery * Open daily for breakfast and lunch
If you have a sweet tooth like me, you just can't be in Napa without a stop at this pink-and-white-striped bakery. This family-owned icon has roots in Napa going back to 1948 and serves up friendly service along with freshly made donuts, pastries, cookies and cakes.
On one side is the diner that opens at 5:30am every day of the week. Come here for your morning cup of coffee and a homestyle breakfast like hearty biscuits with country gravy... a ham and cheese omelet with a side of hashbrowns... or a stack of blueberry pancakes. Lunch fare includes lots of specialty sandwiches, salads and burgers with fries, everything made from scratch. Save room for a slice of pie.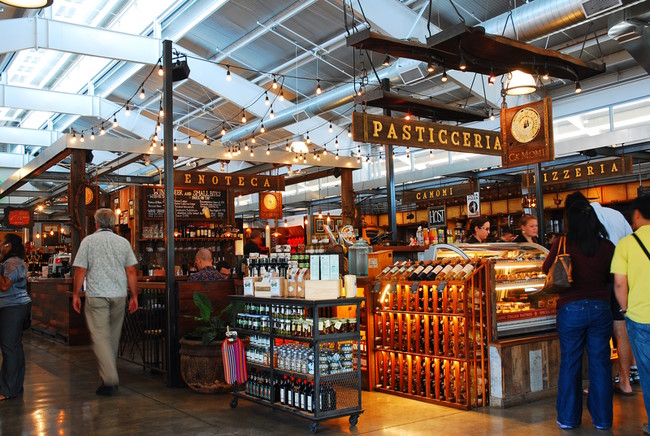 Oxbow Public Market on the scenic riverfront is a foodie haven. Photo © James Kirkikis
Oxbow Public Market
610 and 644 First Street, Napa * 707-226-6529 * Oxbow Public Market
Dozens of shops and eateries are under one roof at this foodie marketplace. Tempt your tastebuds while browsing exotic spices, olive oil, artisan cheeses, handmade chocolates, fine wines, honey, coffee plus local produce and fresh seafood.
Get lunch at C Casa, offering made-to-order tacos...Hog Island Oyster Bar...or grab a gourmet burger at Gott's Roadside. Don't skip dessert at the Model Bakery or Kara's Cupcakes.