Clos Pegase Winery

Clos Pegase winery got its start in 1983, when former book publisher Jan Shrem bought the vineyards. Shrem sold the winery to Vintage Wine Estates in 2013, when he was 83 years old. Today, it boasts one-of-a-kind architecture, a unique garden and award-winning wines.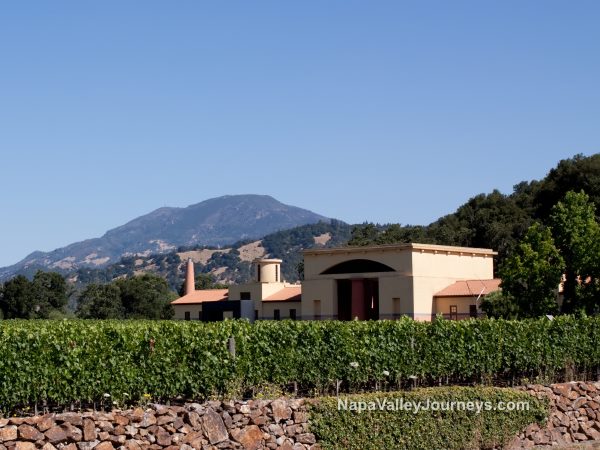 Clos Pegase is housed in an architectural masterpiece, designed by Michael Graves.
Get to Know Clos Pegase
Designed by renowned architect Michael Graves, the building itself is worth a look. You'll marvel at this structure that beautifully blends ancient and modern architecture. From the columned portico that welcomes visitors to the cypress-lined courtyard, Clos Pegase has a style unlike any other winery in the world.
Behind the winery, you'll discover 20,000 sq. ft. of wine caves, ideally temperature- and humidity-controlled for aging wines. Another must-see is the Cave Theater, a spectacular venue for special events.
And that's not all. Take some time to stroll around the Heritage Garden -- a large collection of drought-tolerant palms and plants, serving as sculptural landscape art. In fact, bring your lunch for a picnic on the lawn, surrounded by vineyards. (Call ahead to reserve a table.)

Clos Pegase winery offers a truly spectacular experience. Knowledgeable and friendly guides, plenty of tasting options, and quality wines make this winery a truly enjoyable stop in Calistoga. It also happens to be one of the few Napa Valley wineries to allow weddings on its property. 
Clos Pegase Vineyards and Wines
Clos Pegase is known for its Estate wines, meaning that they grow their own grapes. Three vineyards sprawled across the valley add up to 410 acres owned by the winery. Each type of grape is ideally matched to a vineyard's terroir to bring out the best of the grape and climate in which it is grown. 
The wine list includes: Chardonnay, Sauvignon Blanc, Pinot Noir, Merlot and Cabernet Sauvignon. Here are just a couple glowing reviews:
2018 Mitsuko's Vineyard Chardonnay 90 Points, Wine Enthusiast: "With crisp, upfront acidity, this white evolves to show a richness of tropical fruit and a thick, dense texture. Entirely barrel-fermented and aged nine months in 30% new French oak, it has a hint of vanilla and nutmeg that works well with the fruit."
2019 Hommage Cabernet Sauvignon 93 Points, Robert Parker's Wine Advocate: "Deep aromas of earthy loam, mint and black cherries. The wine is full-bodied but silky and elegant in feel, with a long finish. The overall impression is high gloss, perhaps overly polished for some tastes."
Clos Pegase Winery Tours and Tastings
I highly recommend making a reservation and taking advantage of one of these special tastings.

Connoisseur Cave Tour and Tasting You'll sample a splash of wine as you learn about the winery's history. Next you'll hear how the wines are made as you tour the production area -- and get another sampling straight from the barrel. Finally, you'll savor a seated tasting of current releases and library wines paired with artisan cheese and charcuterie.
Picnic Tasting Surround yourself in the unmatched beauty of the Clos Pegase vineyards on the lushly landscaped lawn. The patio is just outside the tasting room, where you'll be treated to local seasonal fare from Tre Posti as you taste a flight of the current releases.
When and Where
1060 Dunaweal Lane, Calistoga, CA 94515 * 707-942-4981 * www.clospegase.com
Open daily 10am - 5pm. The winery is closed for the big holidays. Check Clos Pegase winery's website for the latest schedule. Make reservations for tours and for tastings with groups of 8 or more.