Napa Valley Museum

Need a break from wine tasting? While you're in Yountville, stop in the Napa Valley Museum and soak up some of the region's storied history.
What's at the Napa Valley Museum in Yountville
You'll get the whole story, from the Native Americans who once made Napa Valley home...through the influences of early pioneers...to the winemakers who transformed the area into the successful grape-growing region it is today.
Many of the touring exhibits include photographs and paintings from regional artists, depicting the valley's cultural and geographical heritage. Other exhibits celebrate the wonders of nature, artistry in the world around us, plus fascinating - and sometimes fun - artifacts.
One thing is for sure, there is always something new to explore here. Be sure to check the museum's website for current as well as upcoming attractions and social events throughout the year.
Some new and upcoming exhibits and events include:
Jeff Bridges: Pictures, an Exhibition of the Oscar-Winner's Photography
Susan Bridges: Behind-the-Scenes Look of the Epic Western Heaven's Gate
Lost Art of Department Store Windows: Exhibition of Artistry
Buzzed: The Beauty & Nature of Bees
Top Drink: 9th Annual Cocktail Festival
Head downstairs and you'll learn how wine is made. This highly interactive exhibit teaches the wine making process through multi-media. It's a permanent attraction here and is truly impressive.
Stop in the Museum Store and browse a wide range of works from artists and artisans, such as limited-edition prints, pottery, jewelry and more. You'll find unique and creative gift ideas here, including journals, art supplies and toys, plus books about the region's history.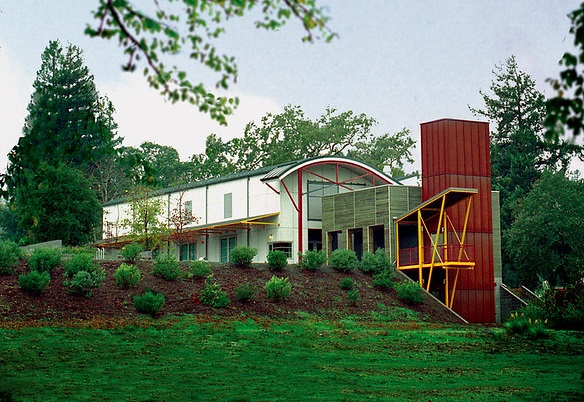 Photo Credit
The Napa Valley Museum looks like stylish rendition of a barn and silo, making it a fitting tribute to the valley's then-and-now culture.
Located on the grounds of the California Veterans Home, the museum is near Domaine Chandon winery. You'll head down tree-lined California Drive to get here. It's a little off the beaten path, but it's a quiet oasis from the bustling restaurants, tasting rooms and shops of historic Yountville.
If you like, take some time after exploring the museum to relax in the shaded courtyard.
Visitor Tip: Take the Yountville Trolley to the Napa Valley Museum. It's free! The trolley runs from downtown Yountville to the museum and back every half hour.
When and Where
Location: 55 Presidents Circle, Yountville, California
Website: www.napavalleymuseum.org
Hours: Wednesday - Sunday from 10 am to 4 pm; closed major holidays. The museum will be closed May 1 through May 19 to prepare for a new exhibition. Check the Museum's website for the latest COVID-19 guidance for visitors.
Admission: $15 for adults / $10 for seniors / $5 for children 6-17 / Free for members, children under 5, Vets Home residents and active military