Napa Valley Art Galleries

This famous wine region abounds with many art collections. Napa Valley art galleries are popping up in the beautiful valley, showcasing modern and traditional paintings, photography, art glass, ceramics, sculptures and more.
Whether you want to view collections or start your own, you'll find spectacular works of art across the valley.

Napa Art Exhibits
Clos Pegase is a favorite of art lovers and estate wine aficionados. Photo © Zhukovsky
Clos Pegase
1060 Dunaweal Lane, Calistoga * 707-942-4981
Clos Pegase winery is definitely worth a stop for serious art lovers. Designed by renowned architect Michael Graves, the building itself is stunning. Step inside and you'll marvel at a world-class collection of modern art. Take time to stroll around the beautiful courtyard and grounds where you'll see the 17th-century fountain from Italy.
Mumm Napa
8445 Silverado Trail, Rutherford * 800-686-6272
Browse the photo gallery at Mumm Napa, which includes original Ansel Adams works on display. Then, head to the tasting room for some of California's finest sparkling wine. Even if you're not an art fan, visit if only for the scenery; sliding glass doors allow gorgeous views of the Rutherford vineyards.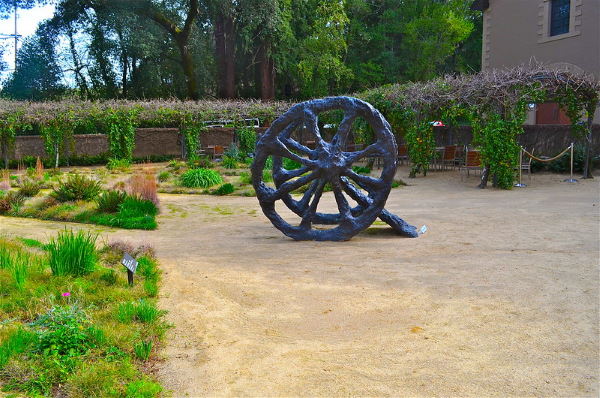 Step inside this winery to see a spectacular collection of modern art. Photo: Hess Winery
Hess Collection
4411 Redwood Road, Napa * 707-255-1144
This vine-draped stone winery houses one of the most impressive modern art collections in Northern California. Hess was built on the site where the first Napa wine was produced in the 1860s, making it a historic landmark. Owner Donald Hess generously makes his private collection available for free tours.

Return to top of Napa Valley Art Galleries
di Rosa Center for Contemporary Art
5200 Sonoma Hwy., Napa * 707-226-5991
Explore the exclusive di Rosa art collection of Rene and Veronica di Rosa, featuring more than 2,000 works of contemporary art. You can visit the Gatehouse Gallery for free, but you can see the whole collection -- including the Main Gallery and Sculpture Meadow on a guided tour for $17-$20. Art is housed in three galleries -- one was once a winery -- as well as sprawled across the nearby landscape.
Napa Valley Art Galleries
Jessel Gallery
1019 Atlas Peak Road, Napa * 707-257-2350
Whether you want to view captivating works of art, buy them, or make your own, Jessel Gallery is the place to be. You'll discover contemporary paintings, fine crafts, garden sculptures, and handmade jewelry from more than 40 area artists. Plan on spending a little time here. It's a large, friendly place with a lot to explore. Sign up for an art class, take a leisurely stroll through the gallery, and bring a picnic lunch to savor on the shaded garden terrace.
Gallery 1870
6525 Washington Street, Yountville * 707-944-9670
Tucked inside the V Marketplace, is one of many must-see Napa Valley art galleries.  Gallery 1870 showcases wine art by Eric Christensen, contemporary still life by Christopher Stott, oil paintings of the valley by Susan Hoehn and many more. You'll find paintings, prints and sculptures. If you're looking for an original piece that celebrates the beauty and spirit of Napa Valley, you'll find it at Gallery 1870.
North Bay Gallery
6525 Washington Street, Yountville * 707-945-0145
North Bay Gallery showcases contemporary paintings, vineyard watercolors, whimsical bronzes and hand-crafted jewelry, with a strong showing of Bay Area artists. Conveniently located in the V Marketplace, this gallery is in the midst of other popular Napa Valley art galleries, as well as favorite eateries.
Return to top of Napa Valley Art Galleries
Calistoga Pottery
1001 Foothill Boulevard, Calistoga * 707-942-0216
Owners Jeff and Sally Manfredi opened the Calistoga Pottery studio behind their house 30 years ago. Take the tour and you'll find them working at the potter's wheel or glazing colorful stoneware pots. Browse the showroom filled with finished pieces for sale. You can also commission pieces or a whole set of dishes (yes, they're made to be used) to suit your taste.
Art Gallery Napa Valley 
1307 First Street, Napa * 707-254-2085
Explore the creative works of more than 50 local artists at this co-op gallery in the heart of downtown Napa. Members of the Art Association Napa Valley showcase media of all kinds -- paintings, photography, jewelry, art glass, ceramics, fiber arts and woodworking. What's more, the gallery is staffed with participating artists, so you can meet them right here. And you'll feel doubly-good about your new treasure because part of the proceeds fund scholarships for local art students. Stop in for all-out creative gifts, including prints, calendars, and greeting cards. Find out more about Art Gallery Napa Valley. 
Lee Youngman Galleries
713-B Washington Street, Calistoga * 707-341-3731
Discover a broad spectrum of works at Lee Youngman Galleries by talented national and regional artists in oils, watercolors and pastels, as well as sculptures. This fine art gallery recently relocated to the spot vacated by All-Seasons Bistro.