Napa Valley Farmers Markets
From Calistoga to the city of Napa, you'll be captivated by Napa Valley farmers markets. 
Why? Well...let's begin with a delightful combination of leisurely small-town charm, picturesque scenery, and lots of tasty temptations. Browse a while and you'll meet the friendly folks who make it happen, shop for fine-quality artisan crafts, plus enjoy gourmet treats that'll have you wanting to come back...soon.
Wondering where to start? Explore the valley's farmers markets here and find out what pleasures await.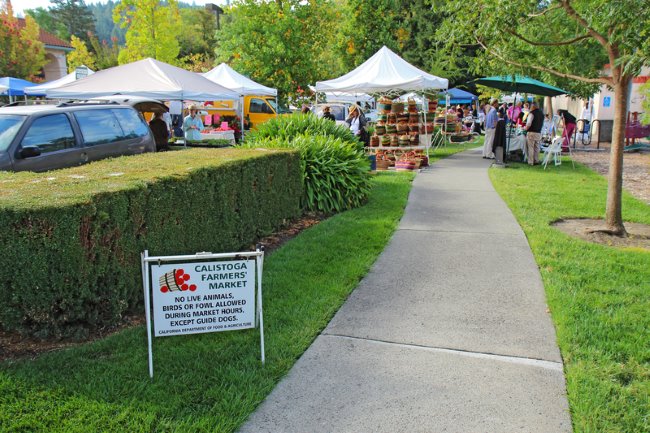 Entrance to the farmers market in Calistoga, California. Photo ©Sgoodwin4813
Napa Valley Farmers Markets
Whether you need a bushel of fresh veggies, a mid-morning pastry, or stunning handmade jewelry, you'll love strolling through the friendly markets of Napa Valley. 
Know before you go...
Bring a shopping bag to carry your produce, gifts, and other goodies. Don't have one? Many of the markets sell them.
Pay with cash, if you can. Vendors prefer cash as payment; however, most will accept credit cards.
Leave Fido at home. California state law prohibits bringing pets into any certified farmers market. This excludes, of course, trained service animals.
Calistoga Farmer's Market
Open Saturdays 9 to 1 * 1311 Washington Street, Calistoga, California * calistogafarmersmarket.org 
Even if you're not a foodie, you'll discover plenty of top-quality foods to inspire you. Your senses will be on overload when you gaze upon farm-fresh fruits and veggies, artisan cheeses, crusty loaves of bread, locally-sourced teas and flavored vinegars, and much more.
Hungry yet? Grab one of the gourmet breakfast treats to nibble along your way.

And there's still more to explore! From boutique-style fashions to fine art... hand-crafted jewelry, woodcrafts, and baskets... to fresh flowers and nursery plants, I bet you won't go home empty-handed. This Napa Valley farmers market is a great place to shop for gifts (and treat yourself, too!).
St. Helena Farmers Market
Open every Friday, from May through October from 7:30am till noon * Crane Park, St. Helena, California * sthelenafarmersmkt.org
Shop like the locals shop. Every Friday morning, spring through fall, the St. Helena's farmers market is in full swing. You'll discover a bounty of locally grown fruits and veggies, gourmet delights to please even the fussiest foodie, plus chef demos and handcrafted jewelry, leather belts and bags, ceramics to buy. Take a look at the website to see the full vendor list (there's a lot here!).
Bring the kiddos along! St. Helena has one of the family-friendliest markets in Napa Valley. Kids' activities (art projects and story time) abound to thrill your little ones. Nearby is a big playground, plus a picnic area under tall redwoods.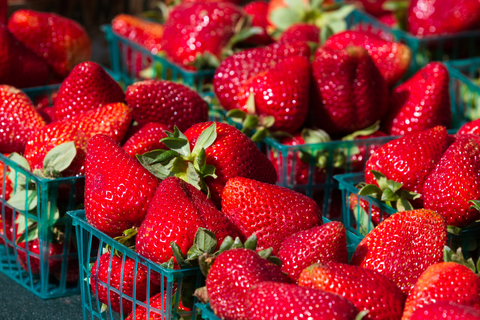 Baskets of fresh strawberries at Napa's farmers market. ©Wollertz
Napa Farmers Market
Open Tuesdays and Saturdays 8am to 12pm - April through December * Parking Lot 1100 West Street in Downtown Napa, California * napafarmersmarket.org
One of the greenest markets you'll come upon, the certified farmers market in Napa is dedicated to supporting local farmers. Spring through fall, you'll find sustainably grown produce and sourced specialty foods, plus artisan ceramics, candles and jewelry. 
What will you discover? Fresh fruits and veggies, of course. Specialty foods, such as honey, olive oil, almonds, coffee beans, eggs, meat, fish, truffles (the chocolate kind -- yum!), cookies, homemade doughnuts, pecan sticky buns and more bakery delights. 
When lunch time rolls around, head to one of the food trucks for stick-to-your-ribs meals. And wet your whistle with craft beer, bottled drinks, tea, or a piping-hot cup of freshly ground coffee.
Would they forget your furry friends? Not a chance. Although pets aren't allowed in the market area (it's the law), you won't have to look too long to find goods to please even the most discriminating pooch: fine leather leashes, gourmet dog treats and more.
Farmstead's Winter Farmer's Market
Open Fridays 8am to 12pm - November through April * 738 Main Street, St. Helena, California * longmeadowranch.com
Just when other Napa Valley farmers markets are winding down for the year, the Farmstead Farmer's Market is in full swing at the massive Long Meadow estate. Even in the winter months, you can count on the freshest seasonal vegetables, organic grass-fed beef, eggs, honey, and an impressive variety of freshly picked herbs.
And it doesn't stop there. Spring through fall, you can find the Long Meadow Ranch tent set up at the Napa and the St. Helena farmers markets.