Napa Valley Olive Oil
As you may have guessed, Napa Valley olive oil is among the finest in the country. Olive oil producers here have gone the extra mile on quality and variety. You'll find lots of innovative flavors to sample as well as unique olive oil tasting experiences.
You can explore some of the offerings on the websites listed here...and buy a bottle or two.
Where to Find the Best Napa Valley Olive Oil
Round Pond Estate
Freshly picked olives from Round Pond Estate in Rutherford are pressed in their own olive oil mill for truly superior olive oil. You have three tasting options, including Tour & Tasting with a guided tour of the groves and an olive oil pairing with small bites...the Mill Tasting along with meats, cheeses and veggies...or if you're in a hurry, try the Splash and Dash tasting. Cost: $25 to $70 per person.
Olivier
Big copper olive oil dispensers are lined up at Olivier in St. Helena. Sample a big variety of flavors, including truffle, toasted garlic, blue cheese dipping oil, Meyer lemon and more – or make your own blend. Take time to browse this quaint French-inspired shop for kitchen and gift items, condiments and candies.
St. Helena Olive Oil Co.
Born out of love for her family, and the beauty of Napa Valley, Peggy O'Kelly founded the St. Helena Olive Oil Co. in 1994. Today, the company makes Napa Valley EVOO, sparkling wine vinegar, truffle honey, herbs, salts and more.
Grove 45
This gem of an olive oil company is owned by Ana Hernandez and her daughter, Marcela. These two women, along with five employees, also women, know a great deal about their product and are already getting raves and winning awards. If you want a fun and friendly introduction to EVOO, take a 60-minute tasting, paired with seasonal bites, from Grove 45. Tastings start at $40 per person and require a reservation. 
Culinary Institute of America (CIA)
Culinary Institute of America (CIA) in Napa offers interactive tasting experiences, including tastings of "super-premium" olive oils from around the world. Step up to the Flavor Bar for a 15-minute session. Call 707-967-2320 for the schedule and to make a reservation. Cost: $10 per person.
Darioush Winery
Darioush Winery offers an elevated tasting experience by its in-house olive oil expert, Orietta Gianjorio. In this 90-minute session, you'll learn how to evaluate several styles of extra virgin olive oil. You'll also be treated to a wine tasting of several single-vineyard and signature wines, paired with small bites. Make a reservation. Cost: $125 per person.
The Olive Press at Oxbow Market
The Olive Press at Oxbow Market in Napa boasts that it was the first olive mill in Sonoma. Now you can conveniently shop for the award-winning olive oil right here in this foodie haven. You'll find delightful indulgences for the adventurous palate: dipping and infused olive oils, balsamic vinegars, tapenades and many more culinary goodies.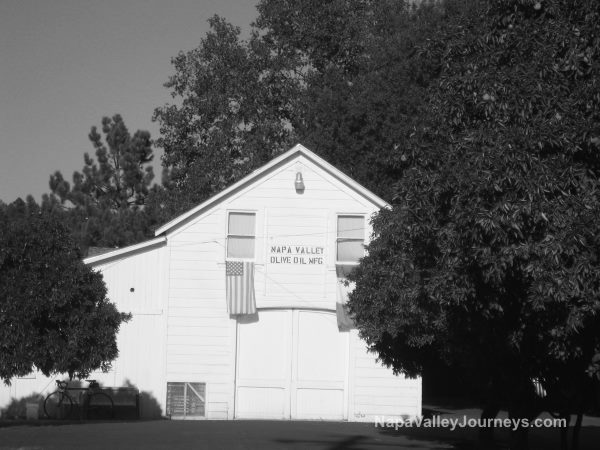 Napa Valley Olive Oil Mfg. is off the beaten path at the end of Charter Oak in St. Helena.
Napa Valley Olive Oil Mfg.
Napa Valley Olive Oil Mfg. is a destination in St. Helena for tourists and locals alike. You'll want to buy everything as soon as you breathe in the aromas of cheeses, salami, infused oils and balsamic vinegars. This tiny Italian market is a hidden gem with friendly service and well-worth seeking. Be sure to bring cash or your checkbook; credit cards are not accepted.