Best Merlot Wine in Napa Valley
Whether you want to identify the best Merlot on a restaurant wine list, or you're looking to impress friends at your next get-together, you'll get more than enough savvy here to enjoy a good bottle...or two.
Here you'll discover some of the top Merlot wine producers in Napa Valley, plus how to serve Merlot, food pairing suggestions, and wine ratings.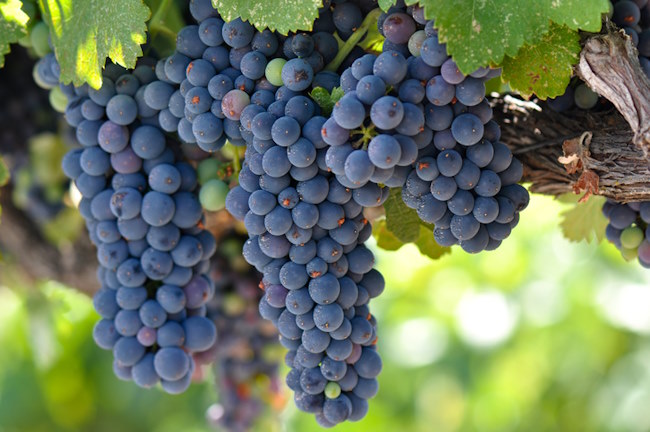 Merlot grapes are ideally suited for warm, sunny Napa Valley.
Napa Valley Merlot
Why Napa Valley Merlot? Some AVAs in Napa Valley are perfectly matched for this varietal. You'll find some of the best Merlot producers in Oakville, Rutherford and Stags Leap, three sub-AVAs located on Napa's valley floor. Merlot grapes love the warm, sunny climate here, allowing their best qualities to shine through.
Forget the snobbishness surrounding this wine. Despite the verbal bashing Merlot got in the 2004 movie Sideways (and subsequent drop in sales), this grape has bounced back and remains one of the most popular from Napa Valley.
Best Merlot Wines from Napa Valley
Choosing the best Merlot is, of course, a matter of taste. I've listed a few high-scoring reviews here to show you what's available from this premium wine region. Also note the different wine descriptors.
Napa Valley Merlot Wine Ratings
Pride Mountain 2019 Merlot - "The nose offers up hints of mint, cherry tomatoes and red currants, plus some riper notions of cherries and raspberries... medium to full-bodied palate is smooth and supple." 91 Points, Robert Parker's Wine Advocate
Duckhorn Three Palms Vineyard 2014 Merlot - "A powerful red, with concentrated flavors of red plum, cherry and boysenberry that are layered with plenty of rich spice and mineral accents." 95 Points, Wine Spectator
Rutherford Hill 2015 Merlot - "Blended with Cabernet Sauvignon and Syrah, this Merlot is a tannic and powerful wine. It offers earthy flavors of leather and oak around a rich and decadent core of dark plum." 90 Points, Wine Enthusiast
Aperture Sugarloaf Vineyard 2016 Merlot - "Sanguine, earthy and meaty, this wine shows hints of dried herb, petrol and ash between dark brooding hits of plum and black cherry." 92 Points, Wine Enthusiast
Robert Mondavi 2016 Merlot - "Well-made varietal wine, blended with 24% Cabernet Sauvignon. Chocolate, blackberry and plum highlight a soft, approachable palate of fruit dusted in lasting hints of clove and cinnamon." 90 Points, Wine Enthusiast  

How to Serve Merlot
Wondering how to serve Merlot? To get the most out of this varietal, you'll want to know the ideal serving temperature, type of wine glass to use, and what foods will complement Merlot's bold, rich character.
What is the ideal serving temperature for Merlot?
Some mistakenly believe that bold red wines, such as Cab and Merlot, should be served at room temperature. Unfortunately, that allows the alcohol to overpower the varietals' flavors. 
Serve Merlot at 60-65°F (15-18°C) to bring out Merlot's best flavors, balanced acidity and rounded tannins.
Here's a tip for serving Merlot: Chill bottle first, then uncork. To chill, refrigerate for 25 minutes. In a hurry? There is a quicker way: Set the bottle in a bucket of melting ice for about 10 minutes. 
What type of glass do you use to drink Merlot?
Oenophiles will often use a specially made wine glass for each type of wine.
If you're like me, you may not have the cupboard space for all that stemware -- or the budget for pricey crystal. I use the same type of wine glass for Merlot that I use for Cabernet Sauvignon. 
Or you may have one type of glass for red wines and one for whites. If you have a red wine glass, you're golden. Basically, a red wine glass is balloon-shaped, tapering slightly at the rim.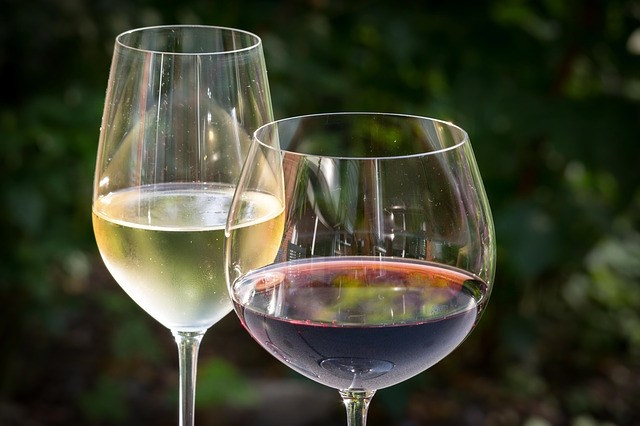 The balloon-shaped wine glass (on the right) is recommended for full-bodied red wines. Image by Thomas B.
Now you may be wondering, does it matter? Well, that's up to you. Wine experts have matched types of wine with wine glass shapes to bring out the best of a varietal's qualities. The wider bowl helps to open up the wine, exposing more surface to air. The tapered rim holds in the wine's aromas, so that we can smell the plum, chocolate, spice, or other scents.

Best Merlot Food Pairings
Does Merlot pair well with food? The answer is a resounding "YES!" That is, if your meal can stand up to this big, bold red. Merlot's lush, velvety tannins and rounded berry flavors make it an easy-drinking match for many foods -- including beef, cheesy potatoes, and spicy Italian sausage.
Fire up the grill. Merlot teams up well with grilled red meat, such as hamburgers, steak and ribs. Hold the barbecue sauce, though -- it's often too sweet for this dry, red wine. Pork, lamb, and roasted herb chicken also go well with a bottle of Merlot.
Cheese, please. Love aged cheddar? Me too. Lucky for us, Merlot makes a beautiful pairing for this hard, sharp-tasting cheese. Try smoked cheddar, too -- they just seem made for each other. Swiss cheese, semi-hard with a nutty flavor, and hard, crumbly Parmesan and Parmigiano Reggiano are ideal for this varietal. 
Ready for dessert? Chocolate cake. Merlot's velvety mouthfeel, luscious berry and sometimes chocolate flavors make it a good match.