Inglenook Winery

Inglenook winery is everything you want a Napa Valley winery to be -- a charming, ivy-draped chateau with a storied legacy.
But would you expect any less from its owner, renowned film director Francis Ford Coppola? He bought the original house and part of the Inglenook vineyard in 1975. Then in 1995, Coppola purchased the historic chateau and remaining vineyards, lovingly restoring and renovating the winery into a showplace.
Formerly known as Rubicon Estate, the winery has also regained its original name Inglenook.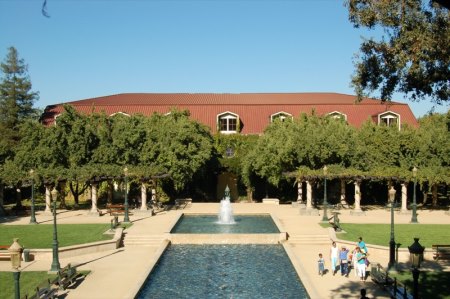 Built in 1879, Inglenook is on the National Register of Historic Places. Photo credit
Upon arrival, you'll stop in at the new Visitor Center -- a former water storage building-turned-guest-checkpoint. You'll check in here before proceeding to the Chateau. 
Once inside, you're enveloped with luxury. Surround yourself with elegance and drama, from the cathedral ceilings and turn-of-the-century carriage doors in the magnificent Barrel Room to the enchanting Parisian courtyard, where visitors can sip wine and savor the ambiance.
Don't miss the Boutique room -- an elegant marketplace offering a lavish selection of vintage I've-got-a-story-to-tell collectibles, plus antique wine accessories and one-of-a-kind gifts. It's simply splendid and worth browsing.
Inglenook Winery Tastings and Tours
Guided tours of the chateau, wine caves and vineyards are offered daily. You'll also enjoy a seated tasting of wines paired with artisan cheeses in one of the private caves. You have a few options here.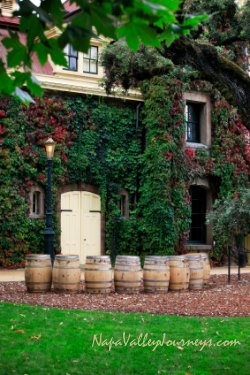 Want to head straight to the tasting? The Heritage Tasting offers visitors a seated tasting of estate wines, including the flagship Rubicon wine, paired with artisan cheeses.
Treat your tastebuds with the Amuse Pairing -- a sampling of culinary delights from Estate Chef Alex Lovick. Here you'll explore the complementary flavors of food and wine in a seated tasting.
Discover how Rubicon wine is made, from the vineyards to the bottle with the Elevage Experience. You'll learn the history of Inglenook winery and tour the Infinity caves, where you'll get an insight into the process of winemaking and aging, even participating in a blending session. Your journey concludes with a Rubicon wine and cheese pairing.
Come for lunch. The Janus Pairing begins in the Grand Foyer, where you'll be greeted with a glass of wine by your gracious host. You'll tour the historic chateau, then head to one of the private cellars for lunch, prepared by Estate Chef Alex Lovick.
When and Where
1991 St. Helena Highway, Rutherford, California 94573 * 707-968-1161 * www.inglenook.com
Tours and tastings are offered daily. Get the latest schedule and seasonal hours on the website.