Peju Winery

A row of stately sycamores greet visitors at the Peju winery.
Give yourself plenty of time here. It's a marvel to explore, from the soaring ceilings of the tasting room to the gorgeous gardens, dotted with fountains and marble sculptures on this family-owned estate.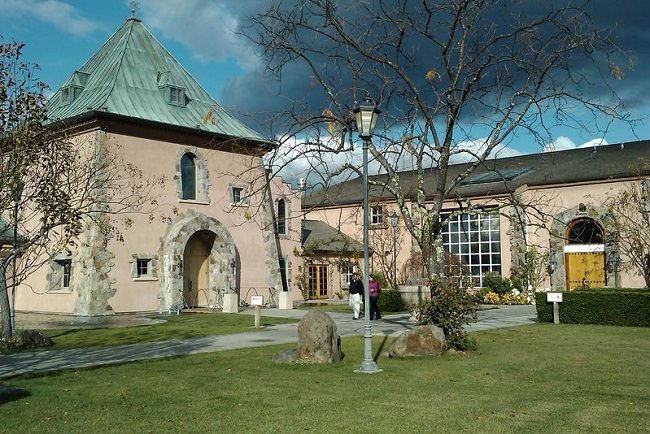 Peju Winery in Napa, California. Photo © Daniel Glifberg
Peju Wines and Vineyards
Owners Tony and Herta Peju purchased this 30-acre vineyard in 1983, although its roots go back several decades. With a deed to a hardscrabble acreage, plus a passion for wine, the Peju family created a new legacy in Napa Valley.
Located in the heart of the valley's Rutherford region, this winery offers some excellent Cabernet Sauvignon and Merlot wines.
Here's a stellar review from Wine Enthusiast:
Peju 2019 Legacy Collection Cabernet Sauvignon - "Aromas of black fruits, peppermint, bark and dried herbs. Full body with plush tannins. Fruity and chocolatey with fresh acidity and a lively finish." 91 Points, Wine Enthusiast
Peju Winery Tours and Tastings
Peju winery is a fun and friendly place!
Some wineries in the valley would rather just focus on winemaking and skip all the touristy chit-chat. Not Peju. This family-owned winery welcomes visitors onto their lush-and-lovely property and does their best to show them a good time, too. It just feels good here.
Allow some time for Peju. It is a popular spot and it gets crowded, especially on the weekends. 

Upon arrival, you'll be put on a waiting list, much like a restaurant. When you're called, your group will be corralled into the tasting room. Step up to one of the tasting counters, where you'll sample current release wines and hear the stories behind them.
The wine servers are ready to please and knowledgeable. You'll want to meet Alan, a wine pourer with lyrical tasting "notes." Don't be surprised to hear him break out in song -- it's all part of Peju's charm.
I'm amazed at the tour and tasting options that have been added within the past few years. There seems to be something here for everyone -- from Napa Valley newcomers to wine aficionados.
You'll need to make reservations ahead of time for some of these. Check the website for the latest listings, dates and times.
More Options
Sample current release wines in a private tasting. You'll hear the history and winemaking stories behind each one.
Treat yourself to a seated tasting experience with the wine-and-cheese pairing. Enjoy artisan cheeses to complement current release wines.
Take a private tour of the Peju gardens and vineyards by a knowledgeable guide. You'll hear the rich history of the Rutherford appellation and Peju's approach to sustainable farming.
Club Events at Peju
Membership at Peju Winery has its rewards... from preferred savings on wines to complimentary tastings for you and your guests... and first-to-know wine releases to access to exclusive wines.
Need more reasons to join the Peju Wine Club? How about member-only invitations to intimate dinners, holiday parties, harvest celebrations, and more club events throughout the year. Take a look at the Peju website for the latest events and happenings.
When and Where
8466 St. Helena Hwy. (Highway 29), Rutherford, California 94573 * 707-963-3600 * www.peju.com
Open Daily 10am to 6pm (closed on major holidays). It's a good idea to make a reservation for this popular winery.