Beringer Winery

You'll know you're close to the Beringer winery when you drive through the tree-lined stretch of Highway 29, at the north end of St. Helena.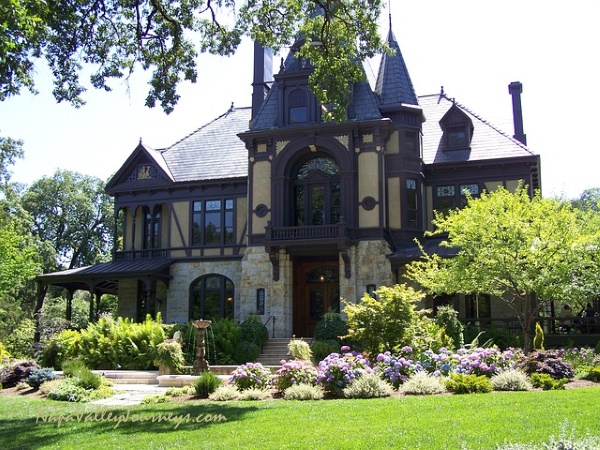 Visit the historic Rhine House next door to Beringer winery.
A Little Background
German immigrants Jacob and Frederick Beringer established this winery in 1876. It has the distinction of being Napa Valley's oldest continually operating winery, earning it a spot on the National Register of Historic Places.
 That's no easy feat.
Creative ingenuity helped Beringer Brothers survive Prohibition. Making sacramental wines during those years kept the winery in business.
 At the end of Prohibition in 1934, the brothers welcomed visitors into the winery for tours, marking the beginning of wine tourism to Napa Valley.
Hollywood celebrities -- including actress Carole Lombard, comedians Bud Abbott and Lou Costello, boxer Rocky Marciano and singers Roy Rogers and Louis Armstrong -- brought attention to Beringer with their much-publicized visits to the winery in the late 1930s and 1940s.
Transforming the Rhine House into a visitor center in the 1950s, the Beringer winery now had a place that invited guests to explore the wine cellars, enjoy the architecture of this fine old mansion, and linger on the sprawling porch while sampling wine. Napa Valley's wine tourism exploded in the late 1950s and Beringer was at the heart of it.
Why You Want to Visit the Beringer Winery
Upon arrival, you'll be welcomed to this grand estate and handed a map to help you explore its gorgeously landscaped grounds and historic buildings.
Play bocce ball on the property's own court, then stop in the gift shop for sandwiches and head to the picnic area for lunch.
Don't miss Music on the Promenade every weekend afternoon from April through October. This historic estate is the ideal spot to relax, grab a sandwich and a glass of wine while spending a glorious afternoon listening to a live band.
Beringer Wine Tastings
Just as Beringer produces a wide variety of wines, you have several wine tasting options here.
Head to the Old Winery Tasting Room for a flight of wines for $25/person. Or step on over to the beautiful Rhine House and choose three award-winning wines from a selection of Reserve, Single Vineyard and case production wines for $40/person. Why not take advantage of a gorgeous day for a Reserve Pairing on the Porch -- a tasting of three iconic Beringer wines, along with artisan cheeses for $50/person. 
Serious wine connoisseurs will want to taste the finest Beringer has to offer, including Private Reserve and single-vineyard wines. Some wine tastings require reservations, which you can do on the Beringer website.
When and Where
2000 Main Street, St. Helena, California 94515 * 707-963-7115 * www.beringer.com
Tours and tastings are offered daily. Get the latest schedule for all the happenings on the website.