Clos du Val Winery

Founded in 1972 by French-born John Goelethires Bernard Portet, the Clos du Val winery is infused with Bordeaux influences. From the ivy-covered building to the red roses that mark the end of each grapevine row, this place is filled with French country charm.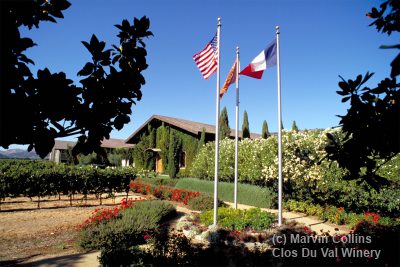 Clos du Val Vineyards and Wines
With 150 acres of vineyards in Stag's Leap District and 180 acres in Carneros, this winery produces a good variety of wines, most notably cabernet sauvignon, zinfandel and pinot noir.
Best known for its cabernet, Clos du Val gets high ratings for this dependably rich, elegant and complex wine. Wine Enthusiast magazine calls it "A joy to drink," and I agree. Give it a whirl in the wonderfully rustic tasting room (formerly a fermentation chamber, it has soaring ceilings). Or try a wine-and-cheese pairing under a private cabana with a few friends.
You have lots of tour and tasting options here. Wine tastings can be customized to please your palate. Want a romantic wine tasting for just the two of you? Call to reserve a table for two in the vineyard and get ready to wow that special someone with wine, cheese, chocolate and roses. C'est magnifique.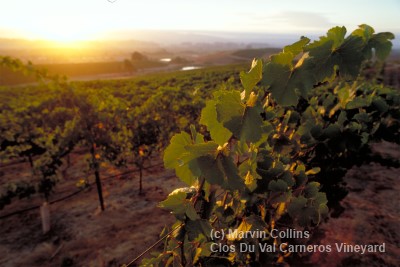 Why You Want to Visit Clos du Val Winery
Get up close and personal. Clos du Val is small, offering an intimate look at a real working winery. It's friendly, too. You'll be warmly welcomed here and -- if you choose -- you can tour the beautifully landscaped grounds and even walk right into one of the vineyards with your guide.
Play pétanque, the French version of bocce ball on the property's own court in front of the winery. It's anybody's game. If you have your heart set on playing, it's a good idea to reserve the court ahead of time.
Rent a cabana by the hour for up to 8 guests. Take your favorite vintage outdoors and enjoy it from your own private cabana. You'll relax while sipping and savoring the picturesque views of the Stag's Leap vineyards.
Have a picnic. Clos du Val is one of the few wineries in Napa Valley that will allow guests to bring their own lunches onto its grounds. Don't bring your own bottle though -- picnics are for customers only. Tables and chairs fill up fast, especially on the weekends, so call ahead to reserve your spot.
When and Where
5330 Silverado Trail, Napa, California 94558 * 707-261-5200 * www.closduval.com
Open daily 10am - 5pm. The winery is closed for the big holidays. Check the winery's Web site for the latest schedule. Make reservations for all tours and for tastings with groups of 8 or more.