Domaine Carneros

Domaine Carneros has a certain je ne sais quoi that charms all who visit. And it's no wonder. French Champagne house Taittinger is behind this sparkling gem.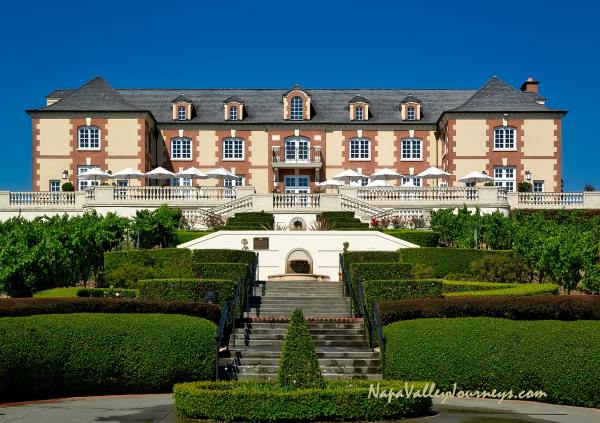 You'll feel like royalty as you step up the extravagant staircase that leads to this grand Louis-XV-style chateau. It's a replica of Taittinger's 18th-century estate in France.
Perched on a hill, this elegant French chateau offers stunning panoramic views of its vineyards. Take your camera along. You'll want to capture memories to take home. Seriously, your friends will be envious when they see pictures of you living the good life at this beautiful estate (even if it is for a couple hours or so). 
Domaine Carneros Wines and Vineyards
This winemaker owns four vineyards in the Los Carneros AVA. Cool bay breezes and lingering mists in this southern region of Napa Valley are ideal for growing Pinot Noir and Chardonnay grapes. Why? Grapes grown here ripen slowly, giving them perfect acidic balance.
This is the only winemaker in the world to use Carneros grapes exclusively for producing sparkling wine méthode champenoise, a labor-intensive process of blending, fermenting and aging, used by all the Champagne houses in France.
Here are a couple reviews of the Domaine Carneros Brut Cuvée This classic sparkling wine blends the best Pinot Noir and Chardonnay grapes. For around $33, you're getting quite a value for this well-rounded wine.
93 Points, Wine Spectator: Domaine Carneros 2016 "Vibrant and refined, with elegantly rich Asian pear, brioche and strawberry blossom accents that take on polish and richness on the lingering finish. Drink now through 2022."
93 Points Wine Enthusiast: Domaine Carneros 2016 "After three years in bottle, this sparkling combines 50% chardonnay with 40% pinot noir and a touch of pinot gris ... flavors highlight a smooth, structured palate of ample length and rounded weight."
Tours and Tastings
I highly recommend the Art of Sparkling Wine tour. It's offered three times a day. You'll discover just what goes into making that bottle of bubbly, plus what makes this sparkling wine superior.
This Carneros winery offers table service in the salon and on the terrace. You can relax here and enjoy wines by the glass, flights or bottle. Try the caviar and artisan cheese plates to nibble with your wines.
If the weather permits, get a table on the terrace for stunning views of the vineyards. I believe there is no better way to enjoy a glass of wine than to savor it along with the gorgeous vistas where the grapes are grown.
When and Where
1240 Duhig Road, Napa, California * 707-257-0101 * www.domainecarneros.com
Open daily 10am - 5:45pm. Reservations are required for groups of 10 or more. It's a good idea to make a reservation for any tasting. Weekends, especially, get busy here at this popular winery.