St. Helena Wineries
St. Helena wineries offer a wide range to explore, from big to boutique. Some are among the oldest in the valley. This is where the wine industry began in the late 1800s, and you'll get a little history along with your wine tastings and tours.
St. Helena is the largest town in northern Napa Valley, and it is charming. It's also an ideal place to start your day of wine tours, winding your way south through the valley.
St. Helena Wineries
Alpha Omega
1155 Mee Lane, St. Helena, CA * 707-963-9999 * aowinery.com
Established in 2006, Alpha Omega is one of the youngest wineries in St. Helena, yet has quickly become known for its stellar hospitality and wine tasting experiences. From the spacious terraces, you'll soak up the scenery. Fountains in the reflecting pool and pristine rows of the nearby vineyards delight guests, all with the Mayacamas Mountains as a picturesque backdrop.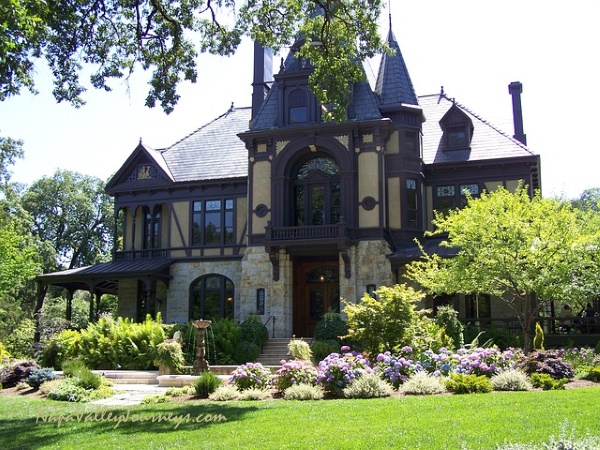 Head to the Rhine House at Beringer for a private reserve tasting of superb cabernet.
Beringer Vineyards
2000 Main Street, St. Helena, California 94515 * 707-963-7115 * beringer.com
Beringer is the oldest continually operating winery in Napa Valley. It's visitor-friendly, too. Whether you want a quick tour of the wine cellars or simply sit a while on the expansive porch and sip, while taking in the gorgeously landscaped grounds, you'll want to add Beringer winery to your must-do list.
Charles Krug
2800 Main Street, St. Helena, California 94574 * 707-967-2229 * charleskrug.com
Winemaker Charles Krug was a pioneer, establishing the Napa Valley's first winery in 1861. When the Mondavi family bought the Krug winery in 1943, another wine legacy began.
Make a reservation for an estate tour and wine tasting. You have a variety of options here, including outdoor tastings, and artisan cheese and charcuterie from on-site Cucina di Rosa. Among the most celebrated wines are the single-vineyard cabernet sauvignon wines; however, the sauvignon blanc is getting some attention. 
Del Dotto
1445 St. Helena Hwy., St. Helena, CA 94574 * 707-963-2134
Don't miss the cave tours and tastings at Del Dotto. Beautiful, opulent and friendly, it's an experience you won't forget. Family-owned, this St. Helena winery offers small-production wines aged in an 1885 wine cave. And it is spectacular. Luxuriously lined with Italian marble, the cave has a cathedral feel; lit by elegant chandeliers.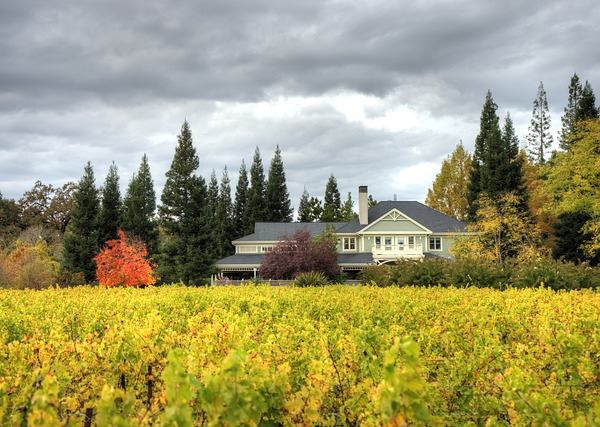 Duckhorn Vineyards Image by PeterBowers
Duckhorn Vineyards
1000 Lodi Lane, St. Helena, CA * 707-963-7108 * duckhorn.com
Duckhorn has an elegant country estate look and feel. You'll think you wandered onto a private property when you come upon the traditional-style house surrounded by its gorgeous gardens. 
Wine tastings here are a little pricey, but the wines are first-rate and the pours are generous. One of the best features is the expansive wrap-around porch where you can relax and enjoy the views.
Flora Springs
677 S. St. Helena Hwy., St. Helena, CA * 707-967-8032 * florasprings.com
Go off the beaten path and explore this small, yet exquisite winery. You have a rich variety of tours and tastings to choose, which may include a leisurely tasting on the sun-dappled courtyard, a walk into the vineyards, or a guided tour into the hillside caves and sampling of the crisp sauvignon blanc or a bold cabernet.
Freemark Abbey
3022 St. Helena Hwy., St. Helena, CA 94574 * 707-963-9694 * freemarkabbey.com
Winemaking got its start here in 1886 by California's first female winery owner, Josephine Tychson. Today, Freemark Abbey offers  tours of its century-old cellar and nearby vineyard. The tasting room of this historic St. Helena winery has charm of its own -- a wood-beamed ceiling, fireplace and live piano music on the weekends.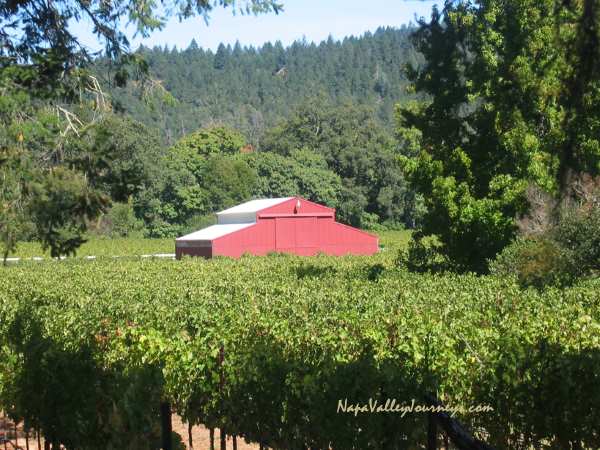 Barn surrounded by grapevine rows in a vineyard near St. Helena.
Merryvale Vineyards
1000 Main Street, St. Helena, CA 94574 * 707-963-7777 * merryvale.com
The tasting room at this family-owned winery has a warm, welcoming feel. You have a few tasting options to choose from, including a flight of current release wines. Or if you want step up your experience, choose the wine & cheese tasting or a library tasting of selected handcrafted wines. Merryvale owns vineyards in other appellations as well, and is best known for Profile (a cabernet blend) and Silhoutte Chardonnay.
Spottswoode Winery
1902 Madrona Avenue, St. Helena, CA 94574 * 707-963-0134 * spottswoode.com
True Cab lovers won't want to miss family-run Spottswoode. Make a reservation to explore this beautiful historic estate surrounded by gorgeous gardens. You'll see the organic vineyards and stone cellars before sitting down for a tasting of the much-acclaimed, estate-grown Cabernet Sauvignon wines.
V. Sattui
1111 White Lane, St. Helena, CA * 707-963-7774 * www.vsattui.com
Warm hospitality awaits you at the beautiful V. Sattui Winery. Come for a tasting of stellar wines and stay for a picnic on the lawn. Picnickers can choose freshly made deli sandwiches, pastas, salads and artisan cheeses to go with that bottle of chardonnay or zin. This is one of the most relaxed, sit-a-spell wineries you'll find in the valley, and certainly one of the most popular St. Helena wineries.