V. Sattui Winery

Put the V. Sattui Winery on your must-do list. It's not a huge winery with touristy gimmicks, but it is one of the friendliest and boasts award-winning wines and spacious picnic grounds. Come for the wine tasting and stay for lunch on the lawn. You'll be glad you did.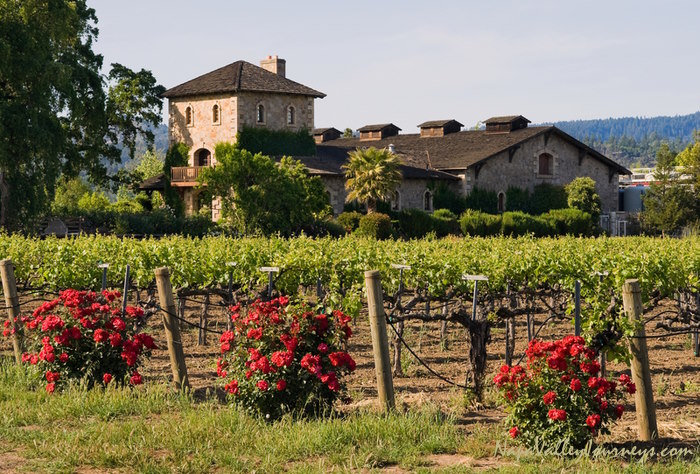 Roses punctuate the end of each grapevine row at V. Sattui.
Wondering what the "V" stands for? So was I. This winery was named after Vittorio Sattui, who moved from Italy to San Francisco in 1882. Vittorio became a successful winemaker in the area until Prohibition in 1920.
Nearly 60 years later, Vittorio's grandson, Dario Sattui realized his own dream of owning a winery, naming it in honor of Vittorio.
And the dream is still growing.

When you visit this enchanting stone winery that includes wine caves and aging cellars, you'll take in the trellised grapevines punctuated with roses...browse the famous cheese and deli market...sample premium wines in the visitor-friendly tasting room...and linger over a picnic lunch amid more than two acres of peaceful lawns, gardens and sprawling oaks.
Wine Tasting
The main tasting room is big -- and beautiful. Step through the threshold on to the polished hardwood floors and take in the sights and sounds.
The tasting room can get busy (you'll be standing elbow to elbow here on Saturdays). Go in the morning (it opens at 9am) or during the week if you want to sidestep the crowds.
Although this winery is popular, you'll never feel like you're being shuttled through the tasting room at a frenzied pace. You'll be warmly welcomed by knowledgeable servers who will help you to choose your favorites.
You can sample five Premier and Estate award-winning wines for $45. This is a seated tasting in the tasting room or outdoors in a spacious setting. Want to upgrade your tasting to include premium cabs? Or add a sampling of cheese or chocolate? Check out your options on their website.

V. Sattui Wines
This winery's philosophy is that quality wines are made in the vineyard. Of course, it helps that those vineyards are in the Rutherford appellation -- the heart of the Napa Valley and the ideal spot for many red grapes.
Some of the award-winning reds include stellar Cabernets, Merlots and Zinfandels. The warm, sunny climate here on the valley floor shines through in the ripe, fruit-forward flavors of these red wines.
Acquisitions of vineyards in other Napa Valley AVAs have allowed the V. Sattui Winery to expand its production to include Chardonnay and some sparkling wines from the cooler Carneros region.
It's worth mentioning here, you won't find V. Sattui wines at your local wine store. You can buy them at the winery and on their website.
Here are a couple stellar wine reviews...
2016 Cabernet Sauvignon (Napa Valley)

:

"Soy, leather and dried herb highlight an expansive, full-bodied palate of juicy, thick dark-berry fruitiness and lengthy oak in this appellation wine, blended with small amounts of Merlot, Petit Verdot and Malbec. It has a lasting note of tobacco. 90 Points, Wine Enthusiast
2016 Vittorio's Vineyard Cabernet Sauvignon: Bold, rich and deeply expressive... a show-stopper. Aromatics of loamy earth, blue fruit, black currants and spice ... Full-bodied with engaging tannins and satisfying finish. 97 Points and Double Gold - San Francisco International Wine Competition.
Winery Events at V. Sattui
Beautiful V. Sattui winery hosts some of the most anticipated Wine Country events each year. Go to their website for all the details and to make a reservation. Here are some of the upcoming events:
Harvest Ball ~ September 17, 2022
Crush Party ~ October 14, 2022
Barrel Tasting and New Release Party ~ January 28, 2023
Lobster Fest (Members Only) ~ April 21, 2023
Have a Picnic
V. Sattui is one of the few wineries in Napa Valley that allow picnics on the property. But don't pack that picnic basket -- you're not allowed to bring your own food and wine. It's a regulation of Napa County.
That's okay, though. Something better awaits. You'll want to explore the V. Sattui market for freshly made deli sandwiches, crab cakes, salads, pastas, fruit, more than 200 kinds of cheese -- and don't forget dessert.
Spring through fall, the outdoor grill is fired up for lunch on the weekends. Savor the smoky flavors of wood-fired homemade pizzas, sizzling steaks, salmon and barbecued ribs. Want more? How about fresh oysters. Or mozzarella with grilled crostini, heirloom tomatoes, olive tapenade and fresh basil.
Mmmm...hungry yet? 

Grab a bottle of wine and you're ready to head to the spacious picnic grounds, where you can relax under the 250-year-old oaks. Drink in the ambiance...this is an idealic Wine Country experience you won't soon forget.
When and Where
1111 White Lane (at Hwy 29), St. Helena, California 94574 * 707-963-7774 * www.vsattui.com
Open daily 9am to 6pm, except major holidays. Call ahead for groups of 10 or more.