Del Dotto Winery

Come to the Del Dotto winery for an experience you won't forget. Historic wine caves, truly entertaining and knowledgeable guides, barrel tastings and many more delights will have you wanting to come back...soon.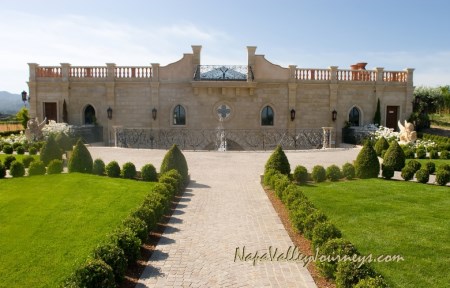 Del Dotto's Venetian Estate pays homage to the family's heritage.
Del Dotto Winery and Vineyards
This Italian-style estate winery is family-owned -- think small production/high quality.
As the winery's prestigious reputation for exceptional wines has grown, so has its footprint. Over 30 years, owner Dave Del Dotto has acquired vineyards in some of the most desirable American Viticultural Areas, including 437 acres in eight distinct appellations.
Each vineyard is organically farmed, and carefully matched to the varietal planted there, bringing out the best qualities of the grapes.
You'll find several varietals here, including cabernet franc, merlot, sangiovese, syrah, and zinfandel, however this winery is best known for cabernet sauvignon, grown in the Rutherford Estate vineyards. Cabs from this region are pricey, going for hundreds of dollars a bottle. Are they worth it? Go for a tasting and decide for yourself.
Three locations beckon visitors, so you have a choice to make.

Head to the Napa Historic Winery and Cave to see the 120-year-old cave, one of only six historic wine caves still in existence in Napa Valley. This is where you'll find the original winery, beautifully restored by the Del Dotto family.
Surround yourself in the grandeur of the St. Helena Venetian Estate Winery and Caves. Built in 2007, this Venetian-style masterpiece (shown in the photo at top) honors the family's roots which can be traced back to Medieval Venice. No detail was overlooked in the grand estate's design. Ornate chandeliers cast an opulent glow against the Italian marble that line the caves -- truly a sight to behold.
Experience world-class wines at the new Piazza Del Dotto. An Italian-inspired barn lends this location a down-home ambiance. However, it's surrounded by cabernet vineyards, 17th-century fountains, and beautiful gardens, with peacocks roaming the grounds. 
Lion statue stands guard outside the beautiful estate.
Take the Tour, Sample the Wines
Though often bustling with visitors on the weekends, the Del Dotto winery is nevertheless a must-do on your trip to Napa Valley.
Don't even think about visiting without taking the cave tour. You'll surrender to the intoxicating spell as you stroll through candlelit caves with piped-in opera music. It's a one-of-a-kind experience you'll tell your friends about.
Barrels line each side of the cave, which seems more like a long hallway. You'll get to sample several wines straight from the barrels -- with plenty of breadsticks along the way. You'll learn ... uh, I mean taste the difference between French oak barrels and American oak. Spoiler alert: French oak lends a smoother, silkier finish.
Friendly tour guides are super-knowledgeable and just plain fun to be around. Go ahead and ask questions -- the guides here are more than delighted to help you choose your favorite wines. You'll find the pours here to be generous, giving this winery the affectionate nickname Del Blotto.
When and Where
Napa Historic Winery & Caves 1055 Atlas Peak Road, Napa, California 94558
St. Helena Venetian Estate Winery & Caves 1445 St. Helena Hwy. South, St. Helena, California 94574
Piazza Del Dotto Winery & Caves 7466 St. Helena Hwy., Napa, California 94558
Make a reservation for any location, call: 707-963-2134

Tours and tastings are offered on select days at each location, by appointment only. You'll find driving directions on the winery's website www.deldottovineyards.com