Castello di Amorosa

Driving up a scenic hillside, you come upon a fairytale-like castle. No, you're not dreaming. It's the Castello di Amorosa -- the creation of Dario Sattui, who also owns the V. Sattui Winery in St. Helena.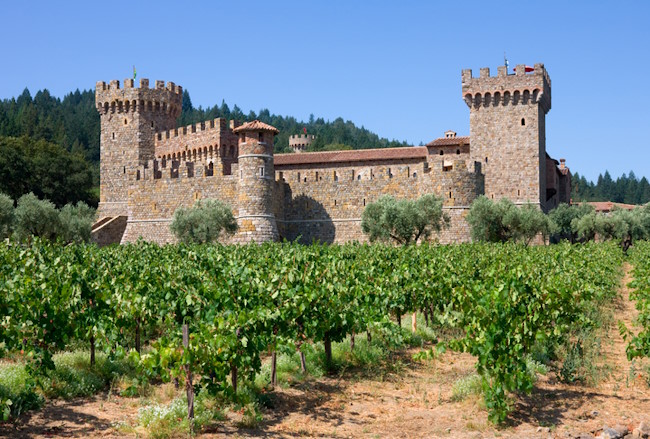 Although this structure is fairly new (it was completed in 2007), the stones are not.
Taken from an Italian monastery, the stones were imported and assembled into a full-scale replica of a medieval Tuscan castle. No small task...it took 14 years and $30 million to plan and build this authentic 13th-century style marvel.
Wines and Vineyards
Surrounding the castle are 30 acres of vineyards, in the Diamond Mountain District of Napa Valley.
This region near Calistoga is "above the fog line," as locals say, providing plenty of sunshine and warmth that's ideal for the Cabernet, Merlot and Sangiovese grapes planted here. These grapes blend beautifully into the "Super Tuscan" wines for which this winery is known.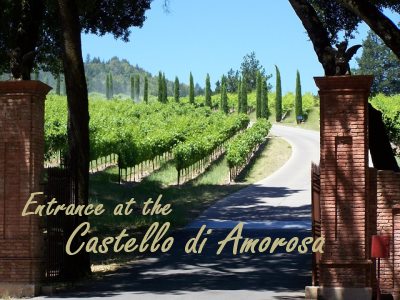 Tours and Tastings
Tours and tastings don't require reservations (unless you have a large group), but are recommended.
Allow plenty of time for Castello di Amorosa -- even the parking lot is big, and this popular place is bustling with visitors.
With 107 rooms on eight levels, the guided walking tour is extensive and takes about an hour. Try to stay with your guide. It would be easy to lose your way in this 121,000-square-foot castle.
Every tour includes a wine tasting (another 45 minutes) in the Grand Barrel Room. You'll taste the Italian-style wines straight from the barrel, plus enjoy a tasting of the new releases.
The Castle tour is fascinating -- from the wall-to-wall colorful frescoes in the Great Hall to the vaulted ceilings of the Grand Barrel Room, made from centuries-old handmade bricks. Every room has a story to tell, and you'll hear each tantalizing tale from your tour guide. Take your camera along -- you'll want to capture this memorable experience.
More options
You'll need to make reservations ahead of time for some of these...and it'll cost more...but aren't you worth it?

Take the tour for Wine Aficionados that includes a seated tasting of the winery's high-end reserve wines.

Bring your appetite for the food-and-wine pairing. You'll enjoy small plates to complement a good variety of wines.
Are you a chocoholic? Me too. One of the special treats here is a wine-and-chocolate pairing with handmade Belgian chocolates...Mmmm. 
When and Where
4045 North St. Helena Hwy., Calistoga, CA 94515 * 707-967-6272 * www.castellodiamorosa.com
Open weekdays 10am to 5pm; weekends 10am to 5:30pm
Closed December 25th
Upcoming Events at Castello di Amorosa
Grand Barrel Party ~ May 13, 2022

Hot Havana Nights ~ July 29, 2022

Harvest Celebration ~ TBD
New Year's Eve Party  ~ TBD

Check events on the website to get all the details. You'll want to schedule these celebrations in advance.