Castello di Amorosa

Driving up a scenic hillside, you come upon a fairytale-like castle. No, you're not dreaming. It's the Castello di Amorosa -- the creation of Dario Sattui, who also owns the V. Sattui Winery in St. Helena.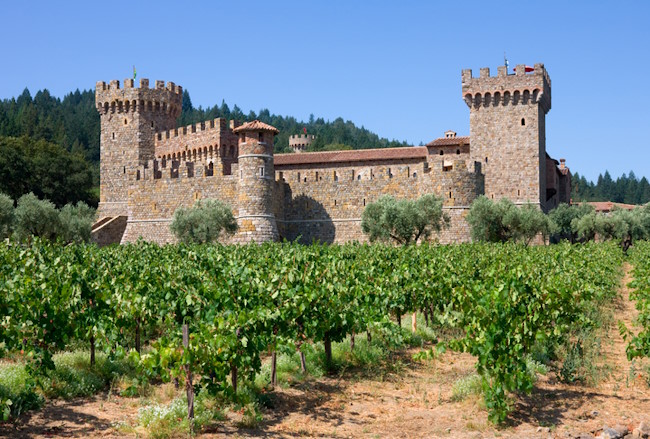 About the Castle
Although this structure is fairly new (it was completed in 2007), the materials and furnishings are not.
Taken from an Italian monastery, the stones were imported and assembled into a full-scale replica of a medieval Tuscan castle. No small task...it took 14 years and $30 million to plan and build this authentic 13th-century style marvel.
Today, the Castello di Amorosa is regarded as an architectural masterpiece. It has all the components of a real medieval castle, including a moat, drawbridge, towers, Great Hall,  chapel, barrel room, courtyard, and even a torture chamber.
The castle's many fascinating spaces lend lots of creative ways to entertain guests throughout the year. Imagine stepping into the majestic Grand Barrel Room dressed to the nines for an elegant New Year's Eve gala, or dining and dancing in the spacious courtyard at a spectacular summer party. You have many opportunities to make memories that'll last a lifetime at the extravagant events held at the Castello di Amorosa winery.
Castello di Amorosa Wines and Vineyards
Surrounding the castle are 30 acres of vineyards, in the Diamond Mountain District of Napa Valley.
This region near Calistoga is "above the fog line," as locals say, providing plenty of sunshine and warmth that's ideal for the Cabernet, Merlot and Sangiovese grapes planted here. These grapes blend beautifully into the "Super Tuscan" wines for which this winery is known.
Castello di Amorosa has acquired another dozen or so vineyards in and around Wine Country, expanding their wine offerings to include Pinot Noir, Pinot Grigio, Zinfandel, Chardonnay and more.
Here are just a few of the stellar reviews for Castello di Amorosa wines...
2018 Il Barone Reserve Cabernet Sauvignon, 93 Points, Wine Enthusiast "Densely packed with flavor and rich in texture, this grand, reserve style of cabernet is full-bodied and layered. Black fruits, cedar, cinnamon and vanilla dance around smoky accents, while big tannins give it plenty of mouthfeel."
2016 La Castellana Reserve Super Tuscan Blend, 91 Points, James Suckling. "Quite mellow and savory with a fairly sleek body, this is a very distinctive Napa red with lots of cherries and mulberries, a blood-orange freshness driving the long, rather dry finish."
2019 Pinot Noir Morning Dew Ranch, 94 Points, Wine Enthusiast. "Warm baking-spice accents and mulled plums give this full-bodied and gently textured wine a welcoming expression. Black cherry, sour cherry and balsam flavors flood the palate with richness. The complex wine lingers on the finish."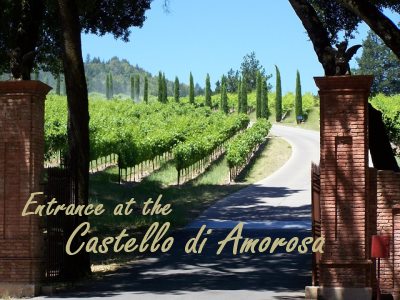 Castello di Amorosa Tours and Tastings
All tours and tastings now require reservations, which you can make online. Print out your reservation and bring it with you -- you'll need it to enter the property.
Allow plenty of time for Castello di Amorosa -- even the parking lot is big, and this popular place is bustling with visitors.
With 107 rooms on eight levels, the guided walking tour is extensive and takes about an hour. Although a self-guided tour (with a map) is an option, I highly recommend the guided tour, especially if it's your first time here. You'll see more of the castle with your knowledgeable guide, and hear the stories about the castle's unique rooms and history. Try to stay with your guide. It would be easy to lose your way in this 121,000-square-foot castle. 
Every tour includes a wine tasting (another 45 minutes) in the Grand Barrel Room. You'll taste the Italian-style wines straight from the barrel, plus enjoy a tasting of five of the new releases.
The Castle tour is fascinating -- from the wall-to-wall colorful frescoes in the Great Hall to the vaulted ceilings of the Grand Barrel Room, made from centuries-old handmade bricks. Every room has a story to tell, and you'll hear each tantalizing tale from your tour guide. Take your camera along -- you'll want to capture this memorable experience.
More options
You'll need to make reservations ahead of time for these...and it'll cost more...but aren't you worth it?

Take the tour for wine aficionados that includes a seated tasting of the winery's high-end reserve wines.

Tease your tastebuds with the cheese and charcuterie pairing. You'll enjoy small plates to complement a variety of wines.
Are you a chocoholic? Me too. One of the special treats here is a wine-and-chocolate pairing with handmade Belgian chocolates...Mmmm. 
When and Where
4045 North St. Helena Hwy., Calistoga, CA 94515 
707-967-6272 
Open weekdays 10am to 5:30pm; weekends 10am to 6pm
Closed December 25th
Upcoming Events at Castello di Amorosa
Grand Barrel Party ~ May 10, 2024

Hot Havana Nights ~ July 26, 2024
Check events on the website to get all the details. You'll want to schedule these celebrations in advance.