Oakville Wineries
Oakville wineries produce some of the best cabs, making your tour and tasting choices outstanding. Location plays an important role here, too. This sunny climate and rich soil is ideal for the full-bodied reds for which Napa Valley is known.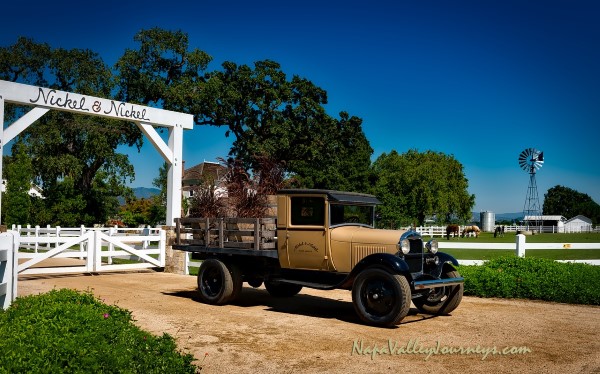 Nickel and Nickel produces single-vineyard wines, including excellent cabernet.
Some of My Favorite Oakville Wineries
Nickel and Nickel 
8164 St. Helena Hwy., Oakville, CA * 707-967-9600 * nickelandnickel.com
Opened in 2003, the Nickel and Nickel winery is owned by the same partners of Far Niente. It has a relaxed, unpretentious feel to it. You'll think you stepped back in time when you drive up to the winery, looking more like an 1880s farmstead than a high-end wine producer. 
All of the wines here are sourced from single vineyards, displaying the finest of this sunny region's qualities. Best known for cabernet sauvignon, Nickel and Nickel also produces excellent chardonnay, zinfandel and merlot.
Opus One
7900 St. Helena Hwy., Oakville, CA * 707-944-9442 * opusonewinery.com
The success of this gem isn't surprising, knowing that Opus One was founded by Robert Mondavi and Baron Phillipe de Rothschild.
The winery itself is luxurious, featuring a posh salon, an elegant spiral staircase, and stunning views from its rooftop terrace.
Some of its offerings are pricey, but worth it. Opus One wine beautifully blends cabernet sauvignon, cabernet franc, merlot, petit verdot and malbec with splendid complexity, balance and a lingering finish. 
Plumpjack Winery
620 Oakville Cross Road, Oakville, CA * 707-945-1220 * plumpjack.com
This ivy-covered winery was co-founded in 1995 by oil heir Gordon Getty and California Governor Gavin Newsom. (You may even spot Gavin here at Plumpjack.) The building and vineyards themselves date back to the 1880s, when winemaking pioneers discovered the optimum growing conditions in the heart of the valley.
Like many Oakville wineries, cabernet sauvignon reigns here, as confirmed by the excellent reviews of this quality red. Rich, well-drained soil at the foothills of the Vaca mountains yield grapes with bold, fruit-forward character.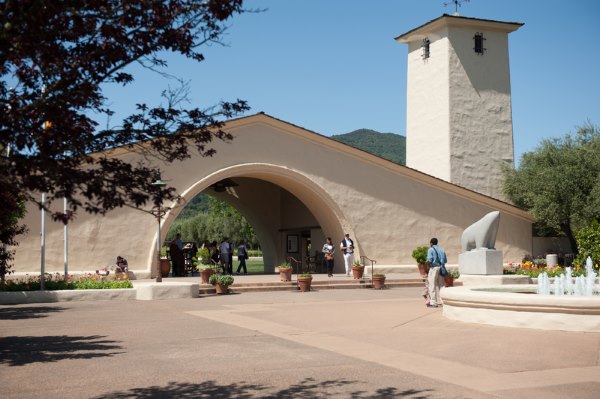 Robert Mondavi is a popular winery in Napa Valley. Photo ©Phyllis D. Peterson
Robert Mondavi 
7801 St. Helena Hwy., Oakville, CA * 707-226-1395 * robertmondaviwinery.com
Robert Mondavi was among the first to champion Napa Valley wines way back in 1966, when he founded this winery. Today, this Spanish-mission style winery is a popular destination along the highway, and its three tasting rooms are the busiest. 
A generous variety of tours are offered here, giving an in-depth look into winemaking. Mondavi bottles a vast selection of wines, more than you'll find at any other Oakville wineries, including some superb cabernet sauvignon.
Far Niente
1350 Acacia Drive, Oakville, CA * 707-944-2861 * farniente.com
Make an appointment to visit Far Niente. This exquisite estate is everything you want a Napa Valley winery to be. It has ties to the California Gold Rush, impressionist painter Winslow Homer, and a 130-year-old bottle of Muscat – believed to be the oldest bottle of California wine.
Gil Nickel (of Nickel and Nickel winery) bought Far Niente in 1979 and lovingly restored it, keeping its original name. Today, the winery is a small producer of world-class cabernet sauvignon and chardonnay. Take the tour, which includes a walk through the historic stone winery, gorgeous southern-style gardens, and a tasting of current release wines.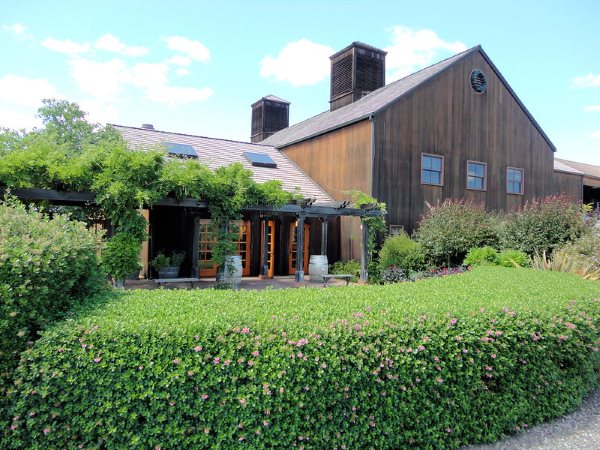 Turnbull is a small-production winery, known for estate-grown wines. Photo JimG
Turnbull Wine Cellars
8210 St. Helena Hwy., Oakville, CA * 707-963-5839 * turnbullwines.com
Tucked amidst a wealth of world-class wineries is the charmingly rustic Turnbull Wine Cellars. This small, redwood winery was designed by architect William Turnbull, a former partner who founded this winery in 1979.
You have a few tasting options. Whichever you choose, you'll taste exceptional, estate-grown wines at their source. You'll love the whole relaxed experience, guided by gracious servers. Take time to browse the photography gallery in the barrel room, and explore the surrounding gardens.