BV Winery

BV winery is a must-stop for Cabernet lovers. Choose from two tasting rooms and a variety of wine tasting options. Take the history-rich tour at Beaulieu Vineyard and discover why this is one of Napa Valley's best wineries.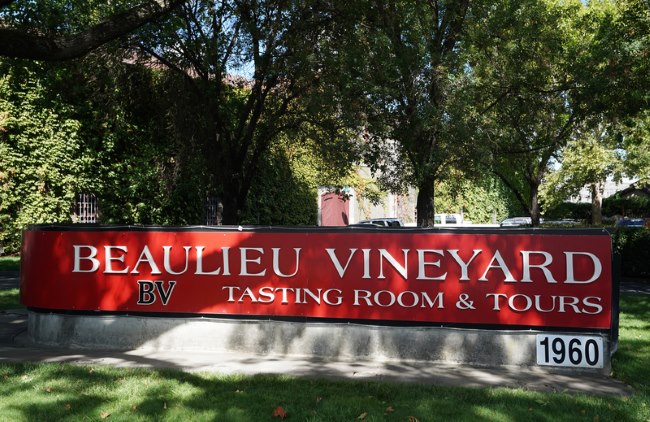 Take the tour and get a sampling of the region's rich history. Photo © Zhukovsky
Why You Want to Visit Beaulieu Vineyard
You'll be greeted at the visitor's center with a glass of wine to sip while discovering the inner workings of Beaulieu Vineyard, from vine to bottle. 

Take the history-rich tour followed by barrel tastings, plus a peek into Napa Valley's past in the new Heritage Room.
I can't emphasize this enough -- the tour guides and servers here are extremely friendly, informative and accommodating. Food and Wine magazine named BV "one of the best Napa Valley wineries to visit." I agree.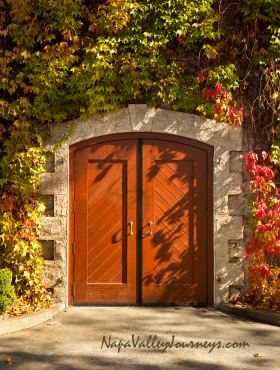 Autumn paints the otherwise plain ivy-clad building in fiery hues.
BV Wines
Called BV winery for short, this historic property has roots going back to Napa pioneer Georges de Latour, who founded this winery in 1900.

Georges de Latour started Beaulieu (pronounce it "bowl-you") Vineyard with the idea of crafting fine wines in Rutherford that would rival those of his native France. He certainly set the bar high. The BV winery continues to be one of Napa Valley's most distinguished wineries.

Here are two top-rated wines:
Georges de Latour Private Reserve Cabernet, first produced in 1936, is the winery's flagship and the first-ever Reserve wine to come from Napa Valley. Selected from the finest Cabernet Sauvignon vines, it has a rich texture, and blackberry and dark cherry flavors with aromas to match. This is a Cab that ages well and deserves a spot in every serious collector's wine cellar. Wine Advocate gives the 2015 vintage 96 points.
BV Reserve Tapestry blends five Bordeaux-style varietals: Cabernet Sauvignon, Merlot, and a little Cabernet Franc, Petit Verdot and Malbec from their estates in Rutherford, Carneros and other appellations in Napa Valley. The result is an elegant expression of dark-red fruit, plush texture and chocolate-cherry truffle nuances for a rich, complex, layered wine. Wine Spectator rated the 2010 vintage 90 points.
BV Winery Tastings
BV offers a few options to suit visitors, from the curious to the connoisseur. You can count on knowledgeable and personable servers at Beaulieu Vineyard every time.
Step into the casual main tasting room for a flight of four wines for $25. You won't need a reservation for this, but it does tend to get crowded.
Serious connoisseurs will be drawn to the Reserve Room, a more elegant setting for sampling Georges de Latour Private Reserve Cabernet and other top Cabs for $125. You can also choose the Retrospective Reserve Tasting for $50 per person.
Check the BV website for the current tasting selections and prices.
When and Where
1960 St. Helena Hwy., Rutherford, CA 94573 * 707-257-5749 * www.bvwines.com
Open Sunday - Thursday 11am to 4pm, and Friday - Saturday 11am to 5pm, except major holidays. Call ahead for tours, private tastings or groups of 10 or more.