Wineries in Napa
Top wineries in Napa make this small city a world-class destination. 
Traveling north on Highway 29, the city of Napa marks the gateway to Napa Valley. Don't pass it by...there's so much to explore right here.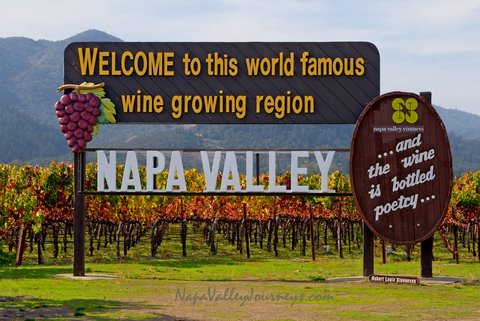 A familiar sight along Highway 29, this famous sign welcomes visitors.
List of Wineries in Napa
Artesa Winery
1345 Henry Road, Napa, CA * 707-224-1668 * artesawinery.com
Perched on a hilltop in the Carneros AVA, Artesa is a jewel, offering panoramic views of the vineyards and mountains as well as superb wines. It is a bit off the beaten path and worth the effort.
Plan to spend some time here. Take the tour and choose from a delightful variety of tastings. The winery itself is spectacular, but you'll also marvel at the modern art on display.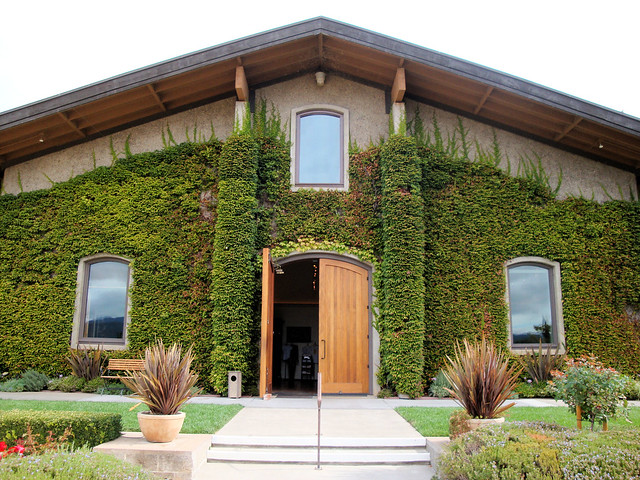 Clos du Val is an elegant French-style winery in Napa. Photo: JimG
Clos du Val Winery
5330 Silverado Trail, Napa, CA * 707-261-5225 * closduval.com
This French-style winery is in the heart of the Stags Leap AVA. Among its elegant, estate-grown wines: Cabernet Sauvignon, Merlot, Pinot Noir, Chardonnay, and Sauvignon Blanc.
You'll find Clos du Val is visitor-friendly, offering several tour and tasting options. What's your style? Choose a private tasting of library wines -- or gather your besties for a relaxed, small group tour and tasting. They'll even pack a picnic basket for you.
Palatial Darioush is one of the must-see wineries in Napa, California. Photo: Jim G
Darioush Winery
4240 Silverado Trail, Napa, CA * 707-257-2345 * darioush.com
Founded by Iranian immigrant Darioush Khaledi, this Persian-style palace houses one of the most popular wineries in Napa Valley.
Darioush Winery is known for Bordeaux varietals, such as Cabernet Sauvignon, Merlot and Sauvignon Blanc.
Domaine Carneros
1240 Duhig Road, Napa, CA * 707-247-0101 * domainecarneros.com
Perched on a hilltop, surrounded by estate vineyards, sits the magnificent Domaine Carneros winery. This French-style chateau is a replica of Taittinger, the Champagne powerhouse in France. Step inside and you'll marvel at the marble floors and chandeliers of the elegant salon.
If you like, you can savor a tasting of a flight of sparkling wines, while relaxing on the expansive terrace that overlooks rolling hills of the Carneros district. All tastings are seated and guided by a knowledgeable wine professional. You have tasting options here that may include cheese, charcuterie, caviar, and more scrumptious delights.
Hess Persson Estates
4411 Redwood Road, Napa, CA * 707-255-1144 * hessperssonestates.com
Is it more of an art gallery or a winery? That depends on your passion. In 1978, founder Donald Hess combined his passions for art and wine, turning the old Mont La Salle Winery into a modern art museum within the winery. The impressive art collection covers two floors, and features larger-than-life paintings as well as sculpture.
The Hess Collection Winery became known as Hess Persson Estates in 2021, when Sabrina and Timothy Persson took leadership of this family-owned winery. 
Take a tour the contemporary works of art with a knowledgeable guide. One of the experiences here is to explore the estate on an ATV before a wine and culinary pairing. Or step in the tasting room for fine estate Cabernet Sauvignon from the Mount Veeder AVA and beyond. You have several choices for your visit, and all require reservations.
Jarvis 
2970 Monticello Road, Napa, CA * 707-255-5280 * jarviswines.com
Built completely underground, Jarvis winery is 45,000 square feet of meandering caves. Take the tour and you'll discover how Jarvis' Cabernet Sauvignon, Chardonnay and Merlot is made.
You'll visit the Cuve Gallery, holding a dozen giant oak vessels used to develop exceptional wines. You can't miss the natural spring waterfall near the end of the tour; more than decorative, this underground spring maintains temperature and humidity ideal for aging wines. Savor a seated tasting of six Jarvis Estate and Reserve Collection wines.