Artesa Winery

Artesa winery is a must-stop for art and architecture buffs. Tour this hilltop winery, surrounded by fountains and sculptures and enjoy gorgeous vineyard and mountain views.
You'll climb stairs to get to the winery, but the views are oh-so worth it. You'll enjoy a panoramic look at the surrounding vineyards and mountains. On a clear day, you can see the San Francisco skyline.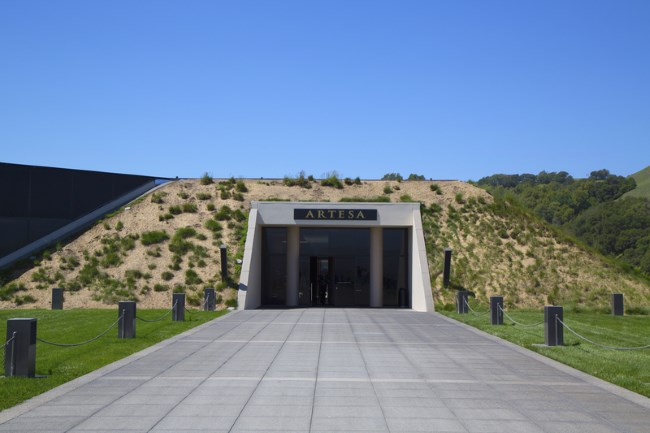 Built into a hillside, Artesa Winery has a futuristic look. Photo: © Zhukovsky
Artesa Vineyards and Winery
More than 30 years ago, Spain's oldest winemaking family, Codorniu, came to the New World to put down new roots. Here, on a scenic hillside in Los Carneros, the family built upon their centuries-old legacy of winemaking, blending their Spanish heritage with a new generation of estate-grown wines.
Artesa got its start in 1991 as a méthode champenoise sparkling wine facility. This winery still makes bubbly, but is best known for still wines.

Artesa winery owns 150 acres of sustainably farmed vineyards that span the Carneros and Mt. Veeder AVAs, the coolest spot in Napa Valley -- and ideal for Chardonnay and Pinot Noir grapes. The winery has reached out to other appellations to craft Cabernet Sauvignon, Cabernet Franc, Sauvignon Blanc, Merlot, plus a couple Spanish-style wines -- Albarino and Tempranillo.
Here are a couple reviews...
Artesa 2019 Cabernet Sauvignon, 92 Points, Wine Enthusiast - "This wine delightfully overdelivers on its price point, offering dark chocolate and cherry richness around a lush texture of approachable elegance. Hints of clove, nutmeg and oak provide a balanced nuance of savory contrast."
Artesa 2020 Carneros Chardonnay, 91 Points, Wine Enthusiast - "Almost sweet and certainly ripe tasting, this warm, broad and excellent-value wine offers ample honeydew melon, baked apple, vanilla and butter flavors that weave elegantly through mild acidity and a medium body."
Artesa Winery Tours and Wine Tastings
Relax in the tasting room and sample a variety of Estate Reserve and Limited Release wines, while taking in the stunning views through the prism-shaped window.
Step out on the terrace for gorgeous scenery. Bring your camera along -- you'll want to capture this! You can bring your glass outside to sip while soaking up the views.
It may be challenging to find an open table, though, especially on the busy weekends. It is breezy, too. You'll feel the cool, gentle wind from the San Pablo Bay.
Take in the panoramic views from this hilltop winery, surrounded by fountains and sculptures.
I'm amazed by the number of tasting options available now. Check the website for current offerings, times and prices. You'll need to make reservations for these special tastings and if you have a group of eight or more.
Discover how the wine is made with a guided tour of Artesa Winery. For $105 per person, this includes a tasting of five wines at the end of the tour. Want to skip the tour? The Terrace Seating includes a tasting of five exclusive wines for $60. 
Take it up a notch with the Vino Con Queso. You'll be handed a glass of Grand Reserve Sparkling Wine to enjoy while taking in the stunning vista overlooking the Carneros Vineyards. Then your host will guide you to a seated tasting of the winery's high-end reserve and limited-release wines with artisanal cheeses. Cost: $70.
Taste the flavors of Spain with the Tapas and Wine Pairing. First, you'll tempt your taste buds with Grand Reserve Sparkling Wine with a chocolate truffle. Then, you'll tour the winery before sitting down to sample Spanish tapas beautifully paired with Albarino and Tempranillo wines, along with selections from the Carneros region. Cost: $85 per person.
 Are you a chocolate lover? Me too. One of the special tastings here is the Chocolate Indulgence, a wine-and-chocolate pairing with gourmet chocolates from Kollar Chocolates, a local chocolate shop. Cost: $50 per person.
When and Where
1345 Henry Road, Napa, California 94559 * 707-224-1668 * www.artesawinery.com
Tours and tastings are offered daily. Get the latest schedule for all the happenings on the website.
Reservations are highly recommended for any visit. This is a popular place! If you're visiting Artesa winery on the weekend, it's a good idea to make a reservation at least a couple weeks in advance.