Jarvis Winery

Off the beaten path, Jarvis winery is worth the jaunt into the Vaca Mountains to visit this underground winery. Explore sustainable vineyards, winding caves and taste extraordinary Jarvis wines.
Monticello Road takes you up into the hills, where you'll come upon a big electronic gate. Once inside, stay to the right-hand side and follow the signs. All you'll see is the cave door entrance. That's Jarvis.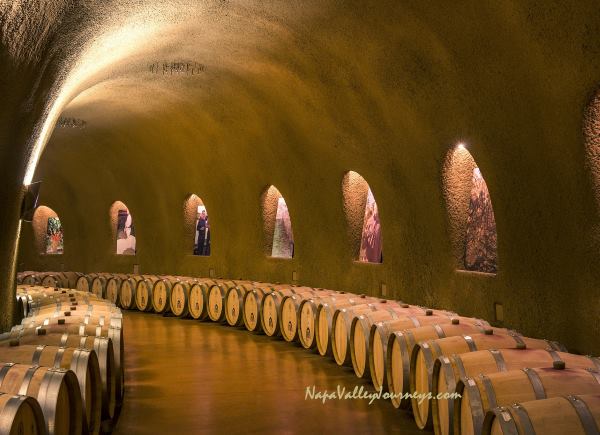 Jarvis Winery Tours and Tastings
Jarvis claims to be the first winery in the country built completely underground. Its unique winemaking facility is contained within 45,000 square feet of caves tunneled into the Vaca Mountains.
A natural spring flows through the meandering caves, ensuring steady temperatures and humidity that are essential to Jarvis's signature style wines. You'll see the waterfall at the end of the tour.
Visitor Tip: You may have already guessed, it's a bit cool in underground caves. You'll spend close to two hours for the tour and tasting, so it's a good idea to bring a light jacket or sweater. And wear sensible shoes. Cave floors may be damp and you might have to step over hoses along the way.
Tours are kept to small groups, allowing visitors to get an intimate look into how Jarvis wines are crafted, then aged in new French Oak barrels.
One of the most enjoyable aspects of Jarvis tours is the staff. This family-owned winery includes some of the friendliest, most knowledgeable, and personable guides anywhere.
You'll finish up with a seated tasting in the Tasting Chamber, where you'll sample six wines from the Jarvis Estate and Reserve Collection.
The Cuve Gallery holds a dozen giant oak vessels, crafted by French coopers.
Jarvis Wines
Jarvis winery harvests grapes from its estate vineyards in the gently sloping hills, high above the valley floor. 
Jarvis is best known for its highly acclaimed Chardonnays and Reserve Cabs. This winery produces a wealth of wines, including noteworthy Petit Verdot, as well as Cabernet Franc, Merlot and a few others.
Here are just a couple stellar reviews:
96 Points, Beverage Testing Institute PLATINUM: 2007 Reserve Cabernet Sauvignon "Bright, fruity, toasty aromas and flavors...tannic, tangy, dry full body and a peppery, charming medium-length finish with chewy tannins..."
92 Points, Wine Enthusiast: 2014 Estate Chardonnay "The graceful kiss of toasty, smoky, butterscotch-inflected oak adds a pleasant dimension, extending the woody elements beyond the core of pear, white peach and citrus flavors."
When and Where
2970 Monticello Road, Napa, California * 707-255-5280 * JarvisWines.com
Open daily 10am - 5pm by appointment. Make a reservation for a tasting and tour weeks in advance, if possible. Tours are kept to small groups. Plan on spending two hours here and keep in mind there is a strict cancellation policy.