Chateau Montelena Winery

Chateau Montelena has a colorful past, but it was the legendary Paris Tasting in 1976 that made this winery -- and the California wine industry -- famous.
French wine experts chose Montelena's 1973 Chardonnay (shown at left) in a blind taste test, beating out France's finest from Burgundy.
The unexpected selection stunned the wine world and was depicted in the 2008 film Bottle Shock.

Vintners here humbly say that the wine itself was the hero, and a win for all Napa Valley wineries. They certainly raised the bar.
Whether you're a serious wine lover or a history buff, you'll want to put this magnificent winery on your tour list. You'll love the wines and love getting the insider's story that the movie doesn't reveal.
Montelena wines are still world-class...and this ivy-covered French-style chateau is an exquisite gem to explore.

Carved into the hillside of Mount St. Helena, the 1882 stone castle overlooks glistening Jade Lake, surrounded by gorgeous gardens and vineyards. It's truly a peaceful paradise you won't forget.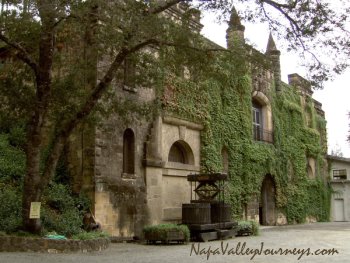 Chateau Montelena Wine Tours and Tastings
Step into the tasting room on the top floor of the chateau for a sampling of current release wines for $30. Reservations aren't required unless you also want a tour of the magnificent chateau, its vineyards and cellars.
You have several tour/tasting options and they start at $40. You'll need to make reservations for most of the tours because they're in small groups. But that's not a bad thing. You'll get more out of it from your knowledgeable guide, who'll share Montelena's rich history and show you around this beautiful estate.
When and Where
1429 Tubbs Lane, Calistoga, California 94515 * 707-942-5105 * www.montelena.com
Open daily 9:30am - 4pm. The winery is closed for many holidays and special events. Check the winery's website for the latest schedule.