Stag's Leap Winery

Stepping into the tasting room at Stag's Leap winery for the first time, you'd never guess that this unpretentious winery has a storied legacy. (The other parts of the winery are a sight to behold, but we'll get to that later.) 
Judgment of Paris 
You'll hear about the Paris wine tasting of 1976 when you take the cellar tour with their knowledgeable and friendly guides.
Can't wait? Okay...here's the scoop. Stag's Leap Wine Cellars gained international fame when its 1973 Cabernet Sauvignon took first place in a blind taste test in Paris. The tasting was judged by top French wine experts who were shocked by their wine pick, and subsequently tried to deny choosing this California Cab over a Bordeaux. This event made big news around the world, famously heralded by Time magazine's story titled "Judgment of Paris."
Stag's Leap win over French wines convinced other Napa Valley vintners that they could produce top-quality wines, too. And they do.
Stag's Leap Winery, Vineyards and Cellar Tours
The Round Room (shown at left) is at the center of the caves you'll tour at Stag's Leap Wine Cellars.
As you tour the caves, you'll marvel at the 17th-century celestial paintings... magnificent kitchen and dining room...the winery's tribute to its winemakers...plus many more delights at every turn.
This winery takes part of its name from its wine region. The Stags Leap District is a sub-AVA in Napa Valley and is some of the most expensive agricultural real estate in the world. This pricey piece of the valley floor helps to produce the rich, full-bodied, complex red wines for which Napa Valley is known.
Stag's Leap Wines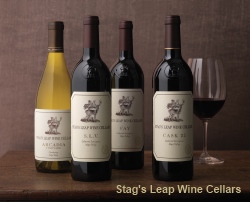 Best known for its estate-grown Cabernets (Cask 23, S.L.V., and Fay), Stag's Leap enjoys a distinguished reputation as a producer of world-class wines.
It was a 1973 Stag's Leap Wine Cellars S.L.V. Cabernet Sauvignon, after all, that beat out France's finest...and did it again in a repeat taste test in 2006. This is a Cab that ages well!
You can sample some of the estate's best in the tasting room (not that Cab -- a bottle of the '73 vintage is in the Smithsonian museum). However, you'll pay more to taste premium wines. (It's so worth it).
When and Where
5766 Silverado Trail, Napa CA * 707-261-6441 * cask23.com
Open daily 10am - 4:30pm. Make reservations for groups of five or more.