Cakebread Winery

Right along the St. Helena Highway, between Oakville and Rutherford, is the Cakebread winery. You can't see it from the road...just a black mailbox that reads "Cakebread Cellars."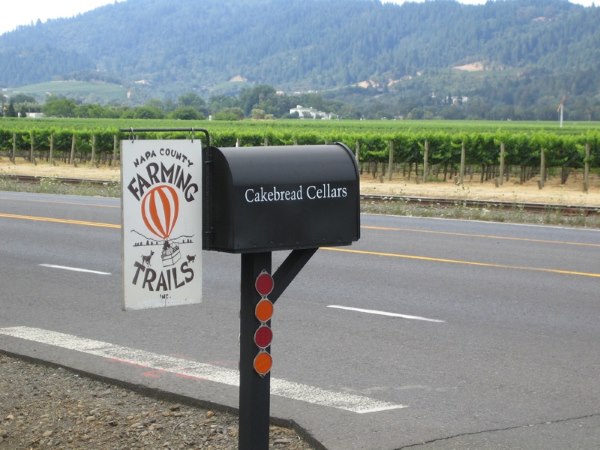 Blink-and-you'll-miss-it entry at Cakebread Cellars. Photo credit: Kate
Jack and Dolores Cakebread founded Cakebread Cellars in 1973, in the heart of Cabernet country. It's an independent family outfit that is refreshingly low-frills.
What it offers to visitors -- besides superb wines -- is a knowledgeable staff, making this a worthwhile experience for wine connoisseurs...or wannabes. If you're looking for a venue to learn the art and science of winemaking and wine tasting, I recommend Cakebread.
Cakebread Winery, Wine and Vineyards
A modern adaptation of a rustic barn, the building seems to reflect the winery's progressive-traditional take on winemaking. Organic farming is both old and new...so you could say the philosophy here is simply to make good wine, using good sense.
And the family's formula succeeds.

This winery is best-known for its reserve Cabernet Sauvignon from the resident Rutherford region, which is considered one of the top Cabernet-growing sites in the world. I'll toast to that. Some of the reserve Cabs here are pricey, but worth it.
Cakebread is growing by leaps and bounds. More than 900 acres has been acquired, allowing the winery to expand its production to 13 growing sites. That includes some impressive Chardonnay from the cooler Carneros sub-AVA as well as the North Coast.
Tours and Tastings
Visitor Tip: Wear comfy shoes. You'll walk for about an hour through this working winery, and stand for another hour for most tastings. 
Expect crowds, especially on the weekends. It's a good idea to make a reservation for the winery tour several days in advance -- or, weeks if possible. 
Wine tastings are often in the barrel room, but could be in the fermentation room -- or even on the patio, if the weather is nice. In my experience, Cakebread has a lot to offer visitors who are here to learn about winemaking and the fine art of wine tasting.
You have several wine tasting options. Want to try the current releases? Sample the best reserve Cabs? Or how about a sit-down tasting of select library wines in elegant crystal stemware? I'm sure you'll find something here to suit your taste.
The best experience here -- in my opinion -- is the food and wine pairing. You'll not only sample scrumptious recipes prepared fresh from on-site chefs, you'll discover how to match flavors with different types of wines. If that idea makes your mouth water in anticipation, check the Cakebread website for tantilizing recipes and complementary wines.
Cakebread Cellars has one of the best websites I've found for wine tasting information and fees, plus directions and a map. You'll even meet the family who runs the Cakebread winery right there on the web pages.
Smell the flowers, sip the wine. On your visit, you'll see Dolores's garden. Flowers and vegetables mingle in this expansive eden, surrounding the Cakebread winery. Visitors are welcome to relax under the shade of the sprawling sycamores and sip wine, while soaking up this peaceful haven. Ahhh...this is living.